LIFESTYLE
Chandi Dharmaratne
In conversation with Ashwini Vethakan
JOURNEY OF LIFE
Born in
The year when 'Tie a Yellow Ribbon Round the Ole Oak Tree' was ranked the No. 1 Billboard year-end hot single
Alma maters
Visakha Vidyalaya and California State University
Family members
My husband (Shankar) and two girls (Anitra and Shayah) – and mum is my pillar of strength
Wanted to be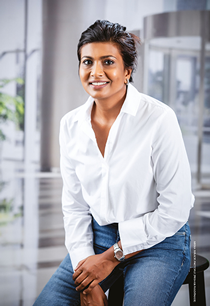 A famous artist or celebrity chef
Would like to drive
Ideally, a hardy British vehicle that moves fast
Best advice received
If you want to live a happy life, tie it to a goal; not to people or things – this Albert Einstein quote really puts things in perspective
A little-known fact about you
My love for painting
INTIMATE AND INSPIRING
Happy place
Home
Likes to watch
Whatever my daughters watch… this changes depending on whether it's Anitra or Shayah, and ranges from Blok & Dino, to the US Open to horse stories
Most unforgettable event
The birth of my two babies
Success to you is
Being happy with myself here and now
Purpose in life
To encourage, engage and equip people to believe in their own potential… I've seen how a little support and shoulder to lean on can go a long way
Item on the bucket list following retirement
Buying a farm in the middle of nowhere so that I can write a cookbook amalgamating different variations stemming from the multiple regions and cultural influences of Sri Lanka
This will be followed by
Travelling around the world to promote the book so that younger generations can get a taste of our beautiful island home
UP CLOSE AND PERSONAL
Mantra to unwind
This too shall pass
Most hated chore
Cleaning dog p**p
Hobbies
Mentoring younger generations, painting and cooking

Three must-haves
A genuine smile, a good skincare routine and a pair of fashionably functional eyewear
Three things you'd like to have
To venture outside without a facemask, 20/20 vision and to clone myself (so that I can be at Anitra's tennis matches and attend to Shayah's homework simultaneously)
Desired qualities in a friend
Honesty – and being caring and comfortable in his or her own skin
A moment in time you would like to go back to
The moment I heard I was having a baby girl
Likely retirement destination
Somewhere with a large farm to relax, paint and spend quality time with family and friends… then animal p**p will also be recycled as compost!
Three items on the bucket list for the next six months
Stay healthy, get the vaccine and complete a few more paintings
Describe your day off
Spending it with my family along with a few close friends (a group we call 'Lockdown Strategy HQ') in a relaxing location
FAVOURITES
Days of the week
No specific day as such
Colours
Shades of blue, white and black
Food
Sri Lankan cuisine
Drink
Thambili with ice
Place to eat
Depends on my mood – I usually enjoy the food at the Hill Club, which also comes with a side of great ambiance and weather
Chill out spots
At home or a close friend's place with family
Local holiday destinations
South Point Villa (Galle), Hill Club (Nuwara Eliya), Arvani Villa Galle and Arsulana Eco Lodge & Spa
Overseas holiday destination
New York City – living in NYC when I was younger had a great impact on my life
Why you would like to return
Visiting New York City for a holiday with my family is something I've always wanted to do so my kids and Shankar can experience that chapter of my life
Actor
Julia Roberts
Movie
Invictus – I like inspirational documentaries about people
Musicians
Roxette, Maroon 5 and Sir Elton John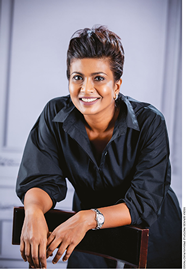 Author
Michael Ondaatje
Leisure wear
Jeans and white shirts, and shirtdresses
Workwear
Sarees or pants with collared shirts
Brands
Touché, Aashkii, Kantala, and Fashion Market.lk
Favourite quote from a movie
There is no spoon – The Matrix
Favourite civil servant
My granduncle Deshamanya Bradman Weerakoon – an honourable, classy and humble gentleman
Obsessed with
Chess – while helping me build critical thinking and prediction skills, it also keeps me thoroughly entertained
COMPLETE THE SENTENCE
The first thing you need after waking up is…
My coffee
The first thing you notice when meeting someone is…
His or her smile
Recently laughed out loud when…
My younger daughter prepared a PowerPoint presentation on why we need to buy her a horse
You know it's going to be a bad day when…
I've slept really late and woken up early
Saddened when…
People think that tearing someone else down builds them up
You're challenged by…
Something that is assumed to be impossible or difficult
Children are…
The ultimate blessing
Colombo in a few words…
At the end of the day, it's my hometown and where I belong
Sri Lanka in a few words…
It is my country and I choose to live here, hoping we can make it a better place for the generations to come
PICK ONE
Memory skills on a scale of 0 to 10
Eight
Computer ability in one word
Satisfactory
Most productive in the morning, noon or night
Morning
A leader or follower by nature
Leader – to be a good leader however, you must also be a follower at times
Work out preferences
Always outdoors, running or tennis
Cook or foodie
Cook
Quality or quantity
Quality – always
The glass is half full or half empty
Half full
Work or play after retirement
Work and play
The most delightful word you can think of
Love
Do you consider yourself to be a student or teacher?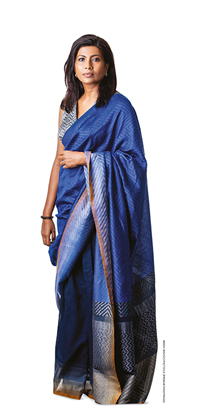 I believe both roles are interconnected and interdependent, and vital to our personal evolution
Most used word or phrase
You can do this!
A new technology that will transform the future
AI and machine learning – because they will help us have more personalised products and services
Why this is important
Gen Z – our kids – seeks emotional connections and personalisation in everything they do
Role models
Many exist in my life – my mother for her hard work and mental fortitude… Apart from her, I'm constantly looking up to and admiring many people for their multiple strengths
Yourself in a few words
Generous, kind and direct
Motto in life
Have confidence in yourself, visualise and persevere, never give up on your dreams – as Einstein once said: "It's not that I'm so smart; it's just that I stay with problems longer"
Chandi is the Vice President of HR at a leading IT company in Sri Lanka