ODEL
LET THERE BE JOY – IT'S XMAS TIME AT ODEL
Embracing the true spirit of Christmas and spreading the much-needed message of love, togetherness and kindness to all, ODEL presents "Let there be Joy!". Catch the Christmas cheer at ODEL this season, it's contagious! Snowflakes falling, fireplaces roaring, and chunky knit sweaters all seem like a fantasy… but this year at ODEL, we're obsessed with having a cosy and traditional Christmas. With deep reds, striking plaids and a wide array of products coupled with joyous and festive motifs, ODEL aims to share the true meaning of the season with its customers by emphasizing on the importance of peace, love and togetherness, values that we all must reconnect with. Evoking the nostalgic splendor of a traditional Christmas, the store comes alive with lush Christmas trees, evergreen garlands, wreaths and mistletoe. This season's favorite print statement globally – the tartan print takes centerstage, being the touch of vintage that ties the theme and the décor together.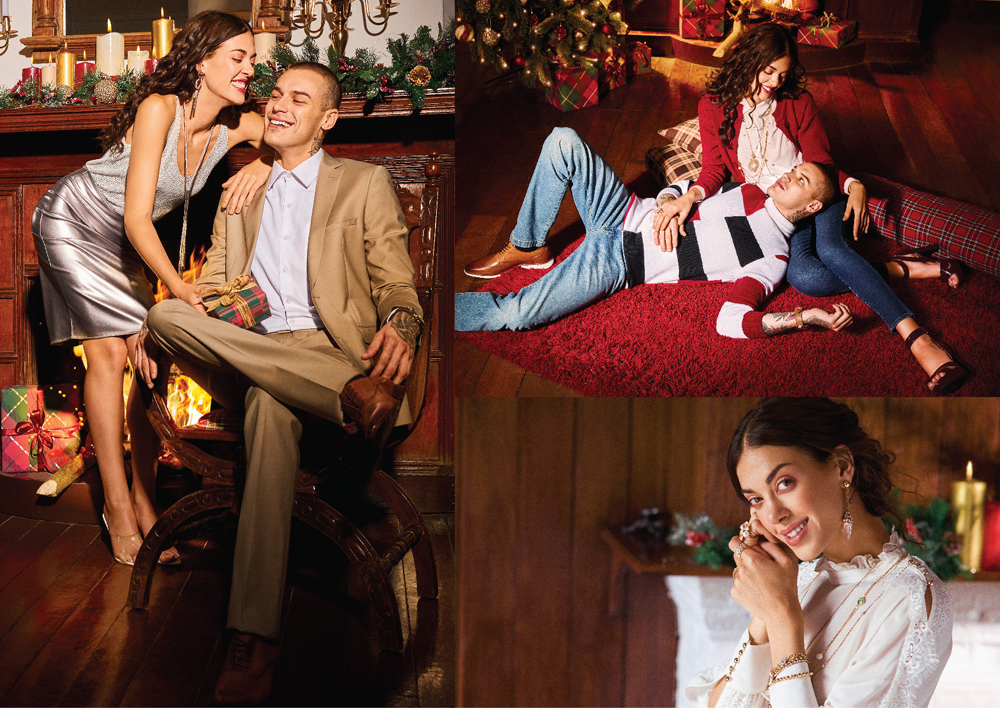 "For our customers, ODEL is where the festive season begins each year, and we go to extraordinary lengths to create the magic they look forward to. This year around, Christmas at ODEL is going to be even more special as the brand opens the doors to its newest ODEL department store at the ONE GALLE FACE Mall encompassing 3 floors spanning across 52,000 square feet of exhilarating retail space. At the ODEL Department store at the ONE GALLE FACE mall, we've expanded our beauty line as it is increasingly becoming a growing category both globally and in Sri Lanka too. We have given more band width to the three core categories of fragrances, cosmetics and skin care by introducing many international beauty brands to Sri Lanka. We have also introduced a global favorite kids wear brand, OVS Kids within the Kids Dept at ODEL. Sacoor Brothers, a Portuguese luxury men's formal wear brand renowned for its stylish high quality men's tailored suits and accessories is also a noteworthy addition to the men's department at ODEL. It's a very exciting Christmas for us and our customers." said Ms. Desiree Karunaratne, Group Director Marketing of Softlogic Holdings PLC, under which umbrella ODEL PLC operates, and this is indeed evident when stepping into ODEL this festive season.
The independent brands within the ladies' department, ODEL, TARA, Closet and B Iconic along with the signature seasonal line up presents must haves from comfy Christmas tees, cozy sweaters and tartan statement pieces to metallic and shimmery looks. Whether you need style inspiration for a breezy Sunday evening or a glamorous soiree rife with Christmas cheer, ODEL has style ideas to keep you up to date with this season's hottest international trends.
Wool tailored sweaters, which underline the return to classical shapes are key in the menswear collection, while statement patterns, generous collar shapes and a slightly oversized look and feel, bring back the sense of a classical Christmas. Sleeved panels, ribbed trims, colour blocks, and badges are a few of the key details that will feature in the collection, all of them being geared to put you into that real cozy, holiday mood. Adding into this season's collection of glamourous outfits, for the first time in Sri Lanka, an exclusive range of bespoke, luxury men's formal outfits by international retail giant Sacoor Brothers will be available at ODEL, ONE GALLE FACE Mall. Based in Portugal and known for its unique mission of offering 'defining' refinement to those who appreciate elegance, is set to upgrade the Sri Lankan Men's formal wear market with a whole new, premium and exclusive fashion experience.  An array of formal and casual wear or perhaps a mix of both, that could take you from desk to the dance floor awaits you at ODEL this season.
The kid's collection too will feature the key details of the theme, of course tailored to suit children, featuring a range of irresistibly cute outfits and accessories that will give your little one a perfect, traditional Christmas experience. OVS Kids, the renowned Italian Kids' brand is here for the first time in Sri Lanka as ODEL expands its kids' collection at the ODEL Department Store at the ONE GALLE FACE Mall. With an international presence spanning across 35 countries and 1285 outlets, the OVS Kids experience is set to transform the Sri Lankan kids clothing experience, giving it the much needed international touch.
The most glamorous of outfits will not be complete without that very special necklace, ring or pair of earrings to enhance it and ODEL's Xmas collection of jewelry is something you will most definitely want to deck yourselves with. A range of shimmering accessories featuring jeweled embellishments, layered necklaces and bracelets, as well as glitzy statement pieces are amongst the Backstage collection. Not forgotten are killer heels and gorgeous bags that will complement any outfit.
House proud divas have not been forgotten as ODEL HOME will showcase a collection that brings the theme of 'Let there be Joy' alive, with Christmas themed snow globes, lanterns, reindeer ornaments, Christmas themed dining sets and a whole lot more,  to deck your space for that 'most wonderful time of the year'! ODEL HOME expands across bed and bath, living, dining and kitchen segments, as well as a curated collection of exclusive dinnerware by Dankotuwa porcelain designed specifically for ODEL. ODEL HOME hosts an unmatched collection of homeware, offering you an extensive range of products to make your home your haven of coziness this Christmas season.
Christmas wouldn't be Christmas without your home and office being decked with holly and ODEL has the most exquisite decor with tartan accents, keeping it rich and traditional. Ranging from baubles to bon-bons, candles, ornaments and more, your home will come alive with ODEL's collection of unique Christmas decor, selected especially to recreate that timeless, traditional Christmas feel. What's more, if gift wrapping is not your forte, it will be done for you in traditionally beloved styles, yet another service that is being offered in store this season.
Gourmands have a host of goodies awaiting them at ODEL Delight which will feature a mouthwatering spread of specially curated goodies that will be gift wrapped, along with exclusive seasonal hampers which can be tailor made as per your requirement.
The quintessentially 'Christmas' tradition of gift-giving becomes even more cheerful this season with the wide selection of prewrapped, curated gifts that are perfect for gifting, has been introduced this year at all ODEL stores as a special feature. Ideal for those Christkindl gifting needs, the quirky options range from Christmas cake to whimsical snow globes, seasonal mugs to fashion accessories, offering something for ladies, gents as well as kids at very affordable price points.
Spreading the yuletide cheer, will be various choirs performing throughout the season at the store, while Santa Claus will also be patrolling the ODEL flagship store with his list of the Naughty and the Nice. As in previous years, shoppers at ODEL could avail themselves of all their traditional gift requirements, be they gift vouchers, exclusive Christmas hampers, gastronomic seasonal specialties at 'Delight', while the Home department will overflow with decorative items so necessary to bring that added touch of Christmas cheer to your home.
Adding to the excitement and convenience of shopping at ODEL this season will be several, special bank promotions for credit card holders during the month of December, ensuring that you really don't have to break the bank to have a jolly Xmas.
With 26 stores island wide, including its latest Department Store at The ONE GALLE FACE mall, everyone at ODEL are all geared to make this season a special one. 'Let there be Joy' this season, courtesy ODEL, everybody's favourite Seasonal Department Store!