ISTANBUL GROUND REPORT
TURKEY AT THE CROSSROADS
Savithri Rodrigo reports from Istanbul on the forces at work in present-day Turkey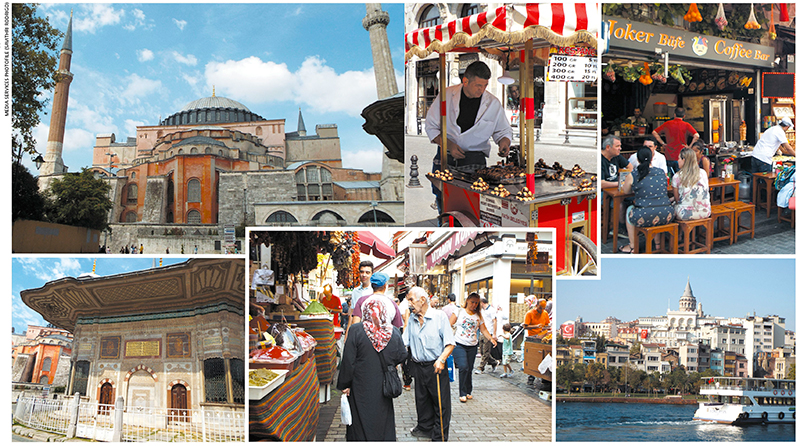 Historically, Turkey has experienced a glorious 4,000 years of resplendent empires, flamboyant lifestyles and conquering heroes.
Architecturally, the vestiges of the great kingdoms remain. But the Turkey of today projects a modern identity, faced with battles of its own – some, increasingly ubiquitous to the world at large.
The country prides itself on being secular, since Mustafa Kemal Atatürk modernised it with radical reforms by separating the mosque and state, outlawing the fez and discouraging the veil for women.
But despite the country being unrelenting on maintaining its secular status, Turkey finds itself at the crossroads.
The world's largest scourge is at its doorstep, leaving Turkey to deal with attacks that have been quite regular – most recently, a bomb-laden truck killed 11 people at an Ankara police checkpoint, a rocket-propelled grenade damaged the airport in Diyarbakır Province and an attack on Istanbul Atatürk Airport in June resulted in 44 lost lives.
But the Turks are fighters – that's an inherent gene.
The country rose up, dusted the debris and launched attacks inside Syria, a move approved by the US. And Turkey opened its doors to over 2.7 million Syrians, while tightening security everywhere.
It isn't only the challenges posed by terrorism that Turkey faces. On 15 July, it once again confronted its inner demons – a coup that took root on a sunny day and ended in dark clouds on the Bosphorus Bridge, where it all began and ended, with a people's uprising.
The failed coup saw President Recep Tayyip Erdoğan vow revenge on the so-called traitors. A crackdown on the cleric Fethullah Gülen – allegedly, the mastermind of the coup – ensued, while over 6,000 people were detained, and large numbers (including soldiers, judges and teachers) were arrested.
With Gülen in exile in the US, and Turkey accusing Uncle Sam of protecting him, the seeds of discomfort were sown between the two nations, who had been strong allies until then. It became crucial, therefore, for the Turkish President to hold talks with US President Barack Obama, at the G20 Summit in China.
In the meantime, as a recent AFP newswire report remarked: "Turkey has snarled with anger over a downgrade of its debt to junk status, but its previously robust economic performance risks being bruised by lower growth, stalled reforms and rule of law concerns, after the July 15 coup bid."
But what of the actualities in Turkey?
One of its largest industries, tourism, has lost some of its lustre. Its chief markets, Russia and Europe, have slumped. Istanbul's tourist areas such as İstiklal Avenue are teeming, but that doesn't mean business is good.
High-end designer brand stores look desolate. Souvenir stores and Turkish delight vendors aren't as vibrant as they're supposed to be. Only the cafés and ice cream stalls seem to attract any customers.
Things aren't too different at the Grand Bazaar or Spice Market, either. Indeed, the outlook for traders is seemingly bleak. "We have always catered to tourists," says a trader, selling nuts and spices at the Spice Market, who adds: "Summer is always our best time. However, there's no business, because tourists haven't come this year."
Another trader selling souvenirs at the Grand Bazaar laments that their best time is over, now that summer has ended. He continues: "This place was never meant for domestic customers, so when business slumps during our best times, it means that we have to manage until next year. Last year was the best for us, but this year has been bad."
It doesn't help that poverty seems to haunt the streets as well. Hordes of Syrian refugees beg for morsels, while young Syrian men and women busk to earn a living. Meanwhile, the social fabric is fighting to maintain a semblance of normalcy.
The Ministry of Culture and Tourism acknowledges that tourist arrivals have decreased by nearly 37 percent year-on-year (y-o-y), as a direct result of terrorist attacks and the failed coup. The slump has been palpable – with the tourist inflow reeling from 5.5 million to 3.5 million – with Russians  accounting for only 1.4 percent of arrivals, compared to 12.5 percent last year (their numbers were down a whopping 93%). Germans and Brits followed suit.
It's no wonder, then, that the national carrier Turkish Airlines – the major tourist ferrying source, especially from its prime markets – is pushing to showcase normalcy. Capitalising on its stance of Istanbul being the fifth-most connected city, the Chairman of Turkish Airlines İlker Aycı echoes Erdoğan's claim of "business as usual."
Aycı reiterates: "We will not allow terrorism or any internal strife to knock us down. The world knows about terrorism, and we're well aware of it – because we are fighting ISIL directly. We are well-prepared for any eventuality. Turkey is as safe as any other European destination."
This optimism is vital to move forward, given that mounting political turmoil will see business confidence continue to dip. Coupled with security concerns, this could lead to a downward growth trajectory.
Erdoğan has been demanding EU membership as the price for stemming the refugee crisis, vowing to tackle human trafficking and tighten border controls. He also argues that Turkey is a major European power – and that with Brexit now a reality, the EU needs Turkey.
Whether this will eventuate is still a question. But for now, Turkey is fighting – fighting internal rebels, to regain stability; fighting a global war on terrorism; fighting its neighbours, for recognition; and fighting to regain its economic might.