INTUITIVE LEADER
Susantha Ratnayake
John Keells Holdings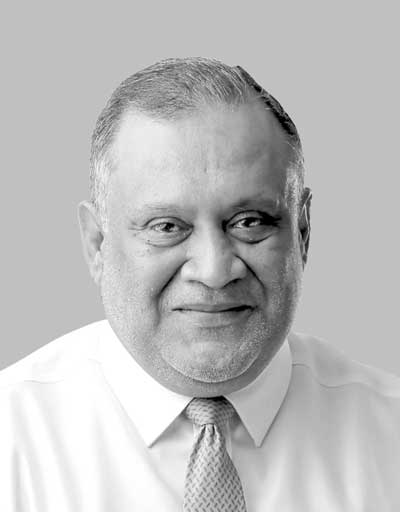 Susantha Ratnayake's views expressed in an interview at the end of 2013 remain apt even today, almost a decade later. Perhaps it is his extensive career and advancement at a young age that provided him with the insights to speak with such prescience; but his words also open a window into his personality.
Forty years at a premier blue chip John Keells Holdings (JKH) and at its helm for over a decade, Ratnayake saw and heard at a macro level the vagaries of commerce and economy denied most mortals with their feet on the ground.
He deplores sitting on the sidelines and criticising. Developing economies are invariably plagued by competing challenges and priorities, and Ratnayake has long advocated for constructive discussion.
He has said that "managing the local imperatives in an extremely volatile global environment is no easy task. Therefore, it is important that business engages the policy makers in regular and constructive dialogue, if its points of view are to be recognised."
Deshamanya Ken Balendra – acknowledged as one of the great business minds of our times – is also lauded for his foresight, and taking an unusual step in appointing a coterie of young men and women to the board of JKH when he was its chairman.
Such appointments, especially to the main board of a listed holding company, were virtually unheard of at the time. Ratnayake, then in his thirties, was one of them.
Ratnayake lived up to that early promise his predecessor had recognised in him; and as JKH's chairman, he saw through exponential growth during his tenure at the helm, despite tough times, by taking a tough stance – and he admonishes businesses to 'grow up.'
"They can't on the one hand keep asking for tax holidays and handouts for every investment they make; and on the other, demand that the government reduces the fiscal deficit. We all know, from our own experiences, that this is not sustainable," he has said.
And these words are more pertinent today than they ever were as the nation faces headwinds from all directions.
A onetime Sri Lankan Of The Year, Ratnayake joined JKH in 1978 as a trainee at Mackinnon's Travels, and would go on to be appointed to the board and head the Transport, and Domestic and International Trade Sectors when the group restructured in 1992.
He was appointed as its chairman and chief executive in January 2006, and retired 12 years later.
Susantha Ratnayake: intuitive leadership and clarity of vision.