INTERNAL TRADE
Sri Lanka to sign MoU on Hambantota port handover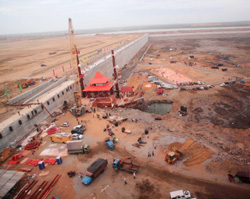 The Sri Lankan Government will sign a Memorandum of Understanding (MoU) with a Chinese consortium by January upon the finalisation of the necessary documents, according to recent media reports.
Minister of Development Strategies and International Trade Malik Samarawickrama stated on 11 November that 95 percent of the procedures have been finalised.
"We have more or less concluded our plans. The MoU will be finalised by end November, leading to its signing in January," he said.
Samarawickrama added that the Hambantota port is being valued at present and that the valuation would likely be between US$ 1.3 billion and US$ 1.5 billion.
The project will be managed as a joint venture and consortium led by China Merchant Holdings (International), which will receive an 80 percent share, while the government will absorb the rest, in addition to the revenue from leasing the land.
A 15,000-acre Special Economic Zone will also be established, along with the port, connecting the districts of Hambantota, Monaragala and Matara.
Samarawickrama explained that "it will be a township with housing and hospitals. It will be an integrated development plan similar to Shenzhen in the south of China."