SARAII VILLAGE
By Shanuki De Alwis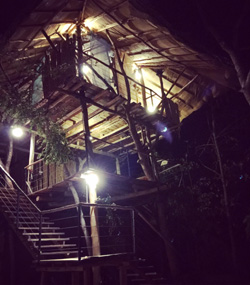 Sometimes, it pays to be a writer. It pays doubly when you clinch yourself a client who owns a treehouse. That's right… a TREEHOUSE. The stuff of childhood fantasies, the mere mention of which spews forth pulse-accelerating visual imagery of sipping iced tea atop a breezy canopy of green alongside a companion rhesus monkey, whilst Tarzan swings by to cook, clean and feed you freshly plucked grapes from the trellis roof over your head.
Needlessly to say, a certain copious amount of adrenaline did rush when Saraii Village, a treetop eco-hotel of considerable good repute, came calling for some help on developing content for its website. The opportunist within immediately overtook and negotiation ensued to agree on a contra-deal of a free stay at the hotel in exchange for said literary services.  Terms were agreed upon and both parties delighted on the deal of a century. Thus bags were speedily packed – they would not, as hoped, allow attire to be strictly foliage – in pursuit of rediscovering my inner infant and the possibility of bringing home a rather delectable feral man raised in the jungles by apes.
The hotel is nestled in the heart of sleepy Weerawila, just outside Hambantota. The 'jungle' turned out to be a surprisingly beautiful vista of evergreen trees painstakingly hand-planted and nurtured by the property's owner, long before the idea of an eco- hotel came into being. It provides the ideal backdrop for the concept of a sustainable agro-forestry enterprise that Saraii – named after the Hebrew word for 'essence' – set out to be. But if the land was enchanting, then the accommodation built upon it was nothing short of breathtaking. For a girl who considers cities to be as loathsome as a dung-heap crawling with maggots, the awe-inspiring two-stories structures of bamboo and wood that make up Saraii's tree house suites were magical. The use of re-purposed wood and sustainable architecture grabbed this tree-hugger's heart, whilst the airy, rustic-but-yet-luxurious interiors and stunning 360 degree views just made the loins squeal in glee. If Enid Blyton had visited Saraii, there would have been a new breed of best-selling books by now. Alongside these magnificent tree houses are a series of quaint mud huts built to mimic authentic Sri Lankan wattle and daub homes. These too, exude charm and character whilst not skimping on a fabulously comfortable experience.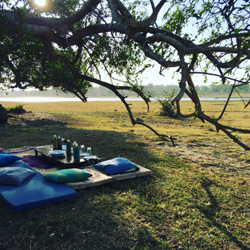 It would have been easy to simply curl up in my treehouse's giant four-poster bed and watch the soft breeze playing with the wispy curtains or listen to the twitter gossip around me, courtesy of the myriad of brightly coloured birds casually dropping by for visits. The temptation to put down roots for the entirety of the stay was immense. However, explorations when travelling are a must and Saraii does not disappoint on that front. For the intrepid cultural traveler, perusing the menu of experiences on offer felt like being asked to choose between one half of Disneyland and the other; you know you don't have time to go on all the rides, but you want to nevertheless. After much fuss, contemplation and elimination, a variety of excursions was finally decided upon and the next two days packed to the brim with memorable picnic breakfasts by a lake, boat rides, lunch with farmers, curd making, pottery, palmyrah weaving, boat rides, village hopping, cookery demonstrations and even one particularly exciting event where Yours Truly learned to ride a bicycle for the first time in her life since the days of guard wheels and handle ribbons. Even the staff at Saraii Village, indulgent and polite as they were, couldn't help guffawing at the site of a hefty middle-aged aunty peddling furiously around the property to the tune of her happy shrieks. With the days spent exhausting every muscle and ounce of energy on rediscovering the beauty of rural life in Sri Lanka and the evening dedicated to marveling at the glittering night sky from the poolside alfresco dining spot (three whole shooting stars were sighted, and not because of any alcoholic beverage), it is difficult to express the sheer magic of the weekend spent at Saraii Village. One can only encourage you to visit, and see, hear, taste and delight for yourself.
Three days after returning to dreary Colombo and surviving withdrawal symptoms, realization hit that amongst all of the wonder experienced, Tarzan never showed up as expected. Oh well…his loss.