INDO-CHINA RELATIONS
LMD AUGUST 2017

INDIAN OCEAN GEOPOLITICS
India is wary of China's increasing presence in the Indian Ocean region and Sri Lanka's littoral seas
BY Amantha Perera
During Prime Minister Narendra Modi's state visit to Sri Lanka in May, a story emerged that a Chinese submarine was denied permission to enter the Colombo harbour. India, Sri Lanka and visiting Chinese submarines have a history, albeit a short one: three years ago, a Chinese submarine called on Colombo during President Xi Jinping's visit to the island; and not long afterwards, another submarine did likewise.
New Delhi was livid since India had no knowledge of Chinese submarines dropping in on Colombo.
There were reports that the then-president Mahinda Rajapaksa had indicated to the Indians that they'd be kept informed of any such visits following the first incident although it seems that the assurance was not followed through.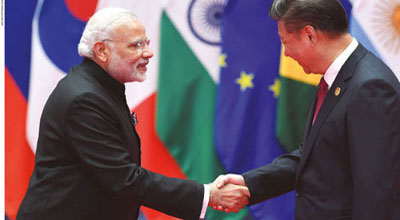 Taken to be symbolic of Colombo's acute tilt towards Beijing, the unease created by the visit of the Chinese submarine remained until Rajapaksa lost the presidential election in January 2015. In fact initially, he accused Indian intelligence based in Colombo of hatching a plan to send him packing.
The timing of the most recent visit by a Chinese submarine is a curious one. State visits are not scheduled on the spur of the moment as planning takes months. Modi's visit was known well in advance and the Chinese planners would have been privy to this information too.
If the Chinese authorities were aware of the Indian premier's planned visit and still made the request for a submarine stopover, then it must have been done to indicate to New Delhi who the rising superpower in the region is. It could also have been to test Colombo's response. But there was no chance that the latter would approve this.
India's worry is that China is actively using subs in its southern waters and there's little it can do about it. But the little it does is done with as much aggression as possible.
Those in India's security establishment claim that there have been at least seven such submarine deployments in the Indian Ocean since 2013. And it is also no secret that the Indian Ocean is vital for the Chinese and they have a strong ally in Pakistan. New Delhi can do nothing about that either.
There could be some hawkish hyperbole involved in the analysis but there's no denying that India and China are shadowboxing in this region. Surrounded by countries inimical to its national policies, New Delhi knows that Beijing has a ready-made ally in Islamabad. Other nations like Bangladesh, the Maldives and Myanmar too have been swayed by the deeper pockets of the East Asian nation.
Colombo is a curious case – it was probably more Chinese than the Chinese themselves, if you know what I mean, during the last phase of the Rajapaksa administration. But Sri Lanka did a sudden U-turn on Chinese projects when the new government took over. Modi has been attempting to build on his relations with Sri Lanka. Less than two weeks following his short visit to the island when floods and landslides devastated the nation, the Indian premier was one of the first world leaders to express concern and act by granting aid.
What these interactions affirm is that both India and China still consider Sri Lanka to be a vital partner – a nation they would like to have on their side. It is very much up to the Sirisena-Wickremesinghe government to manage the balancing act astutely, which it has been trying to do with great care.
So far, the two leaders have tried their best to balance Sri Lanka's Indo-China relations to ensure that the country's interests remain right, left and centre. But as China once again becomes the account with the fattest chequebook, Indian concerns are likely to rise.
The current balancing act will be far more delicate than the one under Rajapaksa since there is no clear timeline or target like there was during the war. So it will be a never-ending walk on the tightrope of managing geopolitical interests with national priorities.
Less than a month after Modi visited Sri Lanka, he met Xi in Kazakhstan. The meeting was to become known for its 'Dangal diplomacy' – a reference to the Amir Khan movie that has set box office records in China.
India's Foreign Secretary Dr. Subrahmanyam Jaishankar later said that Xi had informed Modi that he had watched the movie… and liked it. The meeting was the first since India boycotted Beijing's international confab on the One Belt One Road initiative.
Jaishankar described the meeting as cordial but added: "There was an understanding that our differences should not become a dispute." The Chinese Foreign Ministry also echoed similar sentiments.
So unlike in the past, dialogue is open and alive. Both Modi and Xi are attempting to reinvent the role of their nations in the world.
While Modi is trying to reassert India's regional role, which declined or was subdued at the very least during the last Congress government, Xi has been striving to project himself as worldly and sophisticated – far removed from the Chinese leaders with whom the world has become familiar.
China has also been attempting to position itself to counterbalance the inward-looking protectionist policies that US President Donald Trump has been pursuing such as the Paris climate deal.
All in all, Colombo too needs to adopt a foreign policy that reflects modern international politics rather than Cold War dichotomy.