BUSINESS SENTIMENT
INDEX FALLS TO A DECADE-PLUS LOW
Biz confidence slumps again in April – and is set to worsen post-Easter Sunday
The sad truth is that Sri Lanka Inc. will suffer as much as the people, following the deadly Easter Sunday explosions in the commercial capital and elsewhere that rocked a nation basking in the glory of nearly 10 years of peace on the ground – and its elevation to one of the world's hottest travel destinations for 2019.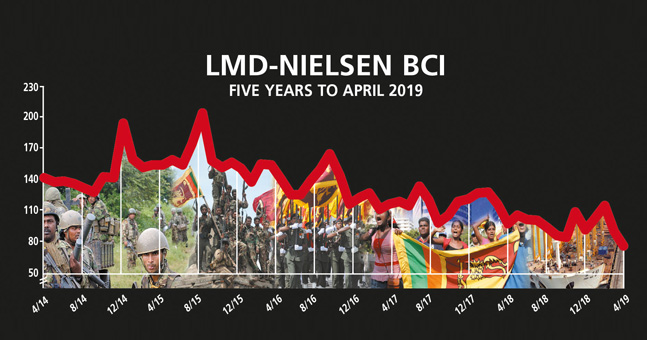 The nation's stock exchange shut shop the next day, only to register its steepest fall in seven years at the end of trading on Tuesday. Analysts attributed the free fall to panic selling, and extreme apprehension over when the mayhem and tension would end as Colombo was placed on high alert amid nighttime curfews.
But even before the deadly 21 April explosions, the LMD-Nielsen Business Confidence Index (BCI) survey painted a dismal picture – and since the monthly poll was carried out in the first week in April, the likelihood of more bad news next month is extremely high given what transpired on Easter Sunday.
THE INDEX Corporate sentiment weakened further with the BCI dropping to 77 in April compared to 90 in the previous month. Worse still, this is the BCI's lowest level since July 2008 when the barometer plunged to 61 following the Colombo Fort bombing by the LTTE. It is also well below where the index stood a year ago (98) and its average for the last 12 months (97).
Nielsen's Managing Director Sharang Pant remarks that "the GDP growth numbers for the fourth quarter of 2018 were released on 19 March. And the growth of 1.8 percent in that period was below two percent for the first time since the first quarter of 2014."

He adds that coupled with this, a section of businesspeople surveyed feel that the 2019 budget proposals announced around the same time have a long-term perspective but "did not offer much for a revival in consumption in the short run."
SENSITIVITIES Among the chief business issues cited by corporate executives are high taxes – especially on the back of Budget 2019 – along with ongoing concerns relating to the rupee's depreciation and inflation.
And economic concerns are front and centre with one respondent asking: "As the economy is down at the mo­ment, how can we say our business will grow in the next few months?"
PROJECTIONS With the budget done and dusted so to speak, one may have expected business sentiment to nudge upwards in the ensuing months.
But instead, businesspeople appear to be decidedly more pessimistic, possibly with the prospect of a presidential poll later in the year also weighing heavily on their minds.
In addition, they now have a new headache to recover from, following the acts of terrorism on Easter Sunday.
With the index already at a lowly 77 basis points, we could be looking down the barrel towards its all-time low of 31 during the height of nearly three decades of war and terror.
Sadly, that could be the reality.
– LMD