BUSINESS SENTIMENT
INDEX AT A NEAR SIX YEAR LOW
Corporates react to the political turmoil and perceptibly bleak economic outlook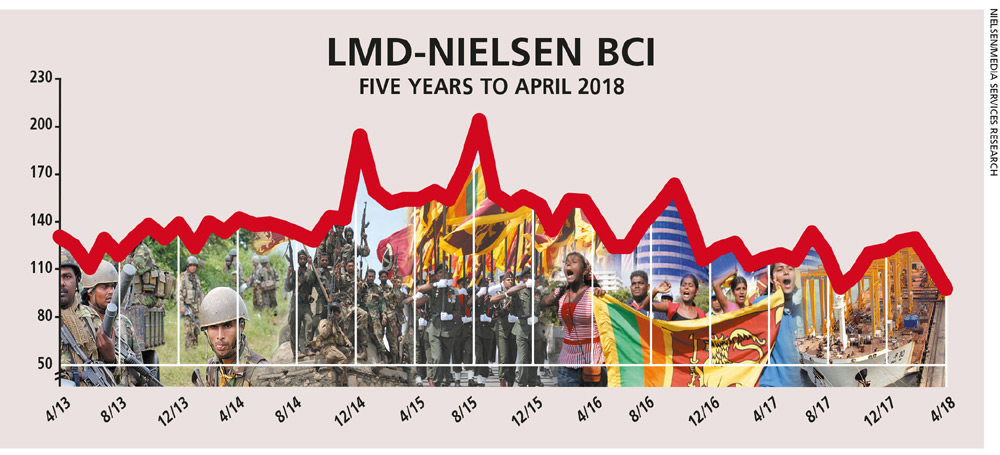 The nation as well as its economy has been burdened with untold challenges in recent times due to the steadily deteriorating political climate, underwhelming economic growth in 2017, major tax reforms and rising interest rates amongst many other negative factors.
There was no reprieve from the political hara-kiri that Sri Lanka has been known for in recent decades as the spate of damning incidents continued with a vote of no confidence against the premier – against a backdrop of the bond scam in the main – and ethnic clashes that brought the Kandy District to a standstill in February.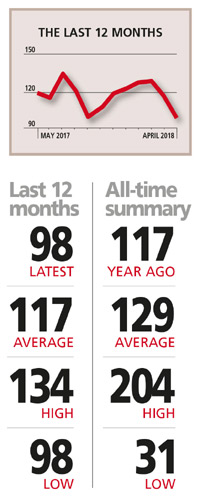 After the motion was roundly defeated, Prime Minister Ranil Wickremesinghe stated that this is an opportune time to focus on the country and its development agenda.
However, what followed the vote of no confidence were questions regarding the future of those who didn't support the PM, lending strength to perceptions of continuing political instability despite his insistence that the disagreements would be settled through negotiations.
Adding to the country's worsening credentials, Department of Census and Statistics (DCS) estimates reveal that Sri Lanka recorded its lowest economic growth in 16 years due to major economic sectors underperforming.
These developments have had a marked impact on perceptions within the business community as evidenced by the results of the latest LMD-Nielsen Business Confidence Index (BCI) survey.
THE INDEX The BCI suffered a further slump of 19 basis points (to register 98) in April – following a fall of 11 points in the previous month – which represents a 70 month low. This marks the second time the index has fallen below the 100 mark over the course of the last 12 months. Compared to its all-time median of 129, this is a reflection of how hard times have been.
What's more, the BCI is now 19 basis points lower than its 12 month average (117) and a massive 36 notches below its peak during this time (i.e. 134 basis points in July last year). To put things in perspective, in the last month of Sri Lanka's 'war against terrorism' in May 2009, the unique barometer of business sentiment stood at 89.
Nielsen's Managing Director Sharang Pant observes that "political uncertainty and disappointing GDP growth numbers seem to be taking a toll on sentiment."
Commenting on the nation's state of affairs, one businessperson laments: "No one has faith that the current political authority will continue and the country is obviously lacking adequate investments to move forward."
SENSITIVITIES Businesspeople continue to point to taxation, political interference and inflation as being among their major concerns, with one survey participant noting that "all the government's policies are shortsighted and for short-term gain."
PROJECTIONS The only consolation from the April BCI survey outcome is that the index will surely not fall any further but therein lies the dichotomy: nothing is certain at this time, thanks to the machinations of the nation's political elite.
– LMD