CYBER STARDOM
STALKING ROYALTY AND CELEBS!
Ruwandi Perera scans social media to snap right royal faux pas in cyberspace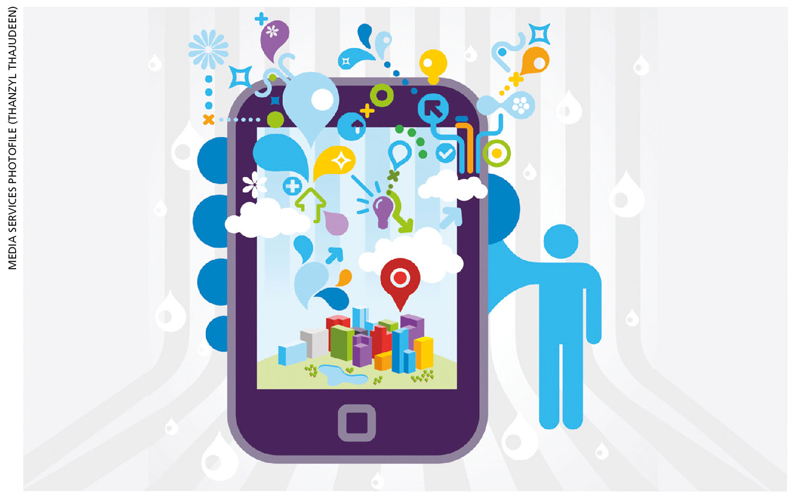 Whether you're on Facebook, Instagram, Pinterest or even an active WhatsApp group, you are likely to stumble on something to do with Buckingham Palace this month – it's when Prince Harry marries former Suits actress Meghan Markle.
You might find yourself ogling cute pictures of the couple on your Facebook homepage or end up crying over Princess Diana walking down the aisle in her ivory taffeta dress and 25 foot long train on YouTube.
The biggest wedding since William wed Kate in 2011, this nuptial event has even more social media buzz given that Markle was an active social figure before she decided to give it all up. Fans were unceremoniously cut off from her life last year when she deactivated her Facebook, Twitter and Instagram accounts weeks after announcing her engagement to the prince.
With Prince Harry, Prince William and the Duchess of Cambridge all having a not so positive opinion of social media, Markle will probably never reestablish her online presence. However, this doesn't mean that the royal family isn't online. In fact, they have a social media team, which carefully curates pictures (not selfies!) and statements of the royals, and uploads them onto Kensington Palace's social media accounts.
Having said that, there are rebels everywhere – even in the British royal family – because who can deny the joy of posting something snappy online?
The granddaughter of Queen Elizabeth II, and daughter of Prince Andrew and ex-wife Sarah Ferguson, Princess Eugenie is one such freedom fighter who publicly joined Instagram on International Women's Day this year.
In her first post, she announced that she'll use her account to highlight causes, passions and people that she holds dear, ending with '#scoliosis #iwd2018 #weday #firstpost.' She seems to have shaken off the palace's censor with all the selfies she posts on Pinterest along with artist quotes and foodie art.
However, the princess was not the only royal to break the rules. Arthur Chatto – the grandson of Queen Elizabeth's late sister Princess Margaret – has his own Instagram account with close to 40,000 followers. The Queen's former pageboy, this royal isn't shy of displaying his abs and biceps online.
However, he is nothing compared to how famous Sheikh Hamdan bin Mohammed Al Maktoum is on Instagram. With over six million followers, Dubai's Crown Prince is an ardent Instagram personality who posts countless selfies with his family and animal friends – including horses, camels, falcons and dogs.
Standing by his royal title, he also shares pictures of official outings with his father but doesn't forget to mix it up with posts on outdoor hobbies such as skydiving.
In Southeast Asia, with close to 800,000 followers on Instagram, Prince Mateen of Brunei keeps his account interesting but official with pictures of him playing polo and staying fit in addition to attending royal events.
Social media is creeping into every home and palace but there are reasons why royal families have official pages managed by social media specialists. Personal social media accounts open the floodgates for fans to get up close and personal with their favourite celebrities. While this consumes heaps of time, being on social media blurs the lines between celebrities and fans, which can end up being disastrous during the inevitable negative phases of celeb lives.
This is also probably why Hollywood A-listers such as Jennifer Lawrence, Brad Pitt, Angelina Jolie, Scarlett Johansson, Daniel Radcliffe, Emma Stone, Kristen Stewart and Kate Winslet look to avoid this fate.
There have been many celebrity social media mishaps and missteps that have resulted in angry retorts, snorts and amusement of sorts, all leading to negative publicity.
For instance, when Kim Kardashian shared photos of her Jacqueline Kennedy Onassis inspired photoshoot, it resulted in an angry outburst from her followers claiming she doesn't resemble the former first lady at all. She also encountered embarrassing comments when she misspelt 'Giorgio Armani' on Twitter.
However, Kardashian's dilemma is no match for the one President Donald Trump created when he retweeted a Twitter user's post containing a picture of a couple claiming to be the user's parents, who considered Trump an inspiration – the president did not know that the photo was of two serial killers.
Being offline might dampen their cyberspace fame but for celebs it's a wise choice given that stalkers on social media are much worse than the paparazzi.