INCLUSIVE SUSTAINABILITY
GENDER
DIVERSITY
The business case for wearing a gender lens – Kiran Dhanapala
A gender lens offers the benefits of diversity and inclusivity in sustainability initiatives, along with increased profits and resilience. Aspects of sustainability that benefit include issues related to access and affordability; diversity and inclusion; employee health, safety and wellbeing; fair labour practices; material sourcing; recruitment, development and retention; and supply chain management.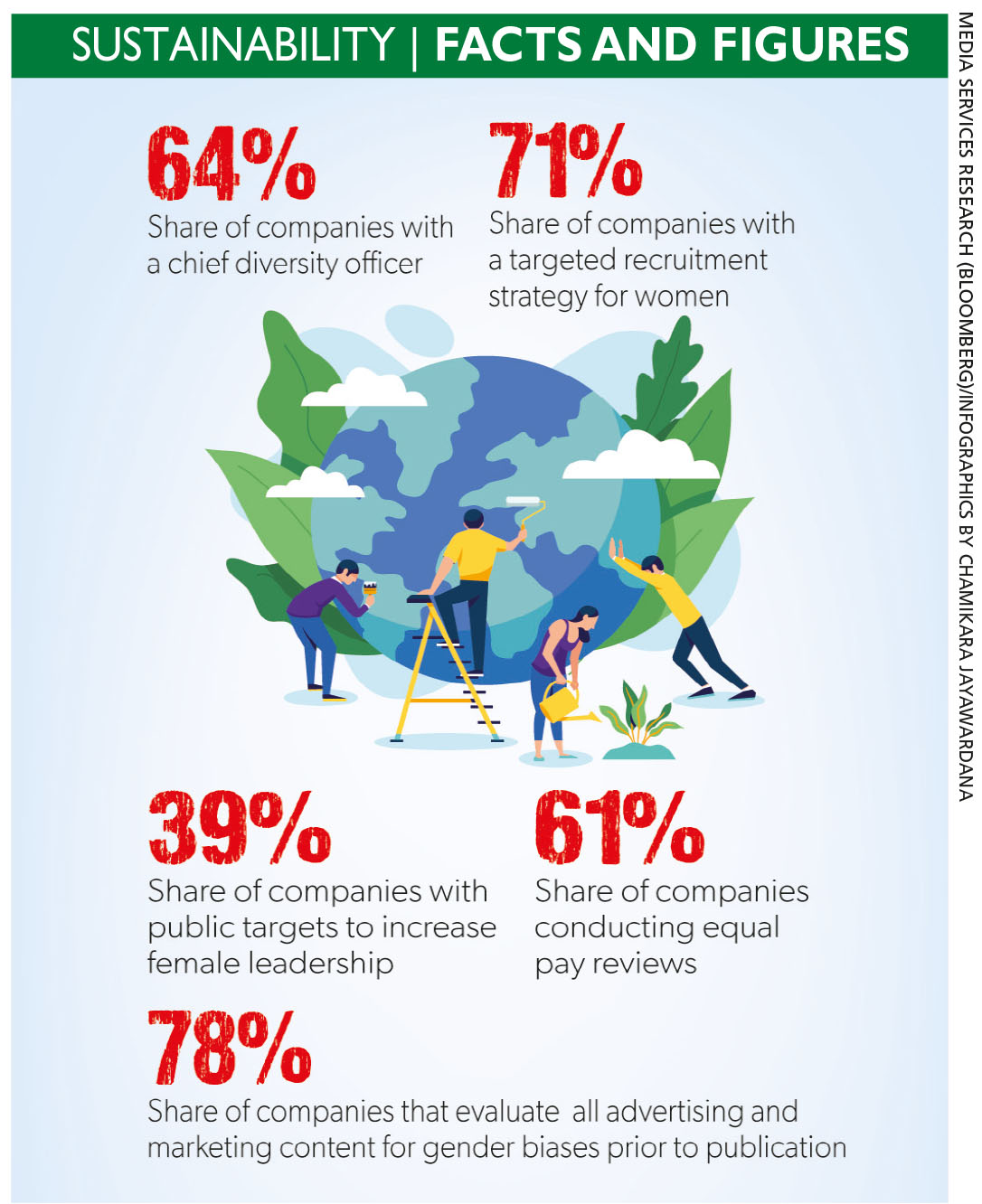 In banking, the gender specific impacts of financing can be significant. Effects on female workers could include workplace sexual harassment, insecure contracts, and chemicals affecting maternal and foetal health.
Moreover, financing projects in extractive industries or large infrastructure may affect women in communities through the loss of land rights or livelihoods, increased exposure to prostitution, STDs, HIV or AIDS, and so on.
Therefore, banks' environmental and social management processes must adequately cover gender related risks and opportunities.
Several McKinsey & Company studies have identified a correlation between gender diversity in companies, and both profitability and value creation. Data from 2017 reveals that companies with more diverse executive teams are 21 percent more likely to outperform on profitability and 27 percent more likely to generate longer-term value creation. Conversely, companies with lower gender and other types of diversity are 29 percent less likely to achieve above average profitability.
A gender lens entails more than counting women on management teams or boards of directors. It encompasses identifying and scaling up best practices to earn greater profits due to increased diversity.
Gender is one of several variables analysed by investors to glean a holistic picture of companies' risks and opportunities. Furthermore, McKinsey reports that companies view inclusivity and diversity as a growth enabler and source of competitive advantages.
Sustainability helps businesses attract, engage and retain talent. Matching such strategies with the values of future employees is good for business.
People are displaying an increasing interest in sustainability – including gender diversity – in workplaces, supply chains, marketing and more. Given the increasing scarcity in labour markets, businesses are competing for qualified labour and these strategies offer competitive advantages.
At the board level or below, diversity introduces a richness of perspectives, resulting in improved decision making and enhanced profits. McKinsey Global Institute estimates that more women in the workforce could add as much as US$ 12 trillion to world GDP in 2025.
Businesses can tap into this growth by formulating diversity and inclusion strategies as part of sustainability efforts with targets, metrics and dates. An example would be reskilling programmes for women – especially those returning to work following a career break – in countries with increasingly limited labour and low female labour participation rates such as Sri Lanka.
Globally, there are collaborative private sector initiatives that recognise gender parity as a growth contributor, and will result in a more supportive business culture, higher employee satisfaction and retention, and increased productivity.
The Paradigm for Parity is a coalition of US business leaders committed to addressing the leadership gender gap in the country's corporates with a '5-Point Action Plan,' which defines specific actions to achieve parity by 2030.
Another initiative is the Aurora platform for companies seeking to engage and retain women. It addresses the 'broken rung' issue, which refers to the biggest challenge for women being the first step up to managerial positions; and it provides them with critical leadership building blocks around support, knowledge and networking early in their careers.
Companies benefit through higher retention and employee engagement rates. The former offers substantial savings given that it costs at least 33 percent of employees' salaries to on board new hires.
Meanwhile, the World Business Council for Sustainable Development combines both sustainability and gender initiatives through an education project that aims to help women reach senior positions in their companies, and ensure that sustainability is embedded in their leadership and corporate strategies.
Index rankings can also include gender variables such as the Bloomberg Gender-Equality Index (GEI), which recognises public companies' transparency in gender equality and reporting. It aims to encourage businesses to adopt gender equity policies and provide investors with data on progressive companies.
Businesses must have time bound and measurable goals and targets in gender inclusive sustainability strategies. Moreover, there is a need for gender targets for director and senior management positions, actively enforced zero tolerance policies on gender discrimination, as well as the recruitment, skill building and promotion of female employees.