IMPORT CONTROLS

SPOTLIGHT ON
EXTERNAL TRADE
Zulfath Saheed takes an in-depth look at the economic fallout from import controls
In the wake of the COVID-19 induced lockdown and curfew, one of the more noticeable measures taken vis-à-vis economic policy has been in relation to external trade – whereby the government decided to restrict the import of a number of items deemed to be nonessential but to which businesses and the public had grown accustomed to having access.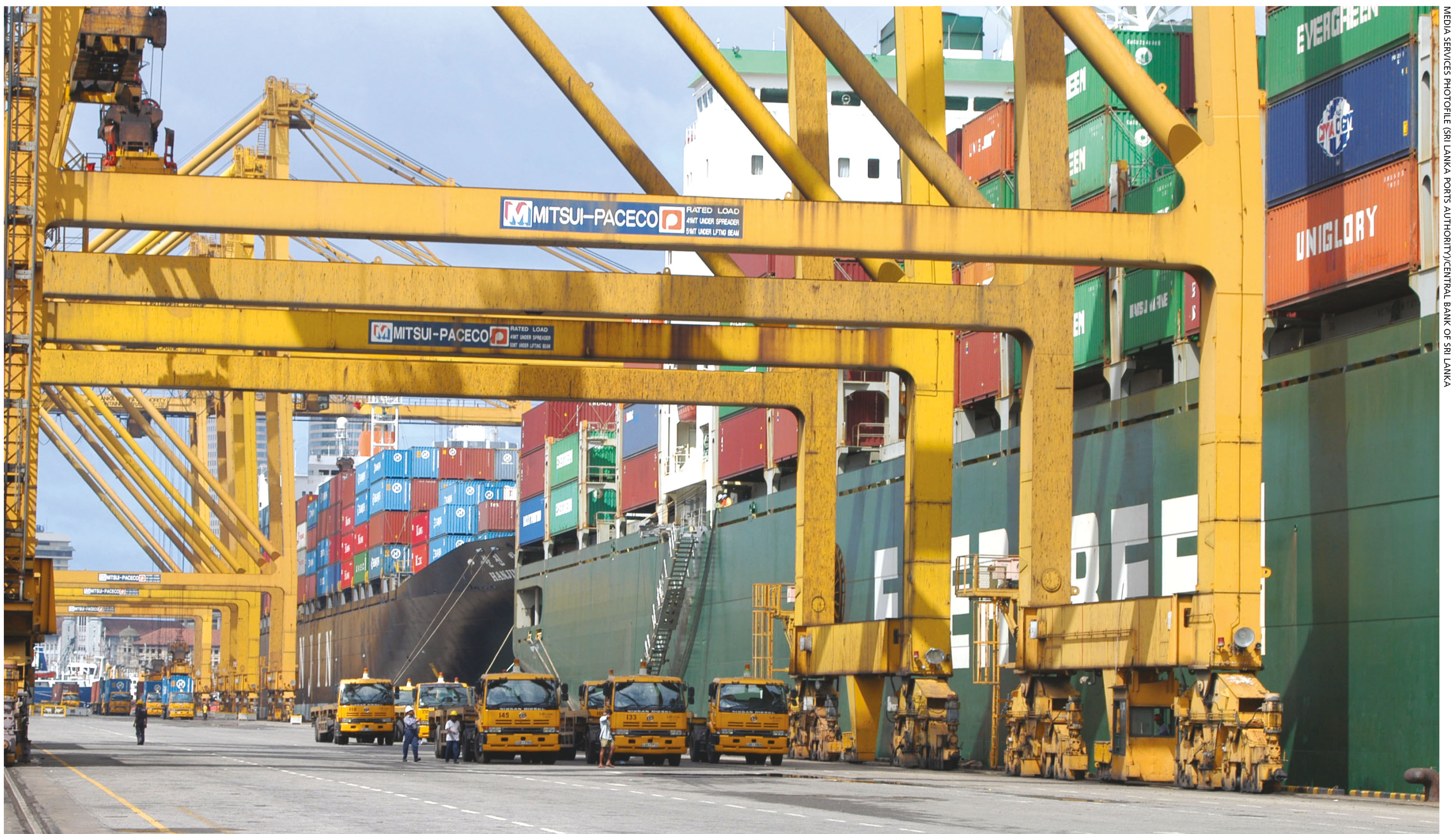 Subsequent gazettes on import restrictions in the second quarter of the year suggest that the administration is not looking to meaningfully reduce curbs on imports, which have incidentally helped the state curtail expenditure and alleviated some pressure on the Sri Lankan Rupee.
However, certain import dependent sectors have been impacted by the move to restrict imports, thereby raising eyebrows in various quarters.
EXTERNAL SECTOR In July, Sri Lanka's external sector witnessed an increase in merchandise exports and higher workers' remittances amid reduced merchandise imports, which remained subdued with the continuation of restrictions imposed on the importation of nonessential goods.
Accordingly, the declining trend in merchandise import expenditure since March continued in July, recording a contraction of nearly 25 percent year on year to US$ 1,294 million. The drop in expenditure on the import of intermediate goods was led by fuel imports amid falling crude oil prices, and textiles and textile articles stemming from lower imports of fabrics and yarn.
The importation of investment goods also declined during the period. This included all subcategories encompassing expenditure on machinery and equipment, building material and transport equipment.
The Central Bank of Sri Lanka notes that "as a result of import restrictions, non-food consumer goods imports declined with lower expenditure on all sub categories except telecommunication devices (mainly mobile phones), and medical and pharmaceuticals."
Moreover, expenditure on personal vehicle imports declined by over 90 percent in July – the lowest monthly outlay since December 2009.
MOTOR INDUSTRY Import controls have resulted in the motor industry coming to a virtual standstill.
Reports indicate that as a result of this, some vehicle agents are looking to shut down their dealerships while others are heading in the direction of employee retrenchments. And as has been the case in the past, stakeholders have called for policy stability to ensure industry sustainability.

Vehicle registrations in Sri Lanka witnessed a slump in August across all but a handful of commercial vehicle categories, according to data compiled by equity brokerage and research house JB Securities.
The data reveals that slightly more than 17,000 vehicles were registered in August, representing the lowest monthly figure in over a decade with buyers opting for existing stocks mainly available at secondhand vehicle dealers instead.
In contrast, more than 28,000 vehicles were registered in Sri Lanka in July and over 30,000 in June.
INSURANCE SECTOR Meanwhile, price competition among non-life insurers is likely to intensify as a ban on automobile imports and an economic downturn hinder premium growth, according to Fitch Ratings.
It elaborates: "Growth in the industry's motor premiums slowed to two percent in 2019 from 16 percent in 2016 due to the government's efforts to limit the outflow of foreign exchange by curtailing vehicle imports…"
"The recent ban on auto imports came in the wake of the pandemic as the government tried to control currency depreciation by supporting foreign currency reserves," it adds.
IMPORT SUBSTITUTION Alongside measures to curb imports of certain goods, the administration also appears to be seriously mooting a policy of import substitution.
To this end, it was recently announced that the head of state would be chairing a high-powered ministerial committee comprising cabinet and state ministers tasked with promoting investment in import substitution and exports – in alignment with the President's 'Saubhagya Dakma' election platform.
In addition, the cabinet has sanctioned the appointment of an expert committee representing relevant stakeholders to formulate a new 'national trade policy' for Sri Lanka.
RATING OUTLOOK In a statement issued in September, Moody's announced a downgrading of the Sri Lankan government's long-term foreign currency issuer and senior unsecured ratings to 'Caa1' from 'B2' while changing the outlook to 'stable.'
The rating agency noted that it expects the government to settle its October US$ 1 billion maturity by drawing down on the country's foreign reserves, "which will further deplete already thin external buffers." And it added that "this may also contribute to a more protracted economic recovery should import controls be extended."
Therefore, it remains to be seen how much longer Sri Lanka can continue to restrict imports to the country – ostensibly in a bid to preserve exchange rate stability set against the backdrop of the economic stress caused by COVID-19.