HNB ASSURANCE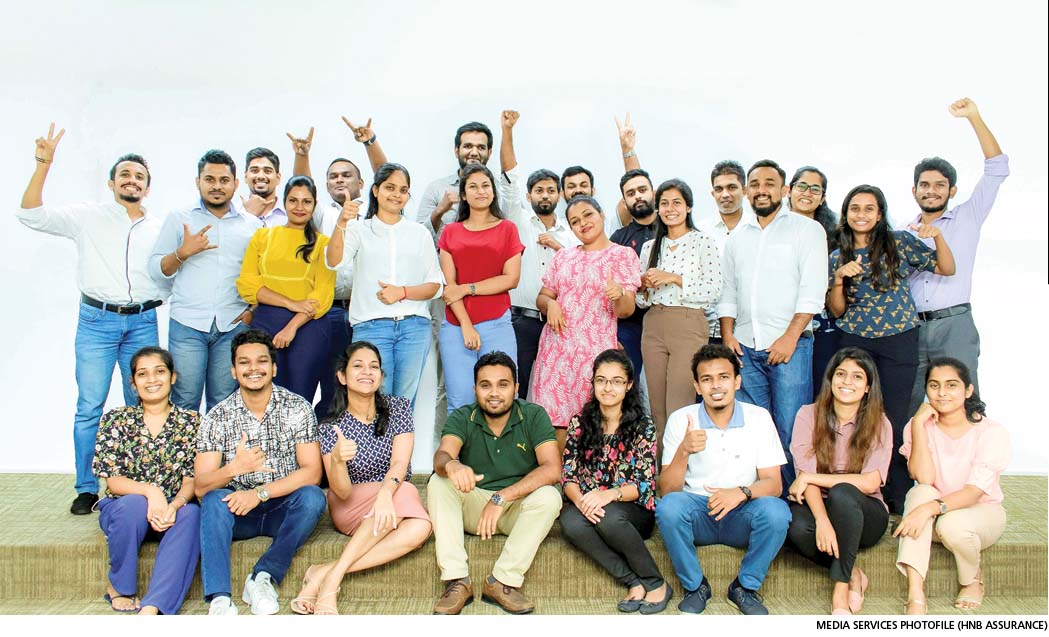 Q: How have workplace cultures chan-ged in the wake of the pandemic?
Lasitha Wimalaratne (LW): COVID-19 ignited the unpredicted transformation of working from home, which we were quick to adopt by accelerating all systems and ways of working. We empowered our employees with training, equipment, guidance and support to work remotely, and that enabled us to have a remote working situation that was a hundred percent efficient during the lockdowns.
This change has helped us manage costs and transform our culture to be more performance oriented. We recorded 29 percent growth last year, which is the highest in our history. Now, we are looking at adopting a hybrid model of working from home and office, and will be investing in training to boost employee engagement and morale while fuelling career progression.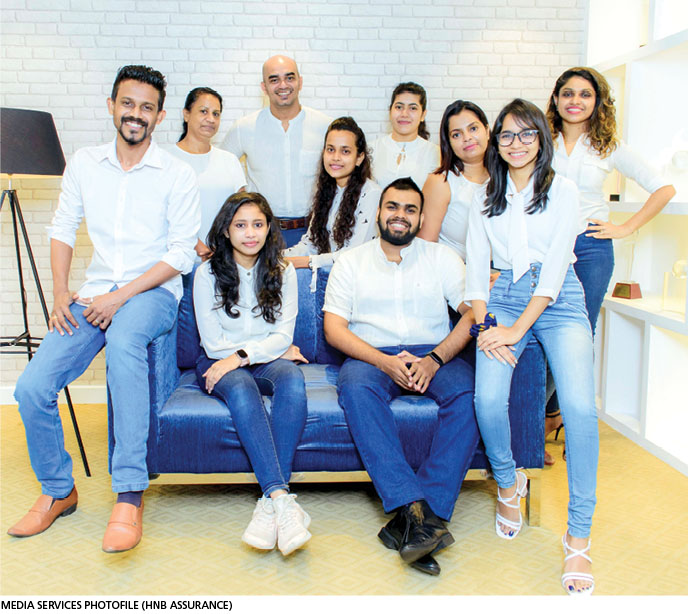 Q: What's the role of senior management in promoting an engaging culture?
Dinuka Pattikiriarachchi (DP): Amo-ng the diverse factors that shape an organisation's culture, the leader's role is significant. When Lasitha became CEO, he enabled a high energy and empathetic culture, which is engaging for all in the organisation. He is also well supported by a senior leadership team that puts people ahead of everything else.
Q: How can a great workplace culture contribute to organisational performance?
LW: Happy employees believe in the company's vision and deliver more. Even during the most difficult times, we didn't remove a single benefit and instead looked after both our staff and our non-permanent advisors too.
We adopted an open flat culture, which enabled employees to believe in the leadership and deliver. This has helped make us an industry leader in growth even though we are comparatively smaller in size.
DP: A great workplace culture is about being open, taking ownership of decisions, creating a culture of dialogue and taking action where needed.
Q: How will you keep employees motivated in the next few months, which are predicted to be very challenging for Sri Lanka?
LW: We will assure them of job security. Backed by our parent group's heritage of trust and stability, we promise our people that we will protect them and their families. In addition, we will be offering value additions to keep them engaged and happy.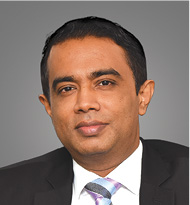 DP: In addition to employee bonuses and increments, we also introduced a special allowance for staff in the lowest tier, for the foreseeable future.
Furthermore, we are promoting nontraditional initiatives such as home gardening and using public transport, and limiting the number of days employees are required at the office. We have created a programme called Friendship Friday where we share what we have with those who need it. Our welfare society is actively involved in providing short-term assistance to our staff.
Q: What are the lessons learned from participating in the Great Place to Work® Sri Lanka survey?
Ayanthi Wettesinghe (AW): This is the third time we participated in the survey and we only do so to learn about the pulse of our people rather than to win awards.
The survey helped us gather many insights across various demographics and that will enable us to penetrate micro-levels and address employee issues at department, sector and zonal levels.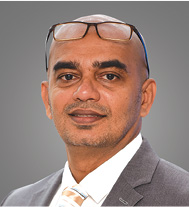 Q: How do you prioritise organisational agility?
DP: For agility to work, we need empowerment which fuels flexibility and speed of work. And since hierarchical decision making can hamper agility, we have opted for flatter organisational structures that simplify the decision-making process through employee empowerment.
Empowerment, trust and empathy are key factors to facilitating agility. Although HNB Assurance hadn't systemically planned for these elements, we are blessed with them through our modus operandi. We found ways to work around difficulties by overriding rigid structures and expediting action.
LW: We can't have a centralised structure when operating in today's volatile environment. During the pandemic, we changed our decision-making structure, empowered our zonal leaders and trusted their ability to make the right decisions within an agreed framework.
We have transformed from a manual-based operation to a digitally driven company and created an empowered culture that enables agility and flexibility.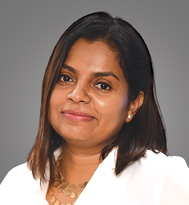 Q: What is the company's philosophy for creating a great place to work?
LW: All awards aside, our commitment to our employees is to provide them with a great place to work. Respect towards one another, openness, teamwork, creating a winning culture, loyalty, training and career development opportunities, good compensation and employee benefits contribute to making an organisation a great place to work.
AW: Making our company a great place to work is a continuous commitment to giving people the freedom to own their decisions.
DP: While it's impossible to make everyone happy, there are fundamentals that are essential for happiness such as trust. Employees must trust that they will not be judged or condemned, trust that the leadership is doing the best they can to run the organisation and trust that they will be taken care of. And if an organisation can build this trust, then it becomes a great place to work.
– Compiled by Ruwandi Perera
Telephone 1301/4384384  |  Email info@hnbassurance.com  |  Website www.hnbassurance.com