HAYLEYS ADVANTIS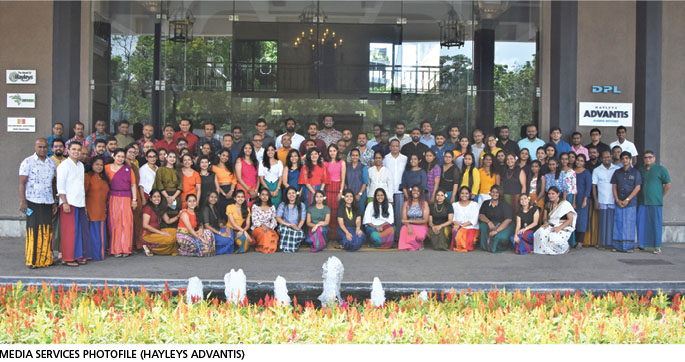 Q: How have workplaces and their cultures changed in the past two years in the wake of the pandemic?
A: Remote working has changed workplace culture by integrating work into personal lives. We had provided flexibility to our employees during the pandemic and even now during the current economic crisis by providing the necessary infrastructure to work from home.
Employee engagement is the biggest challenge we face due to remote working. This aspect is managed by conducting regular virtual engagement activities and capacity building initiatives such as coffee chats, games nights, training programmes and webinars.
It is evident that workplace culture will keep evolving as a result of the dynamic environment. However, we will keep taking steps to ensure that camaraderie and team spirit continue to flourish.
Q: How can a great workplace culture contribute to organisational performance?
A: When employees experience a conducive environment that fosters innovation, they are motivated to develop novel ideas and inspire the rest of the organisation. This enhances the employer's brand image, which in turn helps attract the right talent.
Creating a great workplace culture is easier for purpose driven organisations. At Hayleys Advantis, our purpose is to inspire, connect and enrich, and we encourage our employees to work towards this common purpose and create a great workplace culture that is distinct.
Q: What is the role of senior management in promoting an open and engaging culture?
A: Everything begins with trust and trust begins with us. If we don't trust or aren't open with our employees, we can't expect them to trust us.
With this in mind, senior management plays a crucial role in creating an environment of trust and promotes a performance-based rewarding structure where employees are critically evaluated based on actual performance and accordingly provided with growth opportunities.
We also make sure that an exciting engagement calendar awaits our workers each year to cultivate an engaging culture that fosters positive work relationships whilst boosting morale.
Q: How has your organisation evolved into a great place to work (GPTW)?
A: It is the people that make Hayleys Advantis a great place to work. When the right people are employed within a culture of trust and engagement, and driven by values and a common purpose, they will take the organisation to great heights.
We began our GPTW journey in 2014 and have continuously sustained the process. The surveys have helped us understand our employees' sentiments and devise action plans to improve their overall experience.
In my opinion, a great workplace is a space that employees consider their home away from home and look forward to returning to it every day. At Hayleys Advantis, we believe that by cultivating such an environment, people will trust one another and strive to go beyond expectations.
Q: What are the lessons learned from participating in the Great Place to Work® Sri Lanka survey?
A: Our employees expressed great enthusiasm when participating in the survey. From 2019-21, there has been significant growth in survey participation corresponding to an increase in the trust index.
Further, it is noteworthy to mention that yet again we have two other subsidiaries of Hayleys Advantis listed amongst the Top 50 Best Workplaces in Sri Lanka. The biggest takeaway from this survey is the assurance that our people are proud and passionate about the work they do. And this has helped our senior management establish clear action plans to improve employee experience with each passing year.
– Compiled by Yamini Sequeira
Telephone 2167000  |  Email info@hayleysadvantis.com  |  Website www.hayleysadvantis.com