HAPPY WORKSPACES
BY Pallavi Pinakin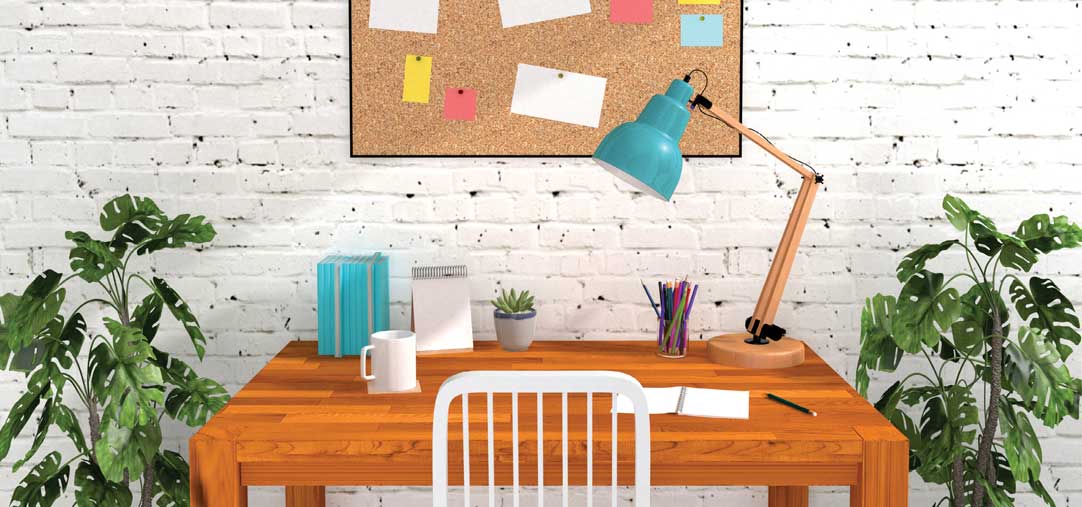 A productive workspace is essential for any high-performing professional. Since the pandemic has displaced many of us from our regular workspaces in the office, working from home (WFH) has become a regular part of life. So is your home office up to the challenge?
INVEST WISELY Splurge on one game-changing feature, which can spruce up your home office without breaking the bank. But don't forget that this space will play a vital role in your productivity for months and possibly years to come. Isn't it worth investing in at least one thing that transforms the quality of your workday?
For example, an ergonomic chair provides optimum neck and lumbar support, and protects you from posture related aches and pains. A large monitor connected to your laptop can prevent eye strain and makes graphics related tasks more enjoyable. Dingy rooms can be brightened by expanding windows to let in more natu-ral light.
INSPIRE YOURSELF Getting down to business is well and good but we all need some motivation to keep us going. So what gets your creative juices flowing? What encourages you to stay the course even when the work is tough or tedious? And what gets you excited to start work in the morning?
Visual reminders of purpose, inspiration and the best parts of your job are a great way to make your home office more appealing. This could be in the form of posters and artwork, books and photographs, a vision board or samples of work that you're especially proud of.
ORGANISE WORK While a rare few among us can thrive in the middle of a mess, most people need a clutter free workspace to be able to focus on their work. Set aside a weekend to sort through all the piles of papers, files and stationery supplies lying around. Get rid of anything you don't need and store the rest out of sight in a filing cabinet or chest of drawers. Aim to have all surfaces as clear as possible.
Make sure your desk is properly equipped for long hours of work. Add a lamp for optimal lighting and place writing instruments in a penholder or Mason jar.
Remember: it isn't always necessary to buy new items. You can easily shop from other rooms in the house – such as that lovely lamp tucked away in the corner of the dining room or an unused cabinet lying in the garage.