FRANCE TODAY
HOW MACRON TOOK CHARGE!
Monita Pesumal takes a close look at the triumphs and troubles in Europe's second largest economy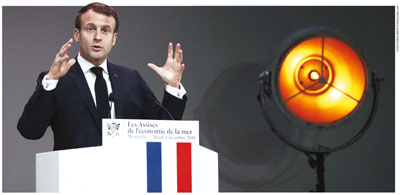 Who would have thought that France would be one of the best performing European economies of 2019? The news has caught not only economists but also the French government by surprise. According to an EU forecast published in November, the French economy was projected to grow by 1.3 percent in 2019 compared to the Eurozone's growth of 1.1 percent.
Why has the French economy outperformed other major Eurozone countries such as Germany and Italy?
To begin with, this can be attributed to tax reforms introduced by President Emmanuel Macron early in his presidency, and recent labour and business reforms. This includes a US$ 11 billion stimulus package aimed at addressing the concerns of 'yellow vest' protesters and granting benefits to minimum wage earners, the poorest of workers and pensioners.
The stellar economic performance has also been triggered by France's specialisation in consumer goods and business friendly policies that have engendered a steady improvement in company revenue streams, which has a ripple effect on investment.
As reported by Ernst & Young, France received more foreign investment projects than Germany in 2018. Paris has also said it would cut taxes by more than EUR 10 billion this year.
A larger local sector and increased consumer spending also contributed to this as France's resilience stems from domestic demand rather than trade. For a majority of the population, homegrown products not only support the local economy but are viewed as a guarantee of quality.
The French are a patriotic lot and the local media reports that they're conscious of sustaining the domestic economy. Therefore, the 'Made in France' label has surged in popularity. At the Made in France Expo held in Paris in November last year, over 500 exhibitors displayed French products from bracelets to sustainable jeans. However, France's public sector is vast and costly, and somewhat of a party pooper when it comes to national progress.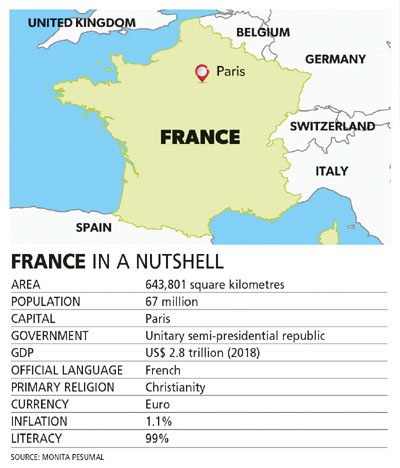 Government spending amounts to 56 percent of annual economic output compared to 45 percent in Germany. As a result, France's public debt hovers at around 100 percent of GDP.
To curtail some of the government expenditure, hundreds of thousands more unemployed individuals may lose certain benefits under new social reforms that Macron claims are necessary to ensure they're employed.
Under the new rules, jobseekers must have worked in six of the last 24 months to be able to claim benefits compared to a previous requirement of four months of the last 28. The measures, which were pushed through by the government, would lead to around 200,000 unemployed people losing their benefits.
The government says it aims to cut debt stemming from the benefits regime and pressure those who opt for short employment contracts (in order to retain their benefits) to seek long-term employment.
Macron has also attempted to seize control of the immigration issue as his government announced steps in October to make the country less attractive to migrants while opening the door to skilled foreign workers – this is to appease right-wing voters and ensure his party's security at the next election.
A recent poll indicated that far-right chief Marine Le Pen would run neck and neck in the first round of the 2022 election if a ballot were to be held.
Le Pen secured 34 percent of the final vote in the 2017 election but polls show she would now win 45 percent. With her far-right National Rally looking to make gains in local elections in March, Le Pen is considered Macron's main rival in the run-up to the 2022 presidential election.
By curtailing immigration, France joins other European states that have opted to take a tougher stance since the peak in migration flows in 2015 and 2016 triggered an EU-wide crisis, and fuelled right-wing populist movements.
Under the new policy, France plans to hire people on the basis of the country's needs, which is similar to how Canada and Australia approach this issue. At present, employers are required to justify why a French citizen cannot be hired as part of a complex administrative process, which resulted in approximately 33,000 economic migrants being granted visas in 2018.
France received a record 122,743 asylum requests in 2018, up 22 percent from the previous year.
Construction, hotels and restaurants, and certain retailing sectors have long complained of a shortage of people who are willing to accept what is often low paying work. On the other hand, France doesn't produce enough qualified candidates in fields such as IT and engineering.
Major nationwide yellow vest protests against attempts to curb fossil fuel use through price hikes turned violent at the beginning of last year. While this prompted a partial clampdown by the administration, it also forced the French government to abandon its goal of welcoming 100 million foreign visitors in 2020 – the previous socialist government had set the ambitious goal in 2014.
Nevertheless, France remains the world's leading tourist destination – it attracted 89.4 million visitors in 2018.