BREAKTHROUGH TECHNOLOGY
WHY 5G MAY STEAL THE SHOW
Ruwandi Perera plans on catching up with the speed of data in year 2020
And finally, it's here! In the past, 2020 has been referenced as a seemingly far-off milestone whether it's in the context of economic development, digital technology or the end of the world. And guess what? Now 2020 may fly by with a blink of the eye!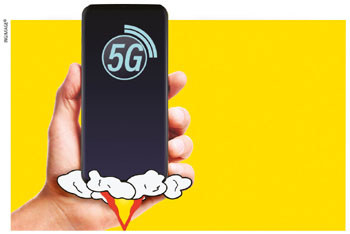 A number of major events have been planned for this year – e.g. NASA's Mars 2020 mission to study habitability on the Red Planet, the Summer Olympics and the culmination of the Brexit transition period.
Among the scientifically backed predictions of near apocalyptic events set to take place in 2020 are rising sea levels, more wildfires, heavier storms, an increasing number of earthquakes and accelerated climate change.
Year 2020 may have seemed like an illusion – the sort you find in fiction novels and discuss over drinks after work. After all, it is considered the year of smart cities, autonomous vehicles, robots and all things connected. In all honesty, we may not be far away from a sci-fi movie lifestyle… although we're not quite there yet.
Perhaps the most anticipated event this year is the long awaited arrival of 5G! Referring to the fifth generation of high-speed mobile internet, 5G is expected to deliver faster data speeds and more bandwidth, which can not only accommodate but also pave the way for increasing web traffic.
The roll out of 5G is set to happen in 2020 – and the world could be caught in a digital whirlwind of unimaginable data capacity and speed. This technology will not only be another generation of wireless connectivity but would also enable billions of connected devices to serve a large spectrum of industries, economies and businesses.
In addition, 5G will represent an interactive platform on which to develop innovations using technologies such as IoT, AI, and virtual and augmented realities.
Some countries have already started gearing up for 5G. For instance, Singapore is expected to roll out commercial 5G services early this year and anticipates covering at least half of the city state through a stand-alone network by the end of 2022.
According to American multinational semiconductor and telecommunications equipment company Qualcomm, between 175 and 225 million 5G smartphones will be in circulation this year alone!
On the robotics side of things, the world is set to witness awe-inspiring robot specimens at the Summer Olympics. Carmaker Toyota is scheduled to unveil five robots, thereby adding some digital oomph to the games – it may even end up stealing the show!
There will be two large eyed pink and blue robots, and their designs will be based on Miraitowa and Someity – the official mascots of the Tokyo Olympics. In addition to being part of photo ops, they'll greet visitors at the event and be able to offer expressions in response to human interactions.
Five robots spread across the venue are expected to help athletes and visitors move around, ferry food and even provide high-fives – a truly robotic milestone of Olympic proportions!
Furthermore, this year will witness governments working to develop smart – or partially smart, to be fair – cities. With high volumes of data available for mining and gathering insights, cities are empowered to address issues that have challenged communities for many years. From being able to alert citizens with crime warnings to distributing digital reports on street based energy consumption, the possibilities seem endless.
Cities would be able to switch to smart LED streetlights, thereby saving up to 60 percent on their electricity bills, which can in turn be reinvested in more technology.
Citizens too will experience a sense of empowerment with traditional web mapping services becoming yesterday's technology, and smart cities providing the option of avoiding traffic jams, finding parking spots and even reporting potholes on their mobile apps!
Smart cities will lead to the emergence of more digitally enhanced recreational activities linked to mobile applications that will for instance, help citizens plan their experiences.
So what does this mean for Sri Lanka?
Local entities need to gear up for tidal waves of competition from regional and global players, who will be powered by 5G technology and related advantages. Industries will need to consider disruptive business models or brace themselves to be disrupted.
Whether Sri Lanka can optimise the use of 5G and other robotic technologies is a question we may not be able to answer even at the end of 2020 given the nation's track record. However, Sri Lanka will certainly be affected by these technologies – and not all their effects will be positive.