FLEXIPRINT
Flexiprint, is a highly reputed supplier of packaging materials, which began its dynamic journey in 1994, from humble beginnings.
Managing Director of Flexi­print Sathis Abeywickrama was invited to supply the best quality printed teabag tags and printed tea envelopes to the local and international tea trade in an effort to break the monopoly created by a
sole supplier in the market.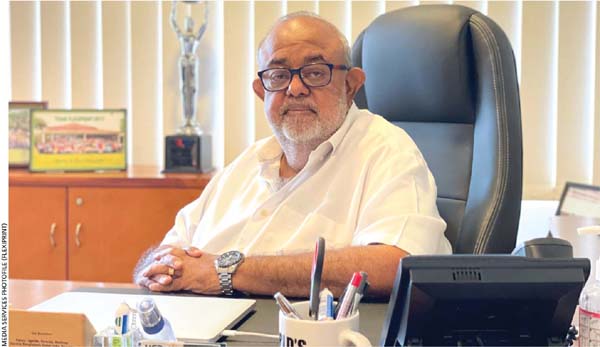 Already armed with a brilliant track record of providing high quality printed offset packaging to the tea trade, he started pro­viding teabag tags and tea envelopes using flexography and water-based inks for the first time in Sri Lanka.
Equipped with only one Propheteer machine and 10 employees, Flexiprint grew to be the most trusted flexo printing outfit in South-East Asia. It now has eight flexo machines and employs over 275 workers.
As Flexiprint enhanced its reputation in the local and international tea trade as an extremely capable supplier
of packaging materials, Abey­wickrama decided that it was time to enter the flexible labels trade as a print supplier. The first UV flexo machine was installed at Flexiprint in 2013 to supply self-adhesive and other types of labels to the fast-moving consumer goods (FMCG), pharmaceutical and apparel sectors under the Flexi-Labels brand.
Soon, the 35,000 square metre factory at Dematagoda was unable to accommodate the fast-growing company. In 2018, the company relocated to Flinth Commercial Park at Kadawatha, with a factory floor area in ex­cess of 95,000 square metres. Here, the Flexi-Labels depart­ment accommodated two UV flexo machines sporting cutting edge flexo printing technology in addition to six water-based flexo machines to cater to the tea trade.
Given its state-of-the-art machinery, the company has enough capacity to undertake any orders at any time, which ensures timely delivery to customers to fulfil their demands and drive customer loyalty.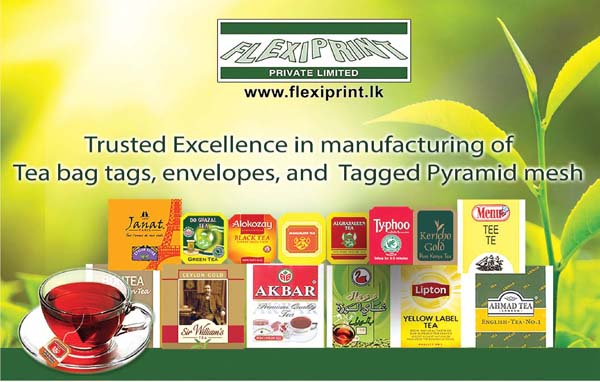 Currently, Flexiprint is supplying tea bag tags, envelopes, pyramid tea bag tags attached with mesh to
the world's renowned brands in the tea trade in compliance with international standards. The company also customises packing for export cargo to offer greater customer convenience and maintains minimum lead times despite all the pandemic induced challenges prevailing in local and international freight and logistics.
Through the height of the pandemic, Flexiprint ensured that strict health and safety measures were followed by
all employees within the pro­duction process. As a result, day-to-day workflow was not impacted and any possible production disruptions were met with constructive strategies that alleviated potential delays.
Flexiprint uses a dynamic policy of keeping all stocks in production, warehousing and under shipment at any
given time; thereby ensuring that there was no shortage of materials during the pandemic. As a result, customers were able to rely on Flexiprint's unbroken supply chain of printed materials at all times.
Since Flexiprint uses only the highest quality inks sup­ported with an in-house ink lab with the latest in ink mixing and colour separation tech­nology, customers can expect consistency of quality across all their repeat orders.
The company takes pride in the measures taken to ensure its production process thrives on sustainability. Its factory
has implemented a roof design which directs a hundred percent of rainwater to an outside tank. The water is then treated and used within the factory for clean­ing and general production purposes. There's also a state-of-the-art effluent treatment plant which produces drinking water.
Dry sludge derived from this system is disposed of by Holcim using government approved incineration pro­cesses. Flexiprint also takes pride in providing customers with Forest Stewardship Council (FSC) certified material.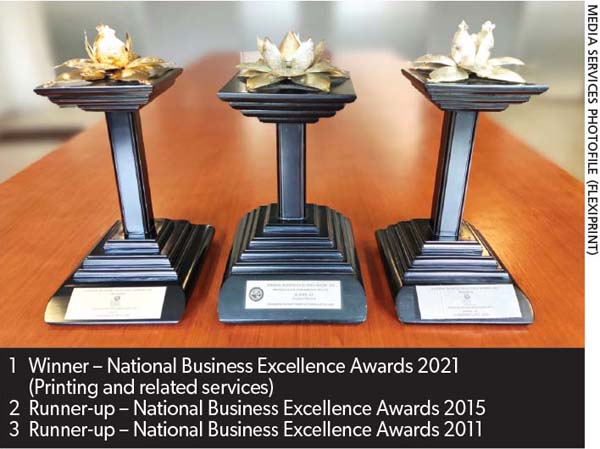 The company stands apart from its competitors on three fronts – quality, delivery and consistency. By using only world renowned brands for consumables within the printing process, Flexiprint ensures that customers receive only the highest quality output.
National Business Excellence Awards (NBEA) have been a significant factor in Flexiprint's continued success as these milestones are recognised by customers since they promote trust as a reliable supplier. Armed with as many as three NBEA awards under its belt, Flexiprint's portfolio cements them as the gold standard in its resolve to be the best in the trade.
While supplying the local market in the indirect export trade for more than three decades, Flexiprint has suc­cessfully expanded its portfolio to include direct export cus­tomers from the Americas, the Middle East, European and Oceanic regions.
As part of its future plans, the company aims to enter the digital printing field to enhance the customer experience and provide a low-cost, high quality solution for minimum quantity orders. Flexiprint also plans to be a hundred percent carbon neutral by the year 2024.
– Compiled by Yamini Sequeira
Sathis Abeywickrama
Managing Director
Telephone 2973797
Email flexiprint@flexiprint.lk
Website www.flexiprint.lk