EMERGING MEDIA IN PARTNERSHIP WITH CODEGEN INTERNATIONAL
CodeGen International recently announced an alliance with Emerging Media, the largest loca­tion-based digital advertising network in Sri Lanka as a clear endorsement of their partnership. Together, they will provide a unique solution to automate their di­gital out of home advertising channels while sustaining the organisation's vision of pro­vi­ding value-added services to their advertising trade partners.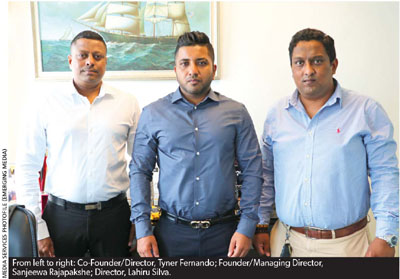 Emerging Media provides the ideal brand experience in the digital world by inte­grating the use of technology, analytics, creativity and dia­gnostics knowledge with indoor and outdoor displays placed in more than 200
prime locations.
Founded by Dr. Harsha Subasinghe, CodeGen International is a globally renowned pioneer in high-performance innovations using AI, futuristic technologies and augmented businesses. It is inspired by a hyper-creative generation with diverse ex­perience and ventures into developing markets to create futuristic, sustainable tech­nology solutions to power multiple industries globally.
Recognised for its excellence in innovation and state-of-the-art technology, CodeGen has extended its proprietary tech­nology to over 20 countries across five continents. Code­Gen's portfolio of local and global clients is a testament to the company's long-term commitment to continued innovation. It operates in the UK, the US and Sri Lanka.
Spearheaded by Dr. Harsha Subasinghe, Kusal Subasinghe and Bharat Patel, CodeGen provides digital transformation and optimisation technology and consultancies to a wide range of businesses and sec-
tors including travel and tourism, the automotive industry, transportation, agriculture, education, energy, retail and healthcare.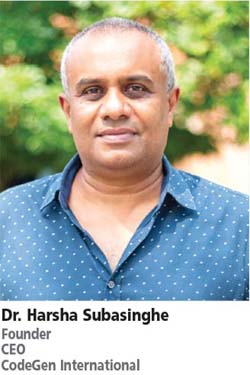 CodeGen remains universal and unrivalled due to its high value IP product range, which is used by the best in the world to expand services to millions of customers in various indus­tries.
Emerging Media is a market leader in the digital world and foresees the importance of adopting artificial intelligence technologies to offer a superior service to its customers. By aligning with CodeGen's futuristic technology, Emer­ging Media will successfully meet its goal of being more functional by equipping itself with the necessary tools to arrive at data driven decisions now and in the future.
In collaboration with Emer­ging Media, CodeGen has introduced artificial intel­ligence-based vehicle sensing software called FaceRec. It's a first on the island and ena­bles advertisers and media companies to move into data led ad placement strategies.
FaceRec, which is CodeGen's la­test AI-based solution, em­ploys a highly scalable way to count, identify and classify moving or static objects at numerous remote locations using advanced algorithms. Data collation is carried out by high definition (HD) cameras that will transmit real-time footage for data processing and reporting.
Emerging Media recently deployed this technology to provide a quantitative method to understand the viewership of ads placed by trade partners. Moreover, advertising agencies, companies and cor­porations may analyse and quantify advertising returns based on viewership of digital or traditional outdoor and location-based advertising.
Founder and Managing Director of Emerging Media Sanjeewa Rajapakshe ex­pressed his views on this groundbreaking initiative: "With FaceRec, Emerging Media's trade partners can now identify the best routes for higher visibility and the ideal location for targeted advertising, as well as the effective use of advertising budgets."
He continued: "We want to ensure that brands that have relied on our specialist services receive optimum returns for their advertising expenditure and are able to deliver quantifiable results through our latest technology partnership with CodeGen."
CodeGen Founder, Dr. Suba­singhe affirmed: "FaceRec technology will enable Emer­ging Media to craft the best digital and outdoor adver­tising placement strategies for their trade partners while enabling a greater level of transparency."
He added: "All our innovations are designed to enhance the customer experience and fuel revenue and growth opportunities for our client's overall business ecosystem. With FaceRec, we also offer solutions to manage touchless attendance, movement monitoring and crowd control using our latest AI applications."
One of the most notable features of FaceRec is its ability to perform fully automated traffic analysis
in real time. Businesses can also quantify and track viewership trends and changes over time while optimising their advertising strategies according to the targeted vehicle type, volume, frequency, etc.
Emerging Media will access real-time stats and data through a centralised user portal using this cutting-edge software. Moreover, the user portal with role-based access offers total movement count and can filter it on an hourly, daily, weekly, monthly basis etc. – as well as easily access and control devices remotely in real-time.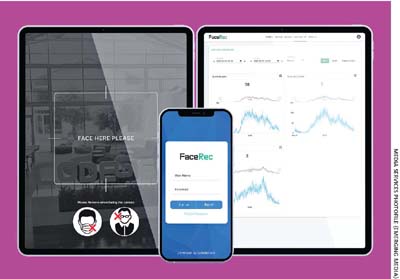 FaceRec enables movement capture of all kinds of vehi­cles including bicycles and the movement of people, making it an intelligent platform for Emerging Media to arrive at data driven decisions. The real-time statistics and data with automated reporting will detect measurable viewership from location-based devices and visualisation in tabular format.
With this partnership, CodeGen and Emerging Media will continue to transform and optimise the landscape of the digital and outdoor advertising space using AI. This will enable companies and brands to advertise strategically based on factual data.
AI-powered FaceRec is one example of the innovative engineering by CodeGen, Sri Lanka's leading technology provider for multiple indus­tries across the globe with 600 plus engineers focussing on continuous innovation.
– Compiled by Fazmina Imamudeen
Telephone 2024400 – CodeGen | 2447662 – Emerging Media
Email harsha@codegen.co.uk | sanjeewa@emergingmedia.lk
Website www.codegen.co.uk | https://emergingmedia.lk/