FISCAL POLICY
Sri Lanka stabilising after bailout: IMF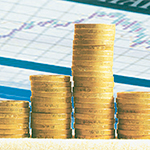 Colombo, Sri Lanka | AFP | Saturday 11/19/2016 – Sri Lanka's economy has begun to stabilise after securing a US$ 1.5 billion bailout earlier this year, but the island needs to build its dwindling foreign reserves, the IMF said Saturday.
The Washington-based International Monetary Fund said it had just concluded its first review of Sri Lanka's economy after announcing the bailout in June and labelled its performance "broadly satisfactory."
Cash-strapped Sri Lanka secured IMF help in June after suffering a balance of payments crisis earlier this year.
"Sri Lanka's performance under the Fund-supported programme has been broadly satisfactory despite challenging circumstances," IMF's Acting Chair and Deputy Managing Director, Tao Zhang, said in a statement.
He said the IMF on Friday released US$ 162.6 million to Sri Lanka as the second tranche of its bailout that will be disbursed over three years.
Sri Lanka's macroeconomic and financial conditions had begun to stabilise, inflation has trended down and the balance of payments had improved, he said.
However, he cautioned that Sri Lanka's international reserves remained below comfortable levels and also warned of credit expansion that could fuel further inflation.
Official figures show the current reserves of Sri Lanka at US$ 6.06 billion, sufficient to finance imports for nearly four months.
In line with IMF prescriptions, the government raised Value Added Tax from 11 percent to 15 percent this month and also announced an increase in corporate taxes to boost revenue.
The government also lifted a ban on foreigners owning property as the country sought to attract foreign capital to rebuild its war-ravaged economy.
The government is targeting a budget deficit of 4.6 percent of GDP next year, down from 5.4 percent of GDP this year, with foreign borrowings of US$ 3.1 billion and US$ 1.2 billion in domestic loans helping to bridge the gap.