FINETECH CONSULTANCY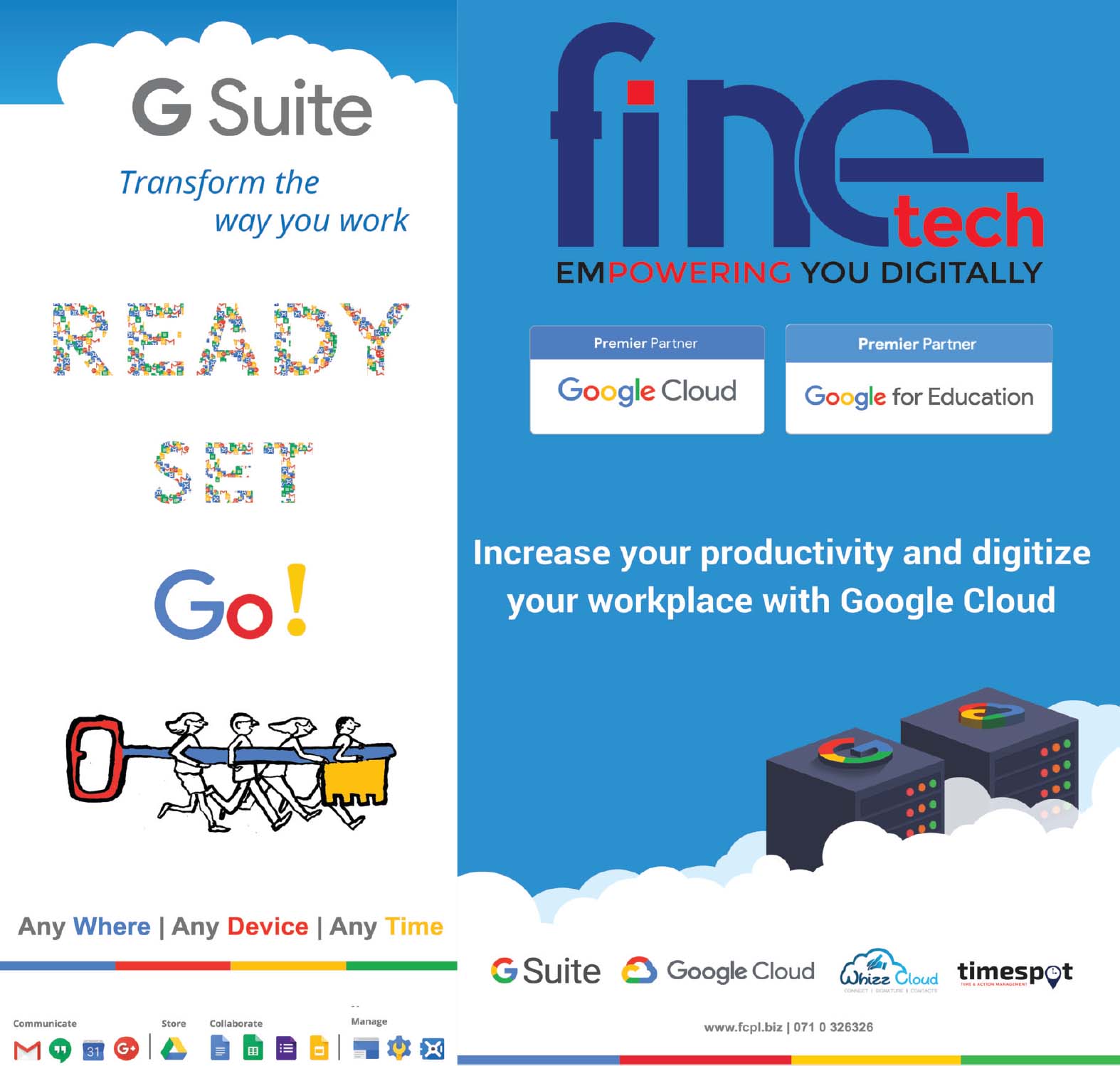 Q: Could you provide a brief outline of the company as it celebrates its 10th anniversary?
A: The main partners of Finetech Consultancy have a history of over 30 years in the IT industry.
Having worked in various senior capacities while pioneering and managing many well-known IT companies in Sri Lanka, the founding members knew it was time to venture out and launch their own company.
However, the company needed to be innovative, exploring dimensions of technology that others in the market were not yet operating in. Therefore, we stepped into cloud based solutions 10 years ago.
Although Google initially said Sri Lanka was too small a country to focus on for a potential direct partnership, we boldly decided to proceed with our plans and set up our company in September 2010.
And our perseverance paid off as continued communications with Google resulted in them directing us to partner with a company in South Africa, which was interested in entering our region.
After three months and immense success following the launch of the business, Google contacted us in January 2011 and offered an opportunity to enter into a direct partnership. This was encouraging as Google had realised that Sri Lanka held much potential – and that we were the ideal company with which to form a partnership.
Following this, and within the first three months of launching our latest product, we secured three copacetic corporate accounts. The success of the business during this time convinced Google to advance its ties with us to a full partnership.
Having begun operations in a small office a decade ago, Finetech Consultancy has grown in size – i.e. of both its building and workforce capacity. We serve a client base of over 500 customers in Sri Lanka, and have 10 premier clients in Bangladesh and nearly 40 in the Maldives. Moreover, from a small team of three, Finetech Consultancy now operates with over 60 employees.
Q: How has client receptivity to technology changed during COVID-19?
A: Having experienced year on year growth, we observed an increased interest in digitisation given the onset of COVID-19.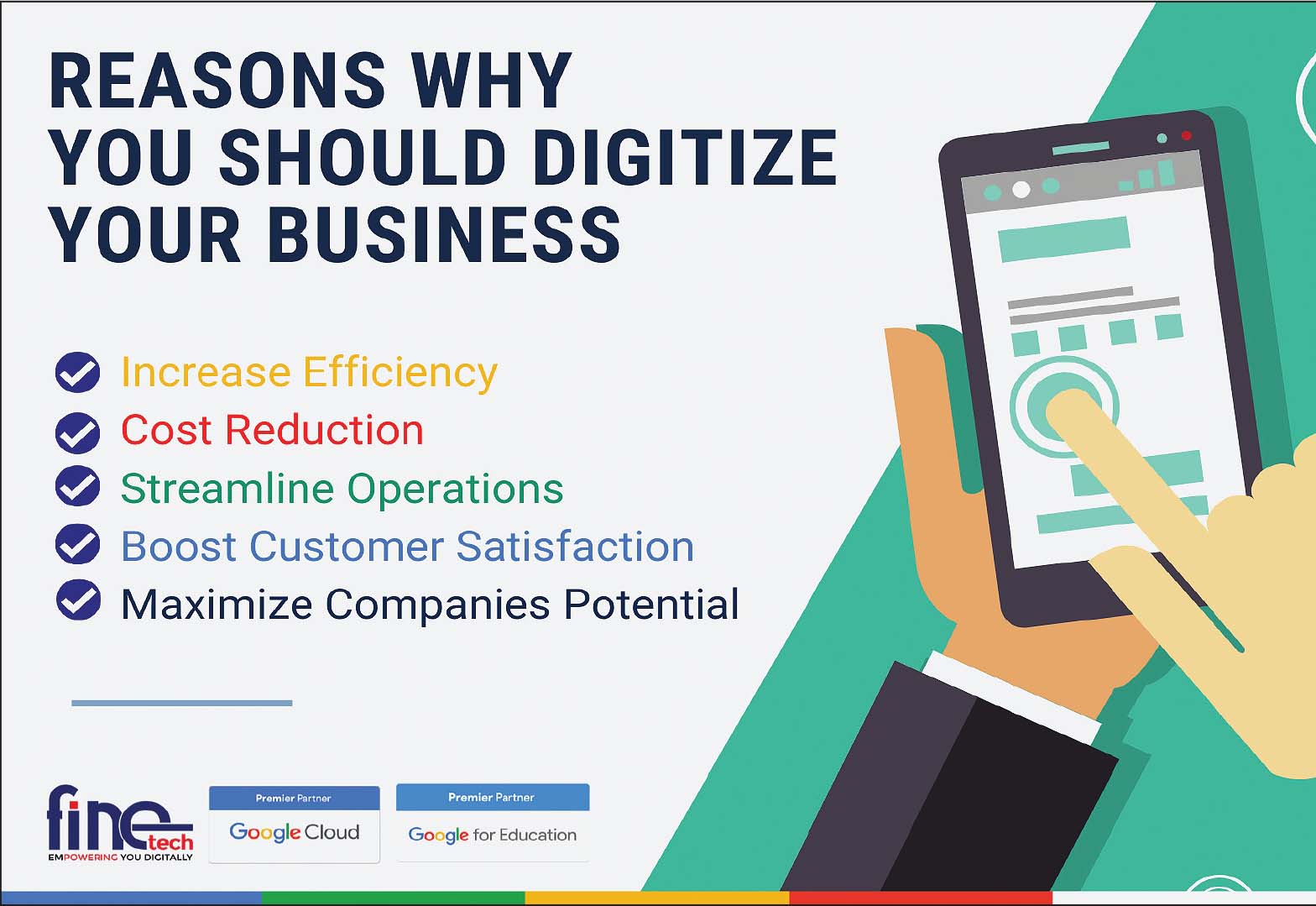 Usually, we would approach clients to explain the need for digitisation and its many benefits. Today, we find that clients are more open and eager to embrace digitisation as it is no more a luxury but a necessity.
Being 'born in the cloud,' Google and Finetech Consultancy are digital natives. While COVID-19 caused disruption to many businesses around the world, we are positive that our clients – especially in Bangladesh – will gradually pick up once more.
Q: What products and services does Fintech Consultancy offer?
A: We offer a complete digitisation platform for corporates, beginning with a digital staff register. Through this platform, we're able to advise clients on how to optimise their work from home (WFH) experience and ensure staff attendance.
The next step in this process is digitisation of documents. Google has the ability to scan documents that are written in Tamil, Sinhala or English, and create digital copies whereby anyone can search the text on a document in any of these three languages.
Another way to enable corporates to embrace digitisation is through onboarding employees to emails, e-meetings, online conferences and e-learning platforms – and introducing data collection and gathering, as well as familiarisation with secure intranet platforms.
Q: How would you describe the competition – and what strategies do you employ to stay ahead of it?
A: Our main competitor over the years has been Microsoft. It offers a very traditional product that remains in the minds of the people.

Considering the main markets in which we operate (i.e. the Maldives, Bangladesh and Sri Lanka), at least 80 percent of the market is typically held by Microsoft whereas only about 20 percent is accounted for by Google.
However, while our market share is small, we are gaining ground. This is because with the turn of global events, many customers are looking for new ways of doing business and creative modes of thinking. This is what Finetech Consultancy proposes in its offering: an innovative way of thinking and approaching business.
Our company employs machine learning and AI technologies across the board in all its products. This makes Finetech Consultancy more attractive to customers who seek intuitive digital solutions.
Moreover, Google has fast become a household name that is synonymous with the internet. Its presence is well-established in web browsing, email, maps, cloud storage and the like. As customers become more familiar with using Google in their personal lives, the natural tendency is to introduce Google services into their businesses as well.
From a security standpoint, Google is a very stable and strong platform, and we envision bringing this into the corporate environment. Many customers are approaching us because they have realised the benefits and security offered through the Google ecosystem.
– Compiled by Lashani Ramanayake