FIGHTING CORRUPTION

CASH

IS NOT KING!
Rajika Jayatilake notes that Ukraine has the opportunity to become an honest and transparent society postwar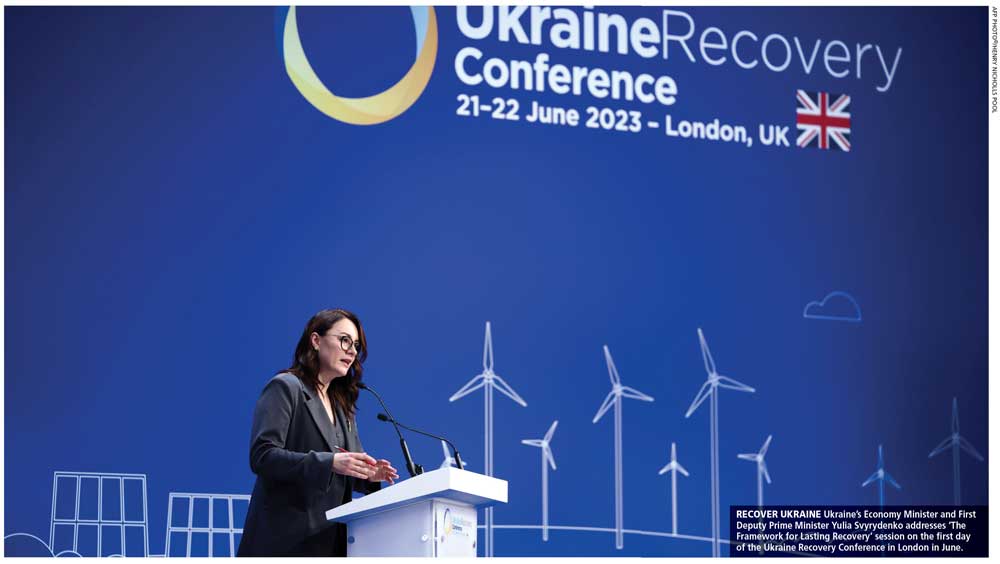 The world revolves around money – and even in a world of technology, cash is still king. However, there is a sleazy side to money too. Harvard economist Kenneth Rogoff says: "Cash plays a big role in crime. I think there's a reason [that] cash is king." Among the negative uses of cash are bribery, corruption, tax evasion, money laundering, counterfeiting and financial terrorism.
These financial crimes are the reason for extreme poverty in many developing countries. As Pope Francis says, "corruption is paid by the poor."
Trying to navigate the way to ending global poverty has in recent times driven several countries and governments to pursue the potential of a cashless society.
While no country is still totally cashless, a growing number of nations are determined to achieve this in the coming years. Countries that are closest to doing so include Sweden, Finland, China, South Korea, the UK, Australia, the Netherlands and Canada.
Interestingly, Sweden was the first country in Europe to issue real banknotes and now it's the most cashless among nations. It has only 32 ATMSs operating for every 100,000 people and over 98 percent of Swedes have debit or credit cards. Elderly Swedish people use cash and small payments are made using currency.
The latest country seeking a transformation into a cashless society is Ukraine, mostly in a bid to fight corruption. Australian business magnate and philanthropist Andrew Forrest recently urged Ukraine's President Volodymyr Zelenskyy to seriously consider this option since cash can breed corruption.
Deputy Minister for Economy Oleksandr Gryban says that Zelenskyy is determined to move towards a cashless economy and the government will do everything to make it happen as soon as possible. Forrest finds this response "fantastic" and says it will "put the nail in the coffin of corruption" in Ukraine.
In the latest Corruption Perceptions Index by Transparency International (TI), Ukraine was ranked 116th out of 180 countries.
A 2017 USAID report on Ukraine stated: "USAID seeks to significantly reduce oppor­tunities for corruption in Ukraine to improve the prospects for economic growth, democratic governance and national security. Three years since the Revolution of Dignity, systemic corruption impacts all aspects of Ukrainian life."
On 24 January however, several high profile corruption scandals emerged – including two major allegations of embezzlement, one of them relating to money stolen from funds for the military.
It is well-known that the Ukrainian army is a vital institution in the country and is highly respected by the people. In the midst of a war, the military takes on added significance in the nation's battle for survival.
Therefore, any taint of corruption threatens its critical role. Moreover, the support and continued assistance of international organisations such as the IMF and EU agencies depend on visible anti-corruption efforts by the country's leadership.
With the exposure of corruption, Zelenskyy announced "personnel decisions" across government ministries and within Ukrainian law enforcement, and banned international travel for state officials for non-government purposes. Fifteen senior officials left their positions as a fallout of this crackdown.
In the US, both Democratic and Republican lawmakers commended the government in Kyiv for taking speedy action against corruption, and insisted that American military and humanitarian aid to Ukraine should continue.
Meanwhile, in a leap of faith, Forrest launched a new investment fund for Ukraine's reconstruction effort with US$ 500 million through his private company Tattarang. The fund will be operated by Ukraine's Ministry of Economy and administered by the US multinational investment company BlackRock. Forrest's aim is to attract other investors who will be able to fund up to 100 billion dollars.
Appearing on video at the Ukraine Recovery Conference in London in June, Zelenskyy said that his country won't go back to its old ways after the war, and would implement necessary reforms that could lead to admittance to organisations such as the OECD and EU.
The co-chairs' statement following the London Conference notes: "Ukraine's partners have agreed to provide a further US$ 60 billion to meet the recovery and reconstruction needs of Ukraine."
And around 500 global businesses from 42 countries worth more than 5.2 trillion dollars and 21 sectors have signed the Ukraine Business Compact, and pledged support for the country's recovery and reconstruction effort.
Meanwhile, focussing on the process of fighting corruption by becoming cashless, Deputy Head of the Office of the President of Ukraine Rostyslav Shurma says that a cashless economy can't happen at once. He notes that this will require a systematic integrated approach. It will begin by substantially reducing tax rates to prevent burdening the people and retain Ukraine's global competitiveness.
So Ukraine has the opportunity to earn a first in the world by becoming an honest and transparent society through the reconstruction efforts – unlike after the war in Iraq, where reconstruction funds were used for bribery and corruption.