FEISTY AND FORESIGHTED
Deshamanya N. U. Jayawardena
Central Bank of Sri Lanka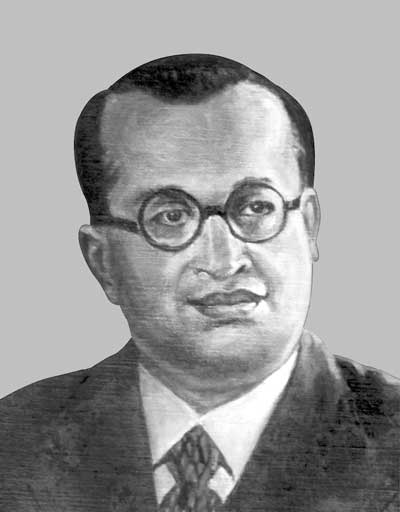 Deshamanya Neville Ubesinghe Jayawardena, 'NU' to all, is best remembered as the first Sri Lankan Governor of the Central Bank of Sri Lanka – and for establishing a bank providing innovative banking products and solutions to the financial services milieu.
This gentleman who some have described as 'a colossus' hailed from modest beginnings: "I came from a humble family and did not have any privileges of class or caste. I only had a great longing to study, and believed, even as a child, that education would open up vistas of greatness for me… I had no desire to stagnate in a village that had few opportunities for the young to realise their dreams…"
His example is not just inspirational, it is exhorting.
A son of a provincial rest house keeper, NU worked hard at bettering himself from the time he sat in the dim light of a railway station to memorise the Oxford English Dictionary (OED). His perseverance took him as far as the United Kingdom where he earned degrees in economics and business administration.
He then took on clerical positions and was the only clerk at that time in government service with a degree in economics.
When the Exter Report for the establishment of a central bank was being drafted, Jayawardena – who had risen by then to assume duties as the Controller of Exchange – was consulted by John Exter. In 1950, when the bank was founded, NU was appointed as its deputy governor, and would proceed to succeed Exter as the Governor of the Central Bank in 1953.
His tenacity and perseverance had brought him a great distance; but not so far or so high as to deter him from occasionally sweeping the precincts of the Lunawa Temple in his upasaka garb. Jayawardena was as at ease with that as he was addressing a distinguished gathering in his elegant Savile Row suit.
From positions in both the public and private sectors, Jayawardena shaped the nation's financial and economic infrastructure; and for his great service, he was awarded the title Deshamanya in 1991.
There's an endearing anecdote that reveals his unique sense of humour…
Once, his son Nimal asked him why he barks at people at times instead of talking to them. NU had responded: "You are the son of a onetime Governor of the Central Bank; but I'm the son of a rest house keeper!"
N. U. Jayawardena: he never forgot his humble beginnings.