EXPERIENCED VISIONARY
Ranjit Fernando
National Development Bank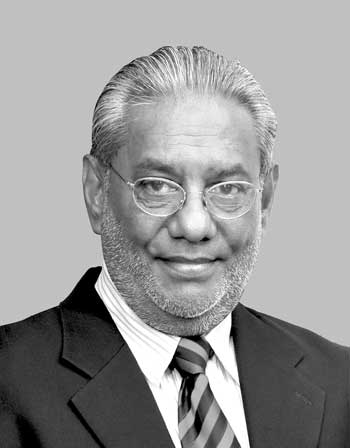 Arguably, Ranjit Fernando's formula for success is no different to that of many others. After all, hard work, determination and honesty have propelled many good men to the top of their chosen fields over the years. But that he made that extra effort to arm himself with the paper credentials as well is instructive.
"I always worked hard and did all my exams while being employed. This has given me the required qualifications and experience to discharge my duties to the best of my ability," he has said.
Fernando started out with a temporary job at the People's Bank soon after it was set up and was amongst its first 100 recruits. He then took his London banking exams and gained promotion to the rank of officer. And he took up the study of law, and lectured in administrative law for two years at the university.
As he has reportedly said: "I left People's Bank and joined DFCC (Bank) at its inception. As I wanted to move into the area of project analysis, I took up Chartered Institute of Management Accountants (CIMA) studies and completed the exams."
When the National Development Bank (NDB) was formed in 1979 and the World Bank invited him to join the newly established institution, he had risen to number two at DFCC. Following a career that spanned 22 years at NDB – from which he retired as a director and general manager – Fernando joined the public sector.
He was ready "to give back some of my experiences for the betterment of the country," and introduce and exercise some of those elements that propel the private sector into government offices.
Fernando is on record saying that "leadership has three elements – creating a vision, articulating it to all in the organisation and creating an organisation structure to achieve this vision. I believe that this is the formula for the success of any organisation… Every person in the organisation, from the top management to the lowest level, should understand the vision of the organisation."
He sought to encourage public servants to make a better contribution to the performance of the ministry and liaise with the private sector more effectively by introducing this dynamic management style. These were efficient tools he had introduced at NDB – and they yielded excellent results.
Fernando's approach to progress and development are well worth scrutiny and emulation, for he addresses not only the task at hand but the mindset that is required to achieve the desired results.
Ranjit Fernando: sharing experience and vision for progress.