ICONIC BREWER
Deshamanya Merrill J. Fernando
Dilmah Ceylon Tea Company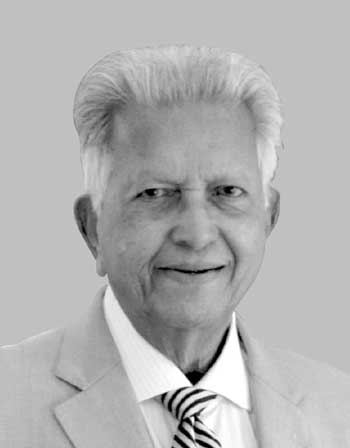 Tea tasting requires a delicate and discerning palate, and the general belief is that diet including spices and curries would preclude the capability to assess and taste. Deshamanya Merrill J. Fernando resoundingly countered this a myth as one of the first of five Sri Lankan tea tasters selected to be trained in the esoteric art of tea tasting at London's Mincing Lane.
Since that time, he has transformed our simple cup of tea into an icon symbolising not only peerless quality but evoking kindness too.
Fernando started out in 1954 as a tea assistant at AF Jones & Co with Arthur Frederick Jones and his sons Dennis and Alan. By 1958, he had been appointed managing director by the owning family. But he had a dream of his own and handed in his resignation four years later, to establish the eponymous company to export bulk tea.
Today, he is the unmistakable face of the Sri Lankan family tea company Dilmah and shares his message in every box of tea with the exhortation 'do try it!'
Fernando is the first tea grower to offer his tea to the world – picked, perfected and packed at source – and with the promise of an uncompromising commitment to taste, goodness and ethical purpose.
He has journeyed a long way – and a long time too – for at the time of writing, Fernando had celebrated over seven decades in the trade. It is his redoubtable self-confidence and hard work that have brought him to the very zenith of enterprise, and made Dilmah the global face of Ceylon Tea.
And he has similarly spared no effort in serving the national tea industry, lending his weight and expertise to remedying inequalities and unlocking potential, so that other local exporters and entrepreneurs could reap the benefit of this harvest for themselves – and the nation.
Fernando dug in against proposed measures that would have ruined Ceylon Tea irreparably. He vehemently opposed the conversion of traditional and conventional tea factories into more industrial manufactories, which would have obliterated the individuality of our tea; and he saved Ceylon Tea when he decried the tea hub concept, which he maintained would have ruined the international reputation for its singularity.
For Fernando, the significance of tea is greater than enterprise and success. For him, it's been a means of largesse for the preservation and progress of a precious industry, for uplifting countless less privileged lives and inculcating the values of ethical and sustainable enterprise.
Merrill J. Fernando: brought a local brew to the world.