CONSUMMATE BANKER
Nihal Fonseka
DFCC Bank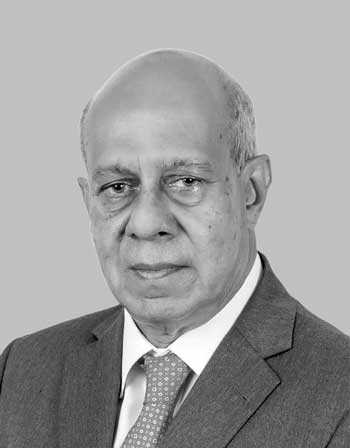 Nihal Fonseka is the quintessential banker. His slow smile and contemplative air belie the quick and shrewd mind, which has so frequently been keenly consulted and called to serve, in the interests of the banking sector and nation.
Even as recently as May 2022 when the country was experiencing one of its more tumultuous times, Fonseka was recommended for reappointment to the Monetary Board, the governing board of the Central Bank of Sri Lanka. He has said that he "thought hard before accepting the invitation."
But it is to his credit – and a relief to the beleaguered nation – that he has once more agreed to step into the breach despite the thankless effort and long hours he'll be called upon to oversee its service. No doubt Fonseka's experience from his previous stint on the board between July 2016 and May 2020 will prove invaluable.
This gentleman who is invariably described in writing as 'the veteran banker Nihal Fonseka' has dedicated his life's effort to the banking sector, and related fiscal commissions and boards. He has brought his keen mind and acumen to bear on policy development as much as on professional contribution.
Needless to say, Fonseka has held several key positions in local and international banking and finance sectors.
The study commissioned by the World Bank on DFCC Bank (One Among the Successful Few) to assess the key factors facilitating the relative success of the bank states that "the changing environment prompted the board of DFCC to again disregard tradition and select an experienced banker, Mr. Nihal Fonseka… from a multinational bank as the CEO and charge him with the responsibility to… change the operational culture to a more proactive customer-centric one."
At the time, Fonseka would be assuming the role of CEO for the first time in his career. He brought to the position not only his experience of 10 years as the Deputy CEO of HSBC Sri Lanka but also a capacity to countenance the unique leadership challenges facing DFCC at the time. He remained as its CEO for over 13 years until his retirement.
When men such as he step up to share the lessons of their experience – which have once more been requisitioned – to help a nation tackle the many pressures and crises that its immediate future must countenance, there is hope.
Nihal Fonseka: changing operational culture.