ENERGETIC GIANT
Mallory Wijesinghe
Bartleet Group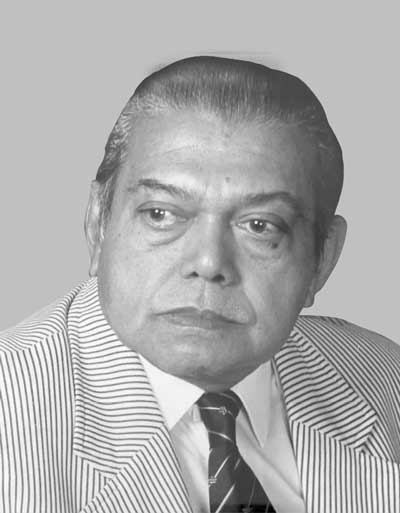 The Public Works Department in which he had hoped to find a suitable career proved too oppressive to the 23-year-old who had qualified in civil engineering from King's College London. And so in 1956, he leapt the chasm from public service to the private sector and joined a tea brokerage.
This transition would in time be hailed as a career move which had a significant effect on him and the lives of many others who came to know him.
Little would the Bartleet Group (Bartleets) – which was owned and managed exclusively by British partners Wilton Bartleet and George White & Co. (UK) until 1958 – have realised how momentous a decision this would prove to be for the business… and for the man.
The tall well built Wijesinghe's dynamism soon shone through and in November 1958, he was appointed the first Ceylonese director of Bartleet and Co. And a few years later, in the 1960s, he became the company's first Ceylonese managing director. This appointment would pave the way for the nomination of a local board of directors.
Demands on his time came thick and fast, and his office in Queen Street in the Colombo Fort was a hive of activity.
Wijesinghe was popularly called 'Mr. Private Sector' as a result of his extensive involvement in a multitude of positions and assignments involving the mercantile sector of Ceylon and later, Sri Lanka.
For in addition to his duties at Bartleets, he was the founder Chairman of the Colombo Stock Exchange (CSE), Chairman of the Employers' Federation of Ceylon or EFC (1960-71), Chairman of the Ceylon Chamber of Commerce (1964-70) and Chairman of the Colombo Brokers' Association (1960, 1965, 1970 and 1984).
He was also the founding President of the Federation of the Chambers of Commerce and Industry in Sri Lanka or FCCISL (1970-77), and the President of the Institute of Management of Sri Lanka (IMSL), which Wijesinghe was involved in establishing.
In 1973, Mallory Wijesinghe was appointed the Honorary Consul General of theNetherlands to the Republic of Sri Lanka and of the Maldives, and was honoured by her Majesty Queen Beatrix by being made an Officer in the Order of Orange-Nassau in 1985.
A devout Anglican, this scion of a highly respected family was made Knight of The Most Venerable Order of the Hospital of St. John of Jerusalem by Queen Elizabeth II, the then Sovereign Head of the Order, in 1978, for his services to church and religion.
Mallory Wijesinghe: he served the public by energising private enterprise.