ECONOMIC SPOTLIGHT | 2021/22
LEAPING FROM THE FLAMES
Policy adjustments to restore macroeconomic stability will result in a painful period of economic hardship – policy think tank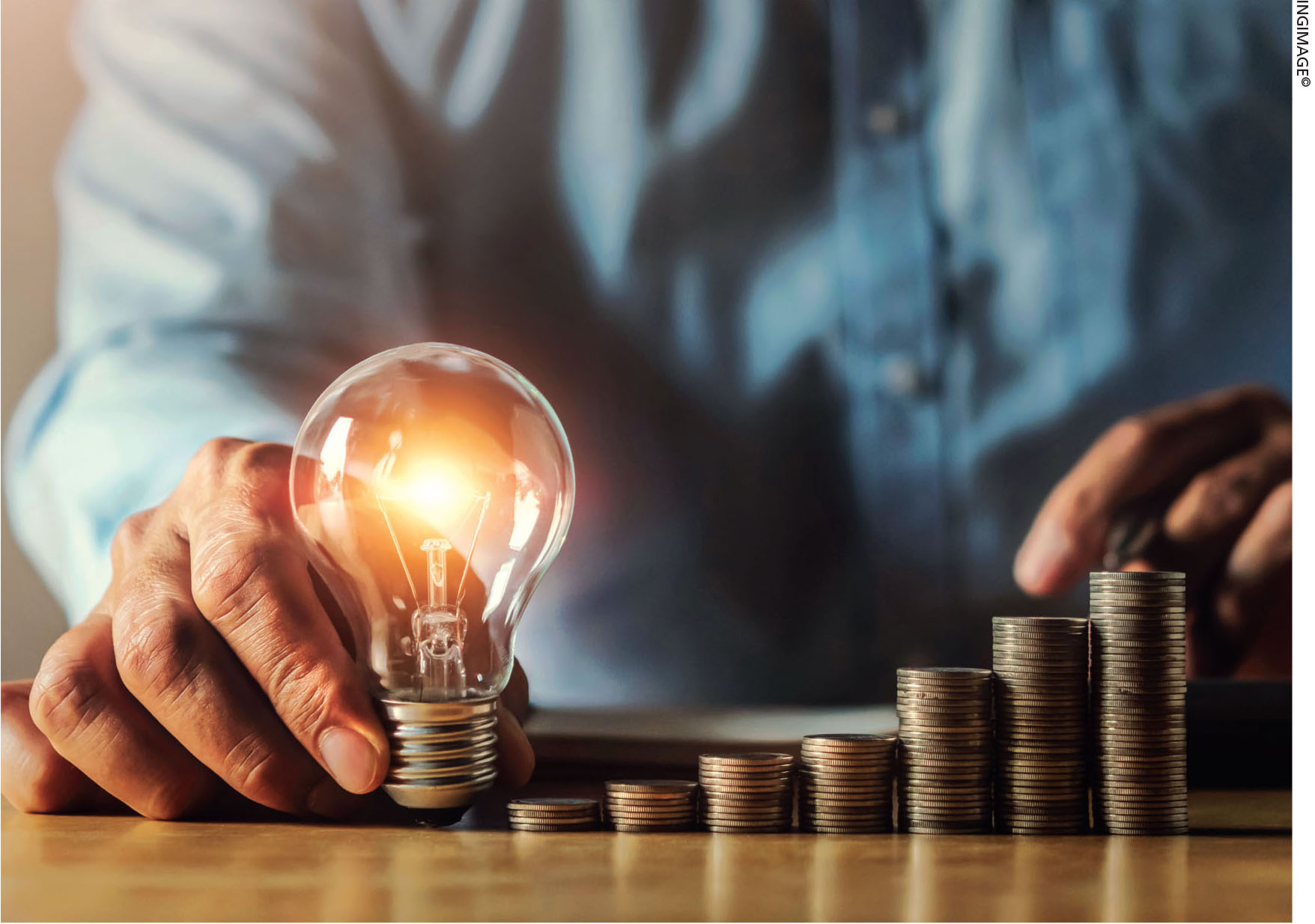 Sri Lanka's economy rallied in calendar year 2021 with GDP growing by 3.7 percent from the pandemic induced historical contraction in the preceding 12 months. However, several deep rooted structural problems and vulnerabilities inherited over several decades surfaced, and thereby resulted in unprecedented socio-political tensions in early 2022, according to the Central Bank of Sri Lanka.
The Central Bank notes that "the economy was already in a fragile state, lacking the necessary buffers to withstand shocks, when it was hit by the COVID-19 pandemic and other multifaceted headwinds that emanated from the global and domestic fronts."
It adds that the macroeconomic policy package put forward by the monetary authority and the government went some way to shore up the economic recovery in 2021 from the unprecedented contraction recorded in 2020, and helped soften the impact of the pandemic.
The public and private sectors were granted access to low cost funds, for working capital and investment purposes, which helped their survival and viability. And essential supply chains were preserved to a large degree.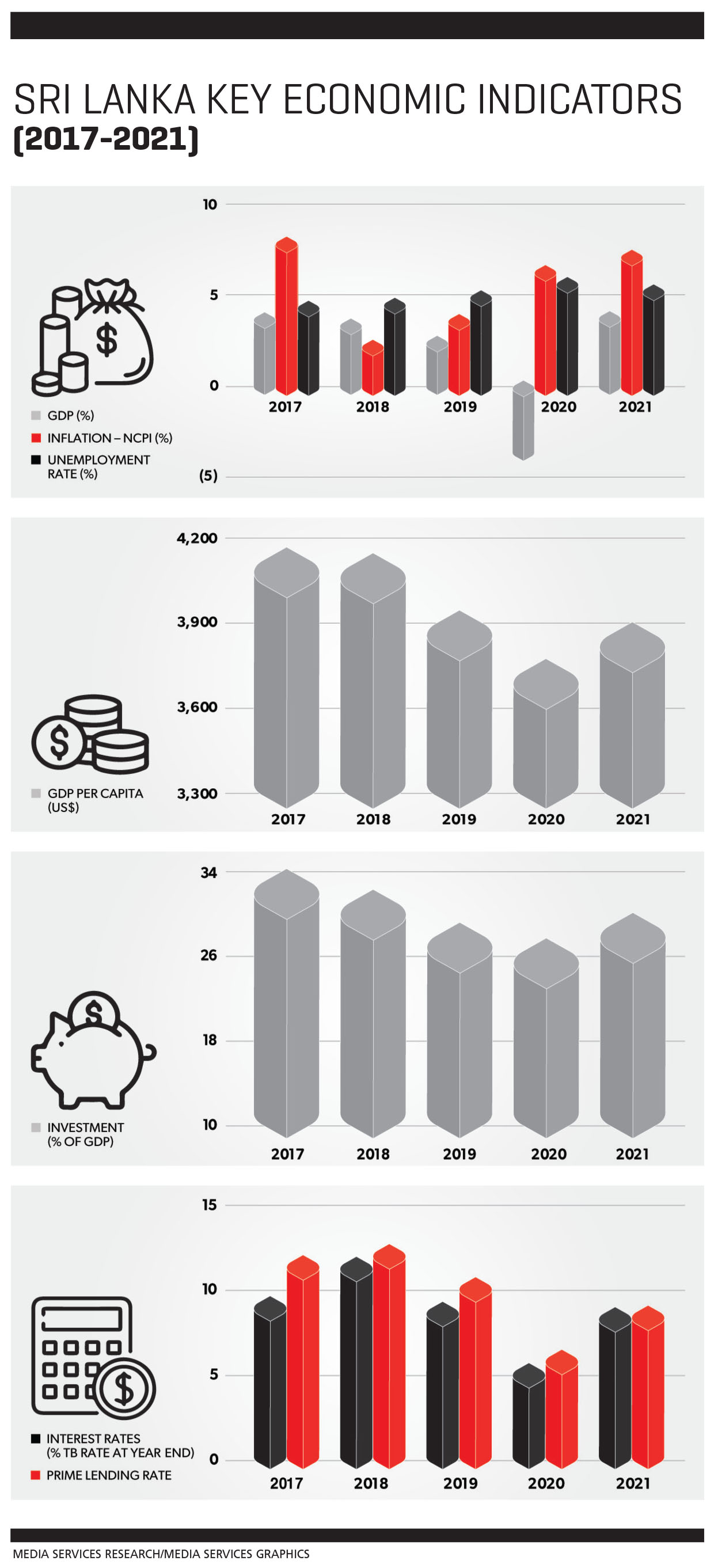 SERVICES In calendar year 2021, according to the Central Bank of Sri Lanka, the services sector registered an upside of three percent with subcategories of IT programming, consultancy and related activities, and telecommunications, recording sizeable gains of 21.7 percent and 16.2 percent respectively.
This could be attributed to the increased usage of telecom services amid the pandemic and growth in the Information Technology/Business Process Outsourcing (IT/BPO) sector.
INDUSTRY While all sectors registered growth in 2021, the industry segment improved by 5.3 percent with the majority of subcategories registering robust growth.
However, manufacturing activities related to coke and refined petroleum products, which recorded a contraction of 30.5 percent due to occasional refi­nery shutdowns during the year, were notable exceptions.
AGRICULTURE Agriculture, forestry and fishing grew by two percent during 2021, buoyed by the notable uptick recorded in the subcategories of growing of cereals (except rice), oleaginous fruits and tea, while a contraction in rice production and other beverage crops weighed negatively on sectoral performance.
INFLATION By the end of the year, inflation had risen to seven percent – this was almost as high as it had been five years previously – in 2017 (7.7%). And this represented a 0.8 percent rise from the where it had come to rest (6.2%) in December 2020.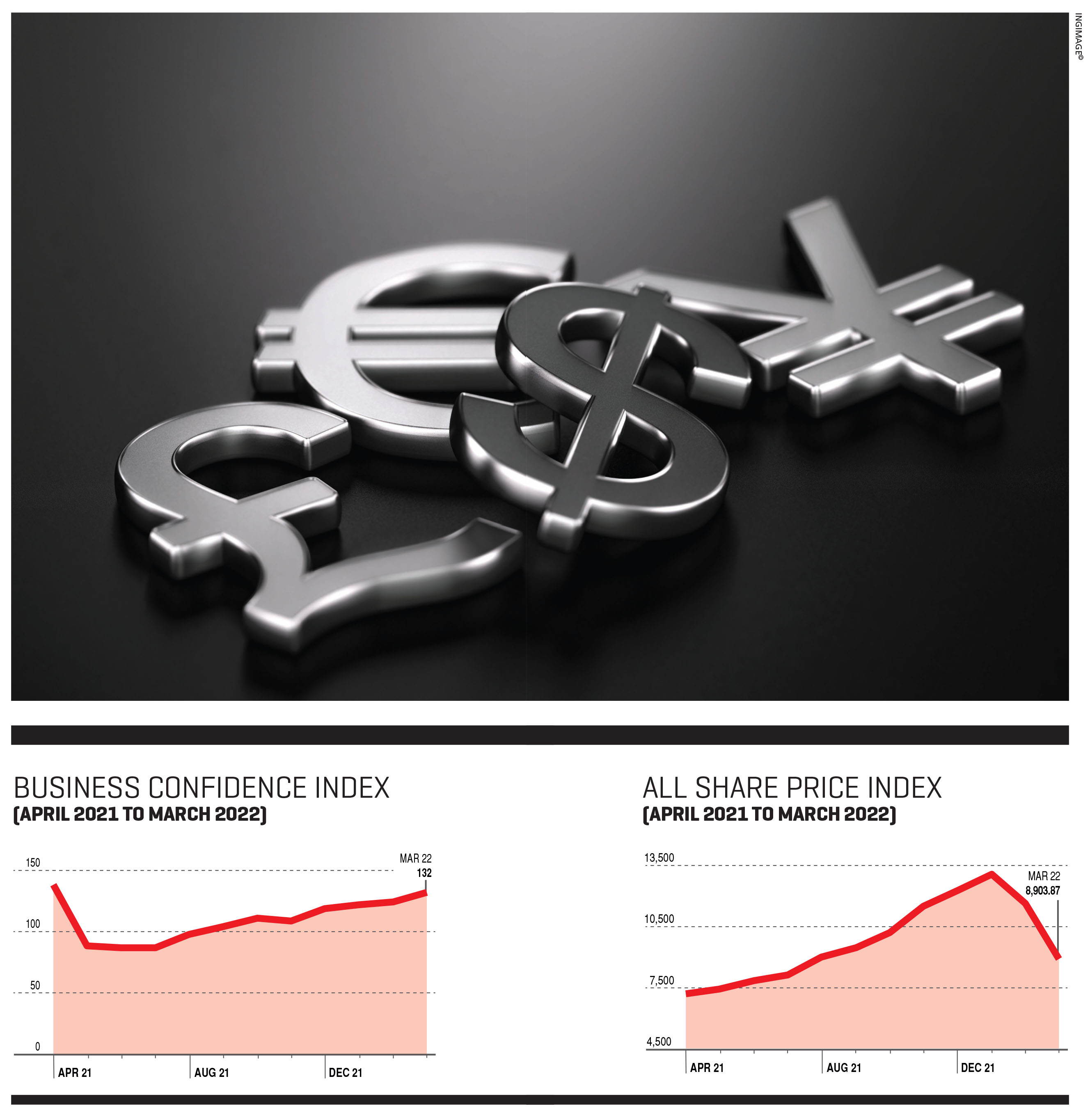 VIEWPOINTS In its Asian Development Outlook (ADO) 2022 update (September 2022), the Asian Development Bank (ADB) observes in the bank's commentary on Sri Lanka that "economic conditions deteriorated significantly since ADO 2022 in April on a deepening debt crisis, severe shortage of foreign exchange and major supply shocks."
The report points out that these are "the results of persistent and large fiscal deficits, the impact of the COVID-19 pandemic, an ill-timed move to switch from chemical to organic fertilisers and the Russian invasion of Ukraine."
Consumer and business confidence have been confronted by limited external financing possibilities; and dwindling fore­ign reserves have led to a serious energy crisis while shortages of essential goods and services have threatened food security.
The regional development bank notes that Sri Lanka's GDP contracted by 1.6 percent year on year in the first quarter of 2022, and agriculture felt the impact of a temporary ban on chemical fertilisers, which saw output contracting (by 6.8%) in the quarter.
In what it describes as "Sri Lanka's multifaceted crisis," the report notes that private consumption fell in the first quarter even though government consumption rose. Energy prices were raised on several occasions since mid-2021.
It also notes that core inflation had risen sharply from 8.3 percent at the end of 2021 to 46.6 percent in August 2022, signalling underlying inflationary pressures stoked by a litany of laments including import restrictions, supply chain disruptions, poor agriculture output, and rising global oil and commodity prices.
Foreign exchange reserves remained perilously low at US$ 1.7 billion at the end of August 2022 (that was cover for about one month of imports) compared to 3.1 billion dollars in December 2021.
Meanwhile, the World Bank  projects that Sri Lanka's economy will contract by 9.2 percent in 2022 and 4.2 percent in 2023, and grow by one percent in 2027, according to its Global Economic Prospects report released in mid-January.
In September 2022, following the government's appeal to the international funding agency for assistance, the IMF issued the following statement: "The Sri Lankan authorities and the IMF team have reached a staff-level agreement to support the authorities' economic adjustment and reform policies with a new 48-month Extended Fund Facility (EFF) with a requested access of about SDR 2.2 billion (US$ 2.9 billion)."
The IMF's press release stated that the "objectives of Sri Lanka's new fund-supported programme are to restore macroeconomic stability and debt sustainability, while safeguarding financial stability, protecting the vulnerable, and stepping up structural reforms to address corruption vulnerabilities and unlock Sri Lanka's growth potential."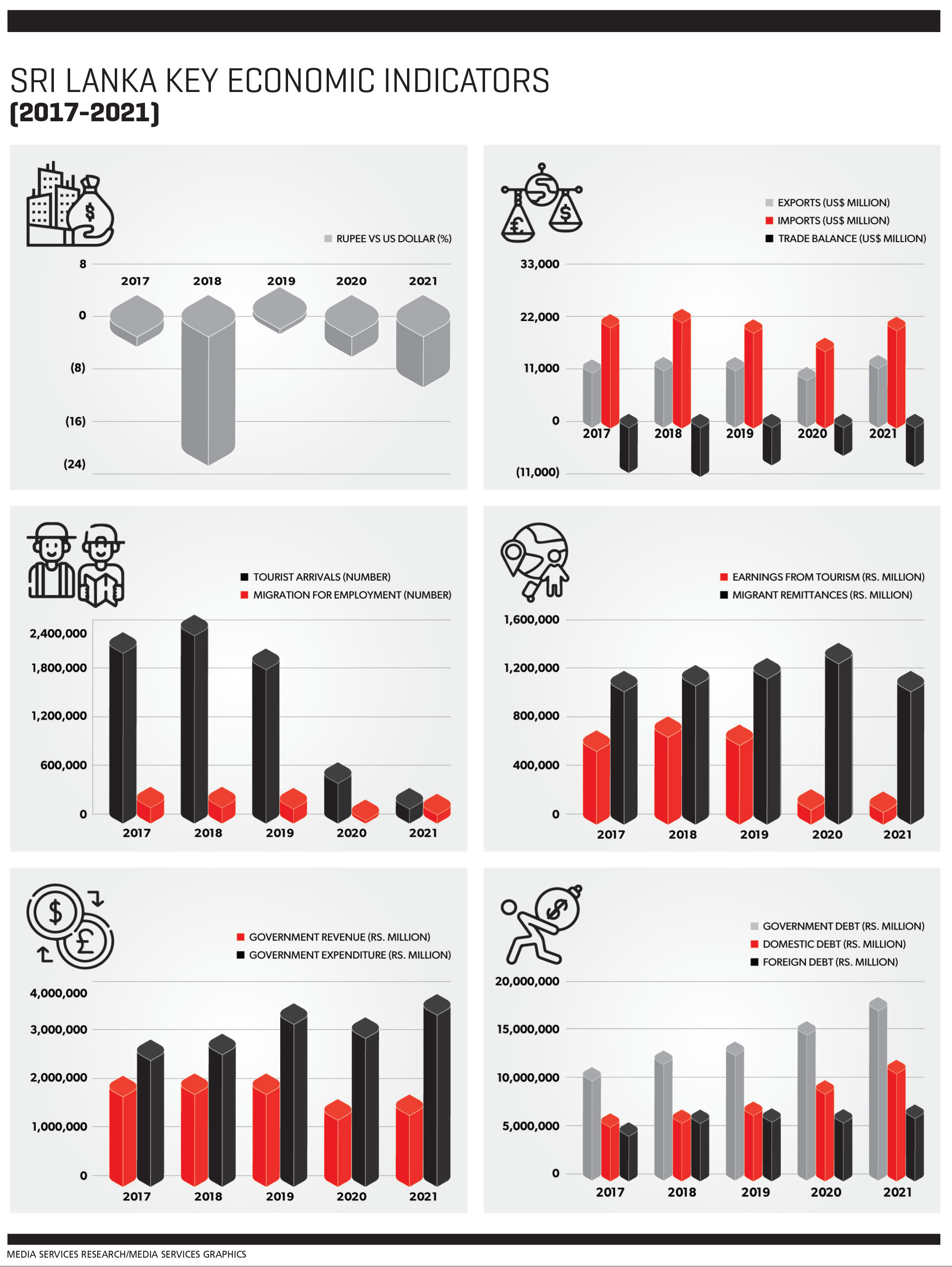 FISCAL AFFAIRS The Mid-Year Fiscal Position Report 2022 published by the Ministry of Finance and Mass Media stated that the Sri Lankan Rupee had recorded a depreciation of 44.3 percent against the US Dollar for the 2 months to 13 May 2022.
The report explained in its economic perspectives that earnings from exports increased by 11 percent to US$ 4,219 million in the first four months of 2022, compared to 3,800 million dollars recorded in the same period of 2021 – it benefitted from the higher earnings from industrial exports while in comparable periods, expenditure on imports grew by 8.9 percent to US$ 7,350 million (compared to 6,748 million dollars) primarily due to the rise in commodity prices in the world market.
As a consequence, the trade deficit widened to US$ 3,131 million in the first four months of 2022 from a deficit of 2,948 million dollars recorded in the same period of the prior year.
Workers' remittances, the second largest source of foreign currency earnings, declined substantially by 53 percent to US$ 1,335.6 million in the first five months of 2022 – compared to 2,845.9 million dollars recorded in the same period of 2021.
Although earnings from tourism increased to slightly over 680 million dollars in the first five months of 2022 (vs. US$ 39.9 million recorded in the same period of 2021), this is considerably lower than pre-COVID-19 pandemic levels.
Sri Lanka's reserves position at the end of April 2022 was provisionally estimated at 1.8 billion dollars – this included the swap facility from the People's Bank of China, which was subject to conditionalities on usability, the report stated.
In his column entitled A Challenging Outlook in the January 2022 edition of LMD, Shiran Fernando outlined the challenges facing the local and global economies in the year ahead and stated: "We enter 2022 with a great degree of uncertainty both from the global and local contexts… Sri Lanka faces a challenging macro outlook; it will have to meet the twin challenges of building back dollar reserves as well as meeting external debt repayment commitments."
He went on to say that "the better than expected recovery in most developed nations and pickup in demand resulted in global supply chains being stretched, and unable to cope. As such, over the last year we witnessed global freight charges climb by between four and five times of what they were compared to the pre-pandemic era."
Referring to the twin challenges, Fernando cautioned: "In the meantime, Sri Lanka will have to manage repaying more than US$ 4.5 billion in external debt while rebuilding its reserves, which plummeted to 2.3 billion dollars at the end of October and can cover just over a month of imports. With dwindling reserves, the rise in imports and a sharp slowdown in remittances from overseas, the availa­bility of essential goods has been severely impacted."
"While there is no single answer to this conundrum, policy makers must not only identify solutions to meet short-term debt refinancing needs but also provide a clear strategy of how they intend to repay debts (around US$ 4.5 billion on average) that are due between 2022 and 2026," the economist explained.
Fernando explained that "in the short term, it will be key for the country to secure the financing outlined in the Central Bank of Sri Lanka's road map published in October. This will help bolster reserves, and meet the repayment of 500 million dollars in International Sovereign Bonds due this month and US$ 1 billion in July."
Referring to policy measures, Fernando said at the time: "Policy makers will also need to consider adopting a more flexible exchange rate compared to the prevailing strategy of fixing it at the present level of Rs. 200-205 a dollar. The disparity between the official rate and what is offered in the informal market could be driving the slowdown in remittances, which have halved since May last year."
Tellingly, he predicted that "for its part, the private sector will need to focus on maintaining export growth both in terms of goods and services. Maintaining a growth rate of more than 20 percent this year will be challenging but traditional exports are resilient, and there's potential to grow in new export products and markets."
He continued: "In addition to export growth, Sri Lanka will need to increase inflows from foreign direct investments (FDIs) and tourism. However, this will depend on improvements in the local macroeconomic outlook."
Fernando concluded his column by stating that "overall, 2022 is poised to be another challenging year for the economy – one that Sri Lanka will need to navigate with carefully thought out strategies and implementation."

BIZ CONFIDENCE The LMD-NielsenIQ Business Confi­dence Index (BCI) reflected a notable improvement in biz sentiment towards the end of 2021 with the exclusive index improving by 10 basis points in December (to 119), despite it having been both a difficult and turbulent year for Sri Lanka Inc.
By March 2022 (i.e. the end of the financial year under review), the barometer had risen to 132 despite fuel shortages, power outages and the rupee depreciation, reflecting the vestiges of confidence held over as the business community had yet to experience the months that were to follow.
POLICY REVIEW The State of the Economy 2022 publication released by the Institute of Policy Studies (IPS) in October 2022 focusses on 'From Crisis to Recovery: Driving Policy Action through SDGs,' whereby it examines some of the critical socioeconomic issues and policy choices facing Sri Lanka.
The report observes that "Sri Lanka's economy faces its harshest economic downturn in 2022 as it seeks to adjust to a severe bout of macroeconomic instability. In April 2022, the country announced its intention to default on foreign debt settlements in the face of dwindling foreign reserves and acute shortages of imported essentials."
Furthermore, the annual flagship report notes that "the shortages, amidst galloping cost of living pressures, generated widespread public and social unrest in the country. Policy adjustments to restore macroeconomic stability will result in a painful period of economic hardship in the medium term."
The policy think tank elaborates: "The most crucial will be to establish sustainable fiscal frameworks and targets. Tax increases and spending cuts will limit the government's ability to support lower-income households that are disproportionately impacted by high inflation."
"For any recovery to be equitable and sustained, Sri Lanka must pay renewed attention to pursuing a development framework that prioritises the wellbeing of its most vulnerable and disadvantaged population groups," it sums up.