ECONOMIC PREVIEW
A CHALLENGING

 OUTLOOK
Shiran Fernando outlines the challenges facing the local and global economies in the year ahead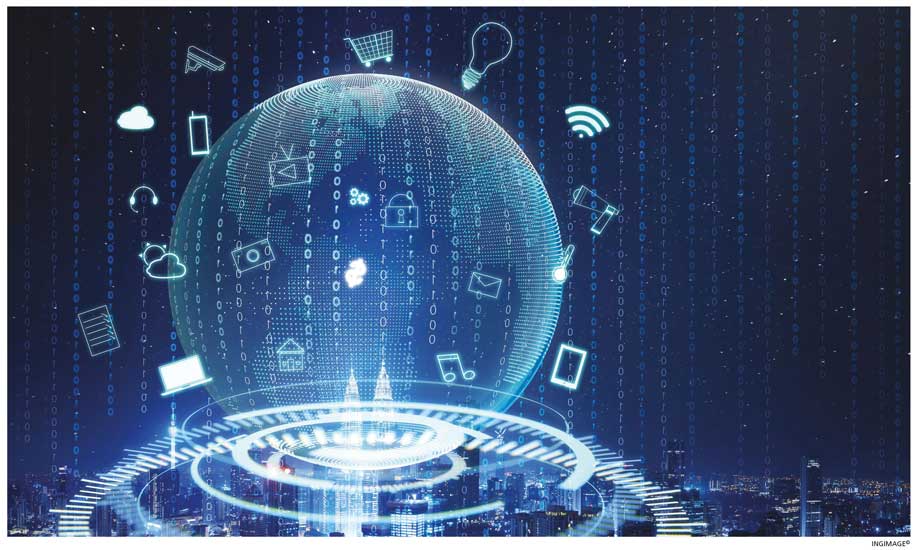 We enter 2022 with a great degree of uncertainty both in the global and local contexts. Globally, the optimism brought about by the roll out of vaccines in normalising the world economy has been dealt a blow with the emergence of new variants that could potentially disrupt the post-pandemic recovery.
Locally as well, Sri Lanka faces a challenging macro outlook; it will have to meet the twin challenges of building back dollar reserves as well as meeting external debt repayment commitments.
Here are some of the key challenges and opportunities we face this year.

NEW VARIANTS The better than expected recovery in most developed nations and pickup in demand resulted in global supply chains being stretched and unable to cope.
As such, over the last year, we witnessed global freight charges climb by between four and five times of what they were compared to the pre-pandemic era.
This could normalise by the second half of the new year with more supplies from ports coming online as well as the accelerated pace of vaccination campaigns in developing economies.
It's important that the disparity in vaccine distribution among developing nations is bridged to help them emerge from the pandemic and pursue economic recovery. However, the threat of new variants like Omicron could derail this recovery – particularly for global travel and tourism.
GLOBAL DYNAMICS There is also the prospect of the US Federal Reserve increasing interest rates and other major global central banks following suit as their economies recover.
Previously, these monetary authorities resorted to maintaining low interest rates and offering monetary support to revive their economies. This may no longer be viable with the rise in demand and growth.
Furthermore, there has also been an escalation in inflation in most economies, which could be more than a short-term transitionary trend.
The increase in interest rates by central banks such as the Fed – though priced in by the markets – could potentially pose a risk if the pace of the hikes is quicker than expected. This could impact domestic interest rates in emerging and frontier economies like Sri Lanka.
Another thematic focus will be in the realm of building back better, and the role that green financing and other climate related solutions play in this process. The next risk for the global economy could potentially be from climate related shocks, which the world needs to prepare for – in particular following the outcome of COP26.
TWIN CHALLENGES In the meantime, Sri Lanka will have to manage repaying more than US$ 4.5 billion in external debt while rebuilding its reserves, which plummeted to 2.3 billion dollars by the end of October and can cover just over a month of imports.
With dwindling reserves, the rise in imports and a sharp slowdown in remittances from overseas, the availability of essential goods has been severely impacted.
It has also been difficult for the private sector to pursue investments, manage daily operations and consider medium to long-term strategies given the dollar shortage.
While there is no single answer to this conundrum, policy makers must not only identify solutions to meet short-term debt refinancing needs but also provide a clear strategy of how they intend to repay debts (around US$ 4.5 billion on average) that are due between 2022 and 2026.
In the short term, it will be key for the country to secure the financing outlined in the Central Bank of Sri Lanka's road map published in October. This will help bolster reserves, and meet the repayment of 500 million dollars in International Sovereign Bonds due this month and US$ 1 billion in July.
In between these repayments, substantial bilateral and multilateral debts will need to be settled.
POLICY MEASURES Among the more medium-term solutions would be looking at obtaining support from agencies such as the IMF in putting together a credible reform package.
Policy makers will also need to consider adopting a more flexible exchange rate compared to the prevailing strategy of fixing it at the present level of Rs. 200-205 a dollar. The disparity between the official rate and what is offered in the informal market could be driving the slowdown in remittances, which have halved since May last year.
For its part, the private sector will need to focus on maintaining export growth both in terms of goods and services. Maintaining a growth rate of more than 20 percent this year will be challenging but traditional exports are resilient, and there's potential to grow in new export products and markets.
In addition to export growth, Sri Lanka will need to increase inflows from foreign direct investment (FDI) and tourism. However, this will depend on improvements in the local macroeconomic outlook.
Overall, year 2022 is poised to be another challenging year for the economy that Sri Lanka will need to navigate with carefully thought out strategies and implementation.