DISRUPTION TO THE NATIONAL ECONOMY
The Governor of the Central Bank of Sri Lanka (CBSL) Dr. Indrajit Coomaraswamy has said the extent of disruption to the economy will depend on how rapidly the government can stabilise the present situation as the recent Easter Sunday bombings had an impact on business confidence and sentiment.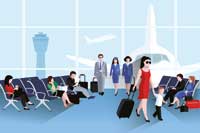 "We thought that there were sufficient grounds for a pickup of growth from 3.2 percent last year. The tourism sector was doing very well. The industrial sector, particularly industrial exports, was buoyant. The 16 percent depreciation (of the rupee) last year clearly helps. There were a number of pockets like the IT industry where we were seeing buoyancy in the economy," Coomaraswamy observed.
He also indicated that the tourism industry would be the most affected in the short term, together with the supply chains connected to it, namely the agricultural sector, services, handicrafts, leisure activities and transport.