COP26 SUMMIT

GLOBAL
CLIMATE

CHALLENGE
Samantha Amerasinghe outlines the shortcomings of the Glasgow Climate Pact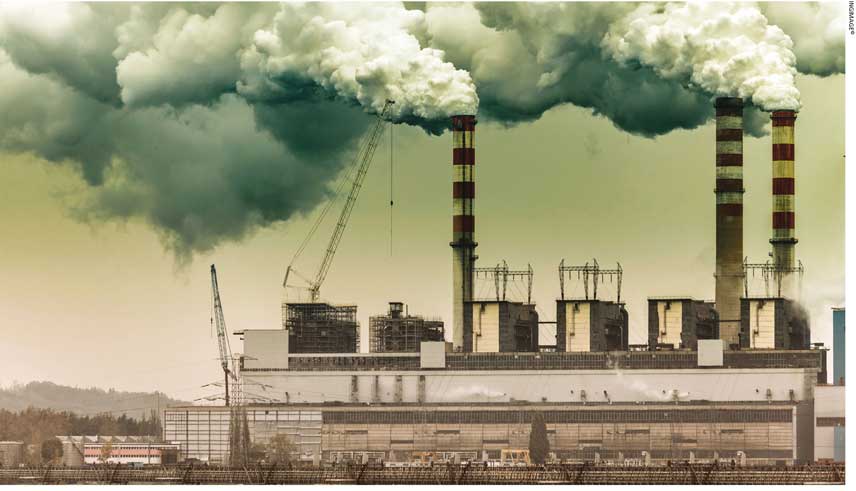 COP26 could well be the defining moment of our time if it defies expectations and produces substantive progress. It could be the moment when the slide towards a climate catastrophe begins to slow.
In the October edition of LMD, we discussed the major scientific report advocating that rising temperatures are causing irreversible "widespread and rapid changes," and the impact of failing to act now to limit the Earth's temperature to 1.5°C above pre-industrial levels.
We revisit this topic two months later, following the conclusion of the COP26 climate talks in Glasgow, to assess the outcome of the largest climate meeting in history. Was it a triumph or disaster?

Critical to Glasgow's success was an expectation that major emitters would show how they will cut greenhouse gas emissions this decade. Some of the strongest government commitments to fighting climate change in history were made at COP26.
For example, about 150 countries agreed to ramp up their commitments, known as nationally determined contributions (NDCs), with more than 130 pledging to reach net zero emissions by 2050.
Glasgow was also heralded as a platform for several additional agreements on issues including deforestation and methane reduction. Other crucial unsolved problems were also addressed – such as how countries can trade emissions credits and the need for developed nations to pledge more money to tackle the staggering cost of climate change.
For the first time, the COP26 declaration called for the end of fossil fuels and 'inefficient' fossil fuel subsidies – although some of the language was watered down by India (which relies on coal for more than 60% of its electricity generation) and China.
The added pressure to substantially cut fuel use came amid rising global energy prices, increased coal use and energy shortages as economies restart after over a year of pandemic lockdowns.
Nonetheless, more than 40 countries committed to ending their domestic use of coal for electricity while 25 agreed to stop financing coal power in developing countries. Coal fired power plants produce a third of global greenhouse gas emissions.
But China, India, the US and Australia – comprising over two-thirds of global coal consumption – did not agree to a domestic coal phase out. Softened language aiming to 'phase down' rather than 'phase out' 'unabated' coal power may not have put the final nail in its coffin but it represented a warning to resource rich nations. The deadlock on coal suggests that energy security continues to trump climate action for many countries.
Despite these positive developments, what transpired at COP26 was woefully insufficient. The pledges are still not sufficient to meet the Paris Agreement's ambitious targets nor prevent some of the worst consequences of global warming.
Even if the targets are met – i.e. the sum of the new NDCs plus net zero commitments – they would put the world on course to warm by roughly 1.8°C, failing to limit the rise in global temperatures to the Paris Agreement target of 1.5°C.
The main sticking point for many negotiators at COP26 – particularly representatives from countries that are most vulnerable to the effects of climate change – was that wealthy nations are failing in their promises to help those worst hit by the phenomenon.
After all, it's the wealthiest countries that have spewed out the largest share of greenhouse gases; yet, those facing the worst effects of sea level rises, more intense heat waves and more destructive downpours have the least resources to adapt – and they have contributed the least to the problem.
Finding ways to help poorer nations adapt without forgoing quicker action on cutting emissions will be a critical challenge for the next climate summit.
One of COP26's main shortfalls was that the 2009 commitment to make US$ 100 billion available to developing countries by 2020 for climate related financing to support a shift to clean energy and build resilience to climate change has still not been met – and we may not cross that threshold until 2023.
Developing countries have said they want international climate adaptation finance to roughly double from 2019 levels to about 40 billion dollars by 2025.
COP26 was perhaps a little more than 'blah, blah, blah' (to borrow a phrase from climate activist Greta Thunberg) but another year will be lost, the planet will become hotter and the window for action will close even further unless countries meet the next challenge – i.e. strengthening the commitments that are now on paper – head on.
Signing the declaration dubbed the 'Glasgow Climate Pact' was the easy part. The true test of the negotiations will be the actions countries take to make their pledges real!
The pact called for countries to return to the table next year with stronger and more detailed plans for cutting their emissions by the end of the decade. At the COP27 meeting in Egypt, the process will be repeated again – and possibly end with another step forward.
But more than two and a half decades into these COP summits, it's clear that the process is agonisingly slow. Nevertheless, these meetings (even if they're deemed a failure on some counts) have led to some of the biggest strides towards mitigating climate change.
And they remain critical to confronting the global climate challenge.