CONSUMER TRENDS
GENERATIONAL BUYING POWER
Taamara de Silva analyses today's millennial motivations and consumer trends
If you were wondering why Airbnb, Uber and Alibaba are so successful, the secret lies in a powerful demographic. What are millennials buying? It certainly doesn't look like houses or cars.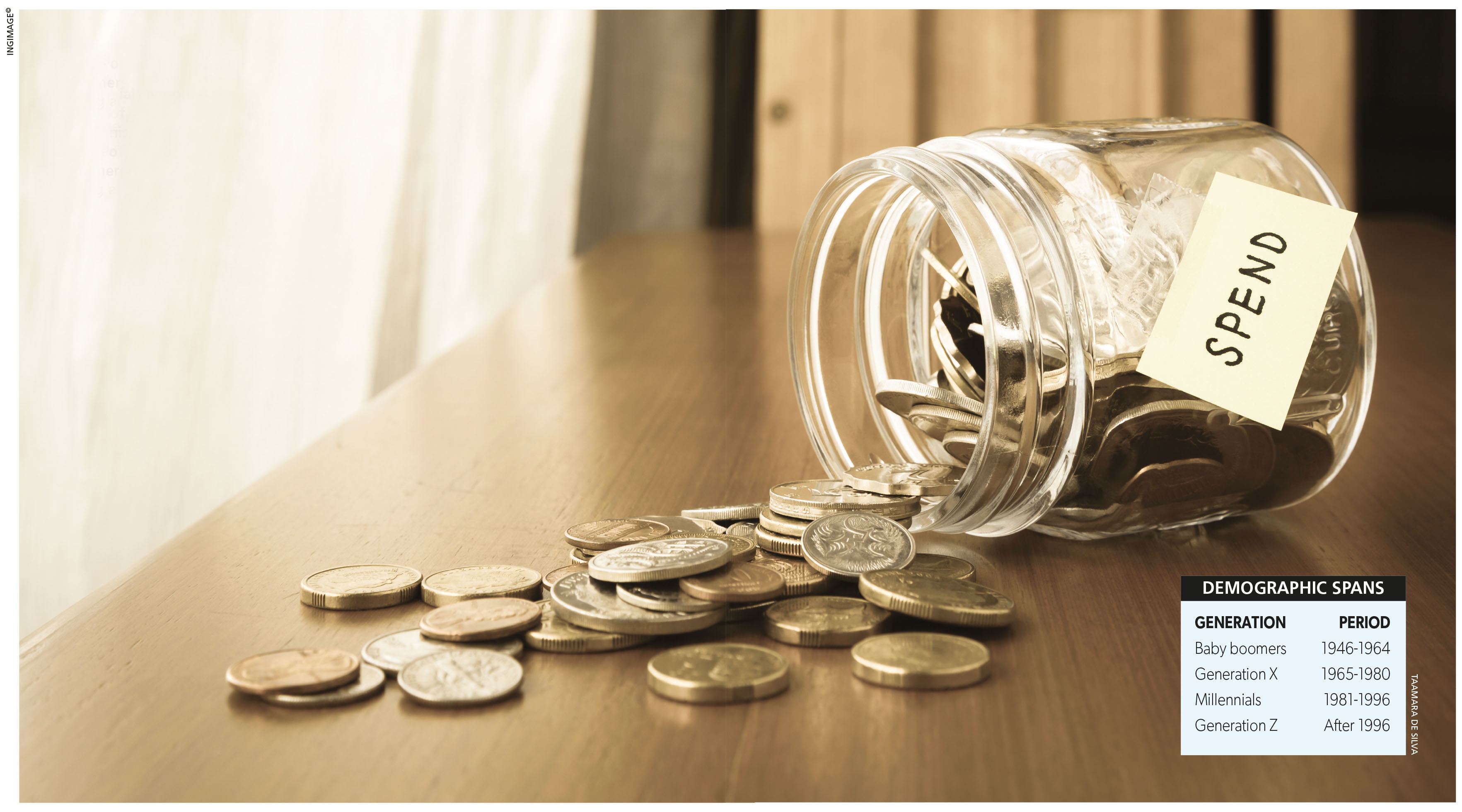 The aspirations of this generation are profound. Millennials choose to lead lives their parents would have never dreamt of and this is because of what they choose to spend their money on.
From concerts and social events, to athletic pursuits and cultural experiences, they choose to explore meaning in life by creating, sharing and capturing memories earned through vivid and diverse experiences.
Generation names and age spans are defined differently depending on countries or regions but a generalisation can be drawn. Anyone born between 1981 and 1996 (aged 24 to 39 this year) can be considered a millennial; and anyone born after 1996 – part of a new generation – is gen Z.
It is estimated that by 2025, millennials will comprise three-quarters of the global workforce.
In fact, millennials are on the verge of surpassing baby boomers as the largest living adult generation. Inheritors of inter-generational wealth and already possessing tremendous economic power, it makes sense for businesses to develop strategies targeting this lucrative market segment.
This generation is known to pay for certain things that were considered taboo by their parents such as therapy or plastic surgery. A growing trend for egg freezing instead of starting a family has persuaded companies such as Google, Apple and Facebook to offer this as a company benefit. However, this is not common.
Renting a wardrobe is quickly becoming the latest trend, fuelled by sustainable shopping and aligning with a minimalist lifestyle.
From clothing to hotels and ride shares, millennials prefer the flexibility and benefits of non-ownership. This also enables them to spend within their means.
This can be conveniently attributed to the thought leaders of Silicon Valley who instilled the concept of 'you only live once' (YOLO), convincing millennials to stop worrying about ownership and embrace 'the experience economy.'
Young, driven and motivated millennials are known to be activists, creators and dreamers. But are they the entrepreneurs, influencers or artists determined to change the world through social media?
Celebrities like Demi Lovato and Lady Gaga have been open about their struggles with depression, and conversations on social media have also helped normalise therapy. We are constantly prejudiced by influencers on Instagram discussing products, services and lifestyles that have a massive impact on our choices and spending patterns. And the recent death of George Floyd that sparked a massive social movement leading to social reform was predominantly fuelled by millennials. This is consistent with consumerism around concepts such as organic lifestyles, equality, ocean conservation and climate change initiatives, and a host of other pressing issues.
How do businesses benefit from this?
A proper understanding of millennial spending and how it can affect consumerism during and after the pandemic will be crucial to adapting business models.
Technology is an all-time favourite among millennials. Online flash sales have served as an entry point into the branded market, purchasing gadgets such as iPhones or drones, while the demand for online gaming and entertainment subscriptions have seen a steep escalation.
Meanwhile, social media has fuelled the indulgence in unique experiences such as being pampered in boutique hotels, enjoying sunsets in luxury yachts and more ambitious sky diving stints being shared on Instagram or Snapchat.
Health and wellness is another emerging trend.
From yoga sessions, fitness programmes, nutrition plans to beauty and skincare advice, millennials will not hesitate to spend more to maintain a healthy lifestyle. This can also include spa therapy and weeklong retreats with a preference for healthy dining.
Charitable giving is trending among millennials who are regarded as generous donors. In fact, 35 percent donate to charities as they want to use their wealth to make a difference and improve the world, according to the Millennial Wealth Report.
Although millennials have a general tendency to be more risk averse with investments, the affluent are more open to investing in technology, and supporting the startup culture as angels and venture capitalists. The urge to foray into exciting or trendy investments such as cryptocurrency and blockchain or even support cancer research has been a visible trend of late.
The businesses that will thrive are those best geared to reorganise and re-prioritise around millennial consumption habits. This ability to embrace changing preferences, offer more sustainability, affordability and flexibility in their products and services, and leverage technology might well be the deciding factor in remaining relevant and competitive in a post-COVID consumer landscape.