BANKING SECTOR
Sanjaya Senarath
CONNECTED FUTURE
Banks have no choice but to evolve in the face of the online blitz
The state of banking today
Banks are trying to keep pace and respond to the challenges and opportunities posed by disrupters to traditional banking models.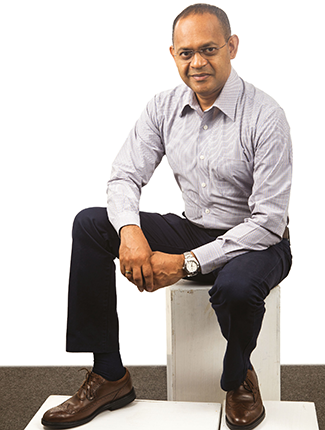 Obstacles to banking sector growth in Sri Lanka
An uncertain political climate that creates policy inconsistency, rapid technological advances and the impact of Basel III capital requirements on return on equity.
The future of the local banking sector
Bringing efficiency and next level technology to customer service delivery, and financial regulatory compliance whilst increasing shareholder value.
Key strengths of the local banking sector
A network that reaches customers in remote areas; the level of financial inclusion, governance and culture; and capitalisation.
Main weaknesses of the banking sector
Too many small banks, dependence on traditional banking channels and the struggle to keep pace with enhanced customer experiences offered by other categories.
Threats to the banking sector
Macroeconomic risks, availability of alternate payment options and financial intermediation solutions through fintech, and information security and cyber risks.
The local market in a nutshell
There is moderate asset growth in a challenging business environment as well as a focus on arresting the rising trend in nonperforming loans.
The global market in a nutshell
A decade since the global financial crisis, banks seem to have regained their health. They must build scalable digitally enabled business models that are future proof.
Three new prospective customer segments
Gen Z, women entrepreneurs and SMEs are segments that demonstrate potential.
Three evolving consumer trends or behaviours
Customer convenience, greater need for advisory services particularly SMEs and startups, and the demand for greater CSR and corporate ethics – i.e. green banks.
Local vs regional banking sector comparison
Sri Lanka has the highest financial inclusion in South Asia but its scale is much smaller and regional banks are more digitally advanced (especially in Singapore).
Productivity is affecting sectoral and economic growth – yes or no
Yes
Corruption is affecting sectoral and economic growth – yes or no
Yes
Future of the global banking sector
There'll be extensive disruption and opportunities in new markets and emerging countries, and competitive challenges from nontraditional banking providers.
Competition drives innovation – yes or no
Yes
Impact of the digital age on Sri Lanka
Sri Lankans have embraced online shopping – and they expect instant gratification and prompt service; unlike older generations, digital natives will follow global trends.
Impact of social media on the world
In today's world, social media has a major impact because word of mouth is now only a tap away.
The banking sector in five years' time
Banks will cease to exist or may have to play a different role as customers would be able to transact from anywhere and anytime from varying platforms.
Sri Lanka's competitiveness
Sri Lanka scored 4.08 points out of seven in the 2017-2018 Global Competitiveness Report published by the World Economic Forum.
Action plan for Sri Lanka to remain competitive
We must address new challenges to sustain economic growth and poverty reduction, low productivity, reliance on non-tradable sectors and a stale export basket.
The way forward for the country
Realise trade potential by streamlining regulations, reducing the cost of doing business, and improving our ability to attract, retain and integrate foreign direct investments (FDI).
Personal mantra for success
Be the best at what you choose to do, be consistent and be human.
– Compiled by Ruwandi Perera
Sanjaya is the Vice President – Marketing & Customer Experience of National Development Bank (NDB)