BUSINESS SENTIMENT
CONFIDENCE CLAWS ITS WAY UP
Businesspeople are taking heart from the absence of majorly negative events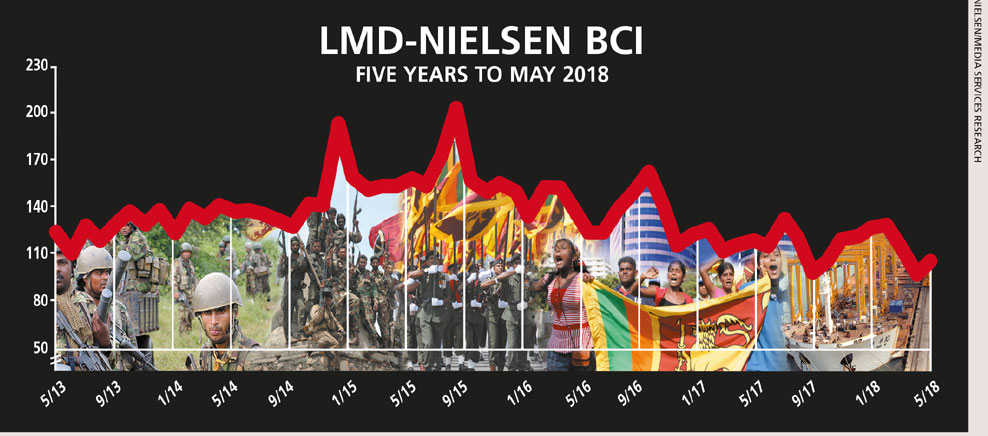 The dreaded fuel price increase came into effect at state owned petrol stations across the land in May, bringing them in line with the formula based pricing mechanism adopted by the government to comply with IMF lending criteria in the main.
This led to a string of events that came as no surprise to the citizenry – for example, private bus owners' associations threatened to strike unless fares were increased to reflect the higher price of fuel.
Meanwhile, Moody's Investors Service recently recognised Sri Lanka as being among the countries most exposed to an interest rate shock. "Sovereigns most vulnerable to an interest rate shock are generally low rated with shorter maturities and weak debt affordability," it remarks.
Respondents to the latest LMD-Nielsen Business Confidence Index (BCI) survey also raise concern regarding interest rates but thankfully, this sentiment has not deterred the corporate spirit and prevented a turnaround in the index.

THE INDEX Having witnessed a decline over the last two months on the back of extreme political uncertainty, business confidence has regained lost ground with the BCI moving up to 106 in May from 98 in the preceding month.
Nevertheless, the BCI remains below its 12 month and all-time averages of 116 and 129 respectively.
Nielsen's Managing Director Sharang Pant attributes the upward movement in the index to "stability on the political front with the prime minister surviving the no confidence motion and the government getting back to its fiscal consolidation objectives."
According to Pant, this is supported by the easing of inflation with the National Consumer Price Index (NCPI) coming down further in April to 2.8 percent year on year and 6.7 percent on an annual average basis.
"This could augur well for a revival of consumption especially in fast-moving consumer goods (FMCG), which according to Nielsen estimates continued to decline at a high rate even in the first quarter of 2018," he adds.
However, he cautions that "it may be too early to say the upward trend will continue as the fuel price hike could lead to a fresh round of price increases across products and services."
SENSITIVITIES The tax structure, a plummeting rupee value and high interest rates continue to be the main concerns for business.
To this end, one corporate executive observes: "The exchange rate is very poor, and all economic and financial indicators are not positive… In addition, with increased political instability, the government cannot establish stable policies."
Another survey respondent asks: "With constant changes in government portfolios, how can we expect the economy to stabilise and improve?"
PROJECTIONS While the latest turnaround in the BCI offers some respite from the torrent of bad news in the months prior, there is little in the way of positive trends to propel a major comeback vis-à-vis the barometer of corporate sentiment.
– LMD