COLOMBO STOCK EXCHANGE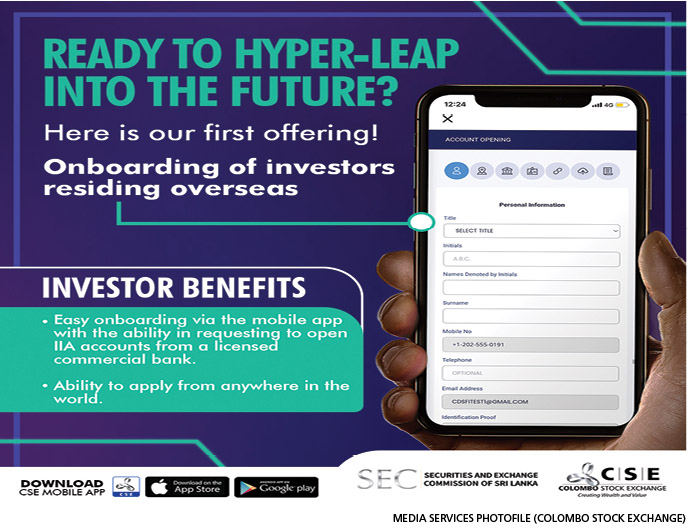 Q: The Colombo Stock Exchange (CSE) together with the Securities and Exchange Commission of Sri Lanka (SEC), recently marked the third phase of the digitalisation of the Sri Lankan capital market. What does this third phase entail?
A: The digitalisation drive of CSE was in three phases. And the third phase focus—s-ed on enabling the smooth onboarding of investors including the addition of seve-ral new features such as an option to calculate gains and losses of their port-fo-lios, obtain various reports through the Central Depository Systems (CDS) on their accounts, open margin accounts, enable private transfers to beneficiaries and even organise action events on their calendars.
The joint committee of the SEC and CSE identified areas for improvement in the nomination process. Now, it's all been auto-mated and investors can give a single e-nomination through the app for all the stocks they hold.
Further, CSE has enabled e-rights issues and onboarding for unit trusts. It has automated those processes as well and eliminated the paperwork to make it less time–consuming.
Q: Can you share how the app has been accepted by the market and investors?
A: The CSE Mobile App has been downloaded by over 243,000 users as of now – a direct testament to its success and abi-lity to convert investors from physical transactions to a digital experience. This app enables investors to efficiently perform all their transactions through their smartphones and gives them accessibility, control and convenience
It has made the experience better and more supportive for anyone who wants to enter the stock market with end-to-end digitalisation.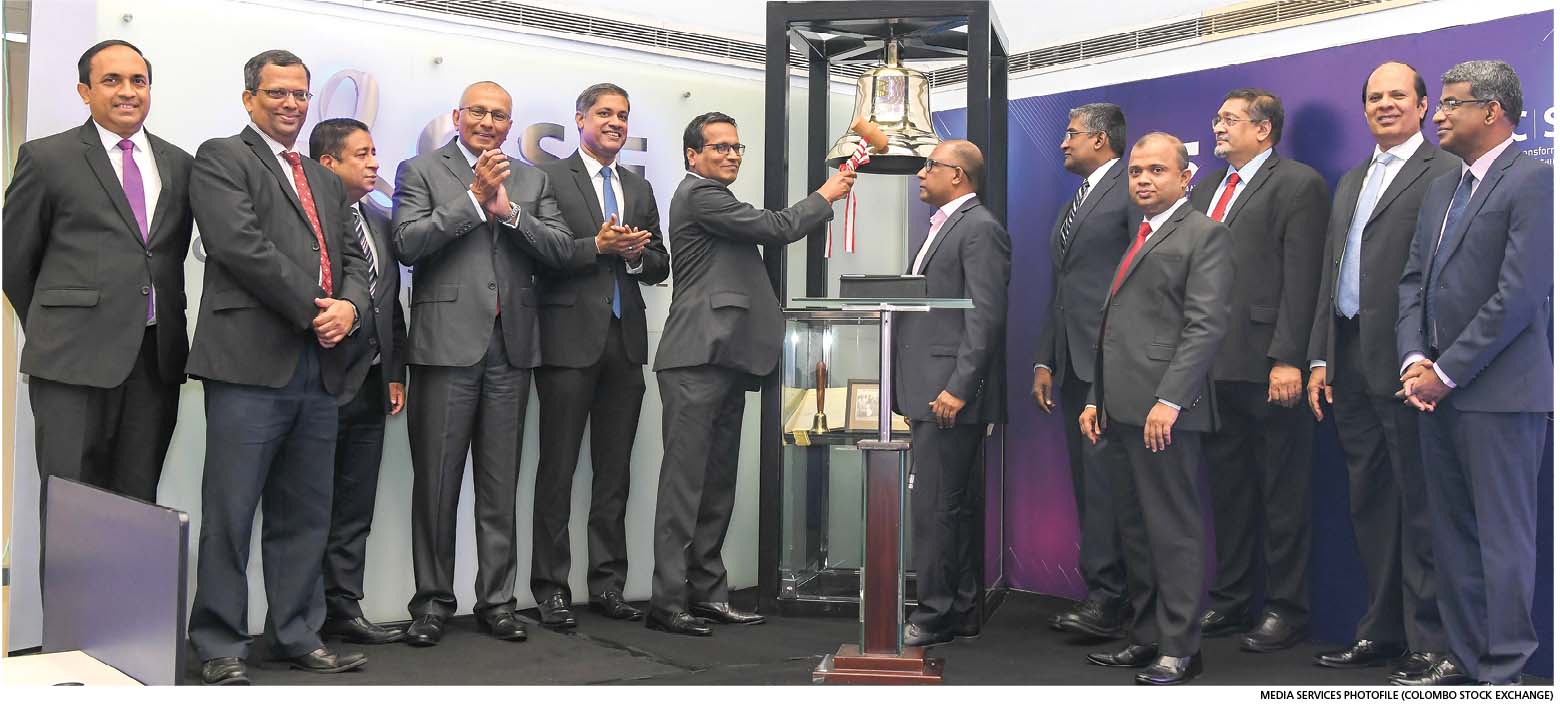 Q: How has the CSE facilitated digital onboarding with the app's recent upgrade?
A: In the third phase of CSE's digitalisation drive, we eliminated the bottlenecks regarding onboarding and facilitated seamless onboarding of investors including nonresident indi–vi-duals, and directed them to commercial banks to open inward investment accounts(IIA).
The digitalisation drive has also facili-tated application programming interfaces (APIs) that allow individual stockbroker firms to use our infrastructure to target their clients. They are free to use their own apps with their branding and provide a more personalised interface to our ser-vices.
Q: What new audiences are you attracting with the app's newly added features?
A: Traditionally, the majority of our investors were from the age group of 50+ years but with the introduction of the mobile app, the CSE has attracted a new segment of younger, more tech savvy investors including those even under 40 years. This group now constitutes 80-85 percent of the CDS' account openings.
While this new segment of investors is most active on the app, we have also observed that existing investors are adapting well to the new digital features and services that are being offered. They first moved to email correspondence and are now moving over to getting updates via the app, and instead of cheque deposits, we see direct deposits to bank accounts.
In addition to trading-related transactions, they are also adapting to digital payments, searching for information and reading annual reports online.
This level of trust and confidence, which the CDS provides, contributes significantly towards this conversion. The digitalisation drive is enabled through the CDS, which has earned the trust and confidence of investors since it was set up in 1991. Trust gained in mana-ging the vast and expansive database of investors has now been channelled to the mobile app. Security protocols are maintained to ensure that investors' data is not compromised, and we conform to ISO standards with audits and compliance checks.
Q: How does the CSE mobile app ensure financial inclusivity?
A: Previously, those interested in investing needed physical access to a stock-broker or a bank, and as such investors were mostly limi-ted to those living in urban areas. Yet today, we have enabled individuals from any part of Sri Lanka or for that matter any part of the world, to be a part of the stock market. The smartphone has brought the stock market to their doorstep.
The app functions in all three langua-ges and ensures financial inclusivity since the same service is offered to everyone. Every investor has the same access to information related to trading, listed companies, disclosures, directors' dealings, financial statements, market–related information, trading systems, research material and learning material, to name a few. Investors can easily access information and empower themselves to make informed investment deci-sions.
This digitalisation drive has enabled broadening of the market to take place in a meaningful manner. In recent times, the number of active investors has more than tripled from 20,000+ to a base of over 60,000.
Telephone 2356456  |  Email info@cse.lk  |  Website www.cse.lk
"In recent times, the number of active investors has more than tripled from 20,000+ to a base of over 60,000"