CITYPAK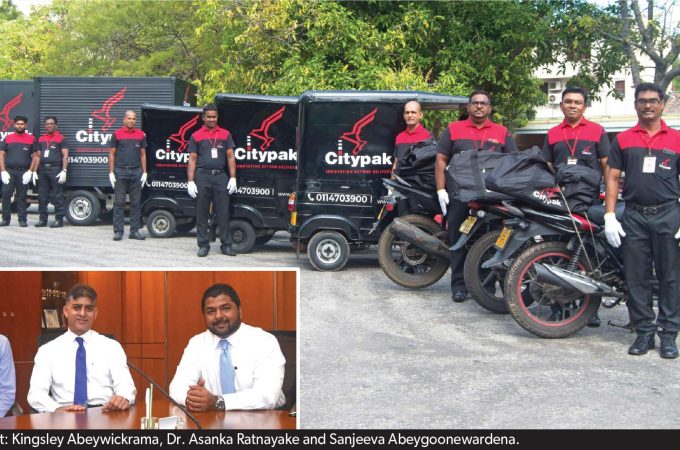 Q: Could you outline Citypak's journey with Hayleys Advantis?
A: In 2018, Hayleys Advantis was expanding its portfolio and looking into possible opportunities to enter the last mile space in Sri Lanka. Citypak was identified as the ideal partner.
Citypak (IML Delivery Systems) had been in operation for 27 years when its main shareholders Lalith De Alwis and Amanda Weerasinghe decided to partner with Advantis in growing the business.
With Citypak, Advantis had the opportunity to acquire an express courier service ranked among the top three in the domestic delivery space, renowned for its prudent operations and islandwide coverage with 27 branches.
Moreover, Advantis believed that further expansion would enable it to cater to a new flavour of customers – a demographic it could add value to by leveraging on its existing portfolio of international express delivery and third party logistics (3PL) activities.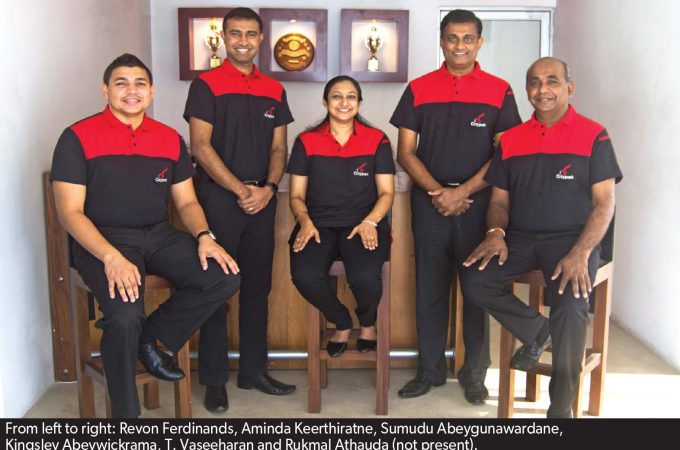 Q: What do you envision in terms of operations going forward?
A: We're considering a wider network complemented by three tier operations, taking into account micro-warehousing and fulfilment operations for the B2B and B2C sectors.
Furthermore, we hope to transform from a company delivering documents islandwide into one that processes more parcel-based packages for delivery, which is more complex but adds value.
To meet the growing impetus for e-commerce, we intend to leverage our existing branch network and use micro-warehouses with operations increasingly driven through technological insights.
This transformation was accelerated during the pandemic, which compelled our evolution and fast tracked operations, while also encouraging a change in the mindset of consumers through the adoption of technology and speed of delivery at a meaningful price advantage.
Citypak stands out in the sector because few companies focus on service deliverables as we do – such as with our 'cash-on-delivery' process. Since cash flow has been crucial to economic vitality during the pandemic, we capitalised on this and established a process assisted by technological insights to settle cash with merchants on time.
The company has adapted admirably to address one of the major issues in the sector and is currently aiming to settle merchants within three days. Among our main priorities is offering fulfilment services where we take stock of merchant items, store them on their behalf and deliver based on subsequent orders, utilising micro-warehouses for fulfilment.
For large stocks however, we will need to manage operations centrally through advanced 3PL and ensure stocks are maintained close to where demand is.
There are additional opportunities in cross border freight through our service Presto Worldwide. With the lockdowns, we were able to facilitate several SMEs that were looking to focus on the Middle East through our platform.
This is supported by the new gazette notification on simplifying the B2C export process, which enables SMEs to ship with fewer touch points and procedures to energise e-commerce.
We're also making headway with imports from the US where we have a fulfilment centre in a tax free state. Our intention is to expand our services to the Maldives and Australia, with China and the UK to follow. This will support and facilitate the growth of our international express franchisee under Mountain Hawk Express.
Q: How did social responsibility come into play during the pandemic in 2020?
A: During the pandemic, we chose to be of service to the nation by utilising our fleet of vehicles so that others could extend their services to deliver essentials.
This gave us the opportunity to rally with our competitors and expand the total manpower to meet the demands of the situation. From 18 March, we had a team geared and ready to handle all operations.
We made sure that appropriate curfew passes were at hand, and focussed on stringent safety measures to ensure the safety of both the recipients and our team, whilst also creating a marketplace to facilitate local merchants at both B2C and B2B levels.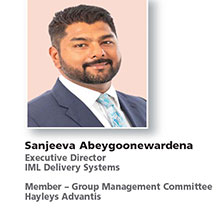 Working with international partners enables us to connect part of the informal sector to more buyers.
We're already engaged with international funding agencies and consultants along with key SME champions, to promote this sector and connect them to overseas markets, whilst also seeking donors and venture capitalists to invest in these businesses, to facilitate their growth and expansion.
For example, an SME received an order from IKEA to produce ashtrays but lacked access to the necessary infrastructure to fulfil it. These are lost opportunities for the economy and we want to avoid this. If our merchants build capacity to grow their business, it has a multiplier effect in facilitating growth not only for ourselves but the adjacent businesses around the industry as well.
Going forward, we also hope to increase our focus on sustainability with the use of electric vehicles and would like to revisit our packaging material to investigate the possibility of using recycled paper that will support the environment.
 – Compiled by Sandesh Bartlett
INTERVIEWEE DETAILS
Sanjeeva Abeygoonewardena
Executive Director
IML Delivery Systems
Member – Group Management Committee
Hayleys Advantis
COMPANY DETAILS
Telephone
4703900
Email  : info@citypak.lk
Website : www.citypak.lk