CHINA CRACKDOWN

FIGHTING TIGERS AND FLIES
President Xi Jinping is engaging in a sustainable war on bribery and corruption – Rajika Jayatilake reports
The world is rarely surprised when leaders fail to deliver on their election campaign promises. However, President Xi Jinping has amazed the world by meticulously executing his campaign promises to rid China of bribery and corruption.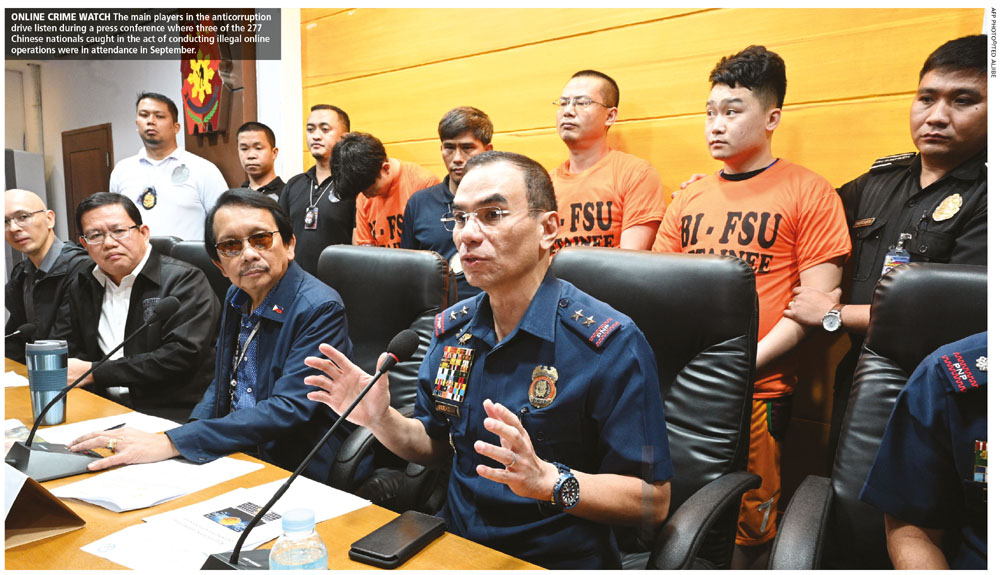 In 2012, Xi promised to crack down on the corrupt practices of powerful politicians ('tigers') and lowly bureaucrats ('flies'). Since taking office in November 2012, he has waged a multi-year war on bribery and promised to maintain consistent pressure until officials, in his own words, "dare not, cannot and do not want to be corrupt."
According to a BBC study, the anticorruption drive led to the firing of over 170 ministers and deputy minister level officials, and jailing many on charges of corruption, misconduct and violation of party discipline. More than 100,000 people were indicted for corruption and Chinese state media said that over a million government officials have been punished since the campaign was launched.
The fight against official corruption targeting tigers and flies became the cornerstone of Xi's rule. He once said: "We must uphold the fighting of tigers and flies, and at the same time resolutely investigate law-breaking cases by leading officials while earnestly resolving the unhealthy tendencies and corruption problems that happen all around people."
Speaking to officials in the party's top disciplinary body, Xi noted that officials mustn't be allowed to push back on orders from above or choose which ones to follow: "The style in which you work is no small matter, and if we don't redress unhealthy tendencies and allow them to develop, it will be like putting up a wall between our party and the people – and we will lose our roots, our lifeblood and our strength."
Fighting tigers and flies is viewed by experts as a massive internal purge of opponents on a scale not seen since the days of Mao Zedong. Under Chairman Mao's leadership, the Cultural Revolution resulted in the firing of many top officials.
Among the powerful officials who were punished for corruption was Zhou Yongkang who was the third most powerful politician in China until he retired in 2012. Zhou was jailed for life for bribery, abuse of power and disclosing state secrets in 2015.
Sun Zhengcai became the fourth sitting politburo member ever to be expelled from the party.
Xu Caihou was the highest ranking military official until his retirement in 2013. He was subsequently investigated for his involvement in a 'cash for ranks' probe, expelled from the party and prosecuted.
Meanwhile, Guo Boxiong (who served alongside Xu) was also prosecuted in July 2016 and sentenced to life in prison for bribery. He was the highest ranking military official prosecuted since the end of the revolution in 1949.
In the next phase of Xi's crackdown on corruption, almost a million officials in Beijing will be monitored and subjected to regular disciplinary checks. This is a massive increase from the 210,000 officials targeted earlier.
Director-General of the newly established Beijing Municipal Supervision Commission Zang Shuofu said: "This will ensure that supervision covers everyone who works in the public sector and exercises public power." The main issues will be abuse of power, dereliction of duty, malpractice for personal gains and waste of state assets.
In October last year, the former boss of Yunnan Province Qin Guangrong became one of the most senior officials to surrender to investigators during a crackdown on bribery.
The announcement followed reports by leading Chinese media outlets that his son Qin Ling was under investigation as part of a wider corruption probe into his employer China Huarong Asset Management, which is the country's largest state owned manager of distressed assets.
According to officials investigating corruption in this instance, Qin had "failed to perform his duties; interfered with disciplinary and supervisory work; engaged in superstitious activities; accepted gifts and money; and connived with his relatives, allowing them to use his influence to seek profits."
One expert notes that "Xi wants to create a system that will survive after him. And in that context, he is a member of the Chinese elite that has a sense of mission about the country as a whole."
There is no doubt that the president's campaign has had a far-reaching impact and permeated every level of government.
The fear of getting caught will dampen the desire of officials to engage in bribery or corrupt practices and therefore, caution is becoming the new norm. For Xi, his fight against corruption has made him popular among the Chinese people.
As Chinese scholar Zheng Yongnian mused, why would people steal billions of dollars? Because they won't be able to spend all that money in a lifetime!
When Deng Xiaoping introduced a hybrid socialist market concept to the economy, all moral barriers were swept away by the profit motive. Under Xi however, there's no compromise or leniency to those who are found guilty.