CHEFS RALLY TO COMBAT FOOD WASTE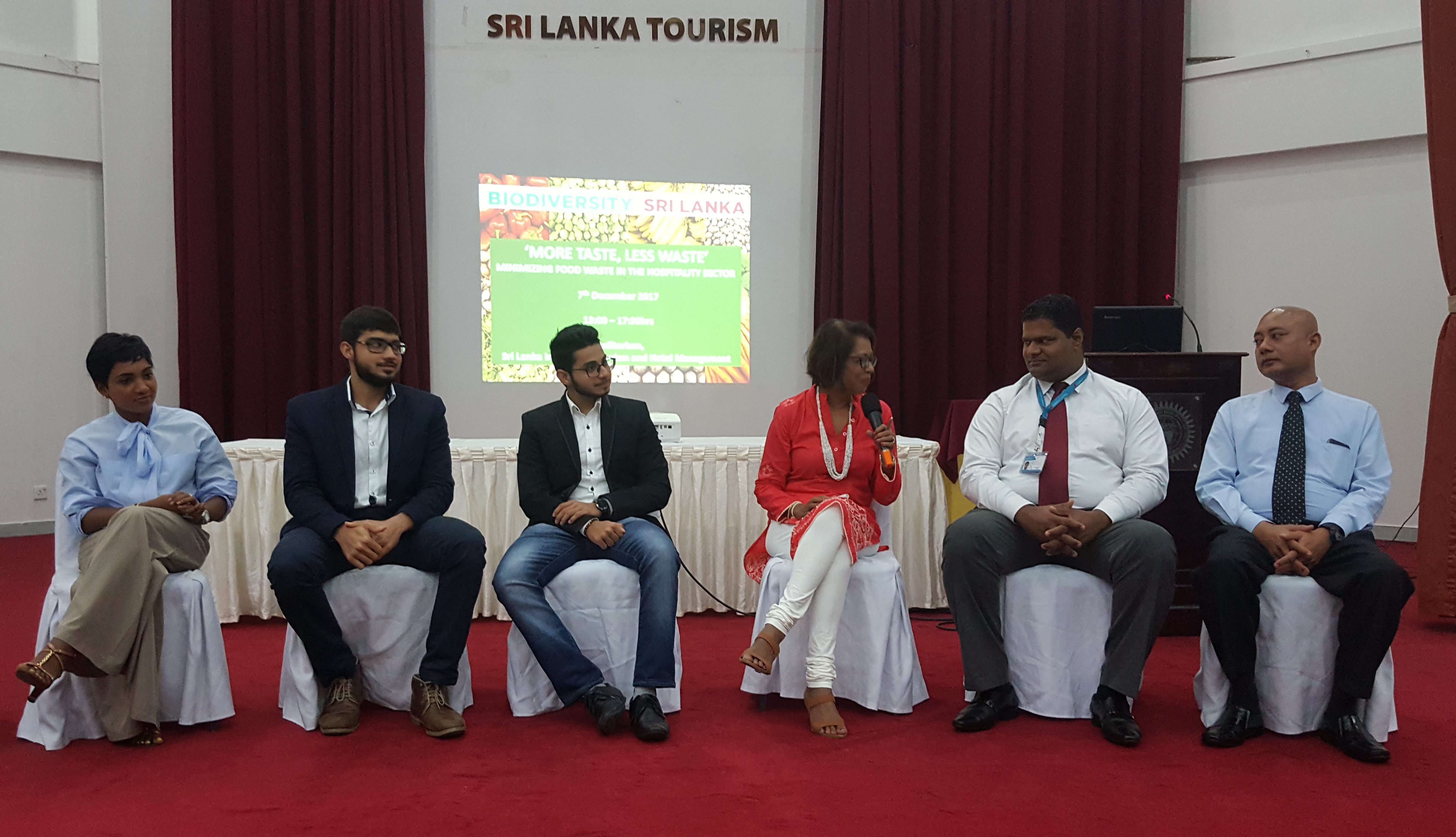 Over sixty professionals representing twenty organizations from within Sri Lanka's hospitality industry rallied together to discuss potential mechanisms to avoid, minimize and eliminate the large scale wastage of food that occurs in the country's tourism and hospitality institutions, mainly hotels and restaurants. The professionals gathered at a learning event organized by Biodiversity Sri Lanka (BSL), titled 'More Taste, Less Waste', on the 7th of December 2017 at the Sri Lanka Institute of Tourism and Hotel Management (SLITHM). BSL partnered with the SLITHM to bring about this knowledge-sharing initiative.
It is believed that approximately 40% of the waste generated by hotels and restaurants consists of food waste which includes a considerable proportion of edible/reusable/repurposable resources that takes huge amounts of water, energy and other natural resources to produce. The wastage of these food items, or the simple dumping of this waste contributes to large scale destruction of valuable land resources by means of landfill coverage and also through resulting anaerobic digestion, releasing vicious greenhouse gases that in turn contribute towards global warming and climate change. The Linkages between the agriculture and hospitality sector were highlighted, bringing forward the important role of produce suppliers that currently lack awareness on efficient production and delivery.
Mr. Bjorn van der Horst – Corporate Director Food and Beverages of Aitken Spence Hotel Managements, quoted unique and model examples of initiatives from around the world. He quoted that "20-25% of the annually produced food calories on the planet are being wasted before they even hit the market" stating that the only way to minimize waste was by collaborative initiatives that connects farmers, retailers, chefs and consumers, to work together. Mr. Tissa Warnasuriya – General Manager of Infotechs-IDEAS, promoted linkages between the agriculture and hospitality sectors for more effective minimization of food waste. He stated that the current dietary patterns have resulted in a skewed ratio between consumption and required calories and also talked about the large amounts of waste that can be avoided by bringing advanced post-harvest technologies to the forefront and ensuring cross-country implementation. Mr. Gemunu Gunewardene – Consultant to Aitken Spence Hotels Managements brought to light, the different stages at which food is wasted within the industry and effective tools and methods to combat wastage every step of the way. From efficient forecasting, to targeted purchasing specifications, and from preparation, to presentation and consumption, there is ample opportunity for a hotel's kitchen and food and beverage staff to be more effective in achieving this objective.
These impactful presentations were followed by a panel discussion which included Chef R. J. Hassim – Corporate Chef, Aitken Spence Hotel Managements, Mr. Deepal Samarakoon – Head of the Department (Hygiene and Quality Assurance), SriLankan Catering, Mr. Abdurrahman Haroon and Mr. Hanzalah Haroon – Co-founders, Robinhood Army Colombo and Ms. Savera Weerasinghe – Chief Executive, MSH Packaging Industries. A lively and very interactive session followed, with the engagement of the entire participation, for more innovative ideas in addressing this issue. Several key take aways resulted from these discussions including potential policy shifts in certain organizations, a call for sharing of best practices currently operating in the industry, a request for further guidance on micro and macro-level mechanisms to reduce food waste on par with international standards, collaboration opportunities for multiple industry sectors for problem-solving and the need for disseminating awareness on initiatives such as the Robinhood Army and sustainable packaging, that reduce the impact of wastage and loss, on our environment.
These outcomes will be operationalized with the support of relevant organizations and authorities in the near future. Positive feedback has been received on the pertinence and value of such a learning event, at a time when Sri Lanka is at crossroads in balancing efficient waste management and increased consumer demands, especially within the tourism and hospitality industry which is key to the country's development.
Biodiversity Sri Lanka: Initiated by the Ceylon Chamber of Commerce, Dilmah Conservation and IUCN (the International Union for Conservation of Nature and Natural Resources) in August 2012, BSL now operates as a not-for-profit company limited by guarantee registered under the Companies Act No. 07 of 2007. BSL is a national platform entirely owned and driven by the private sector, established to promote strong engagement of the corporate sector in biodiversity and environmental conservation.