MINISTRY OF CRAB
Gourmet Investments Private Limited inks pact and brings iconic
Sri Lankan Eatery "Ministry Of Crab" to India
Mahela Jayawardhene and Chef Dharshan Munidasa in Mumbai to make announcement
First Outlet of "Ministry Of Crab" in India to open in Mumbai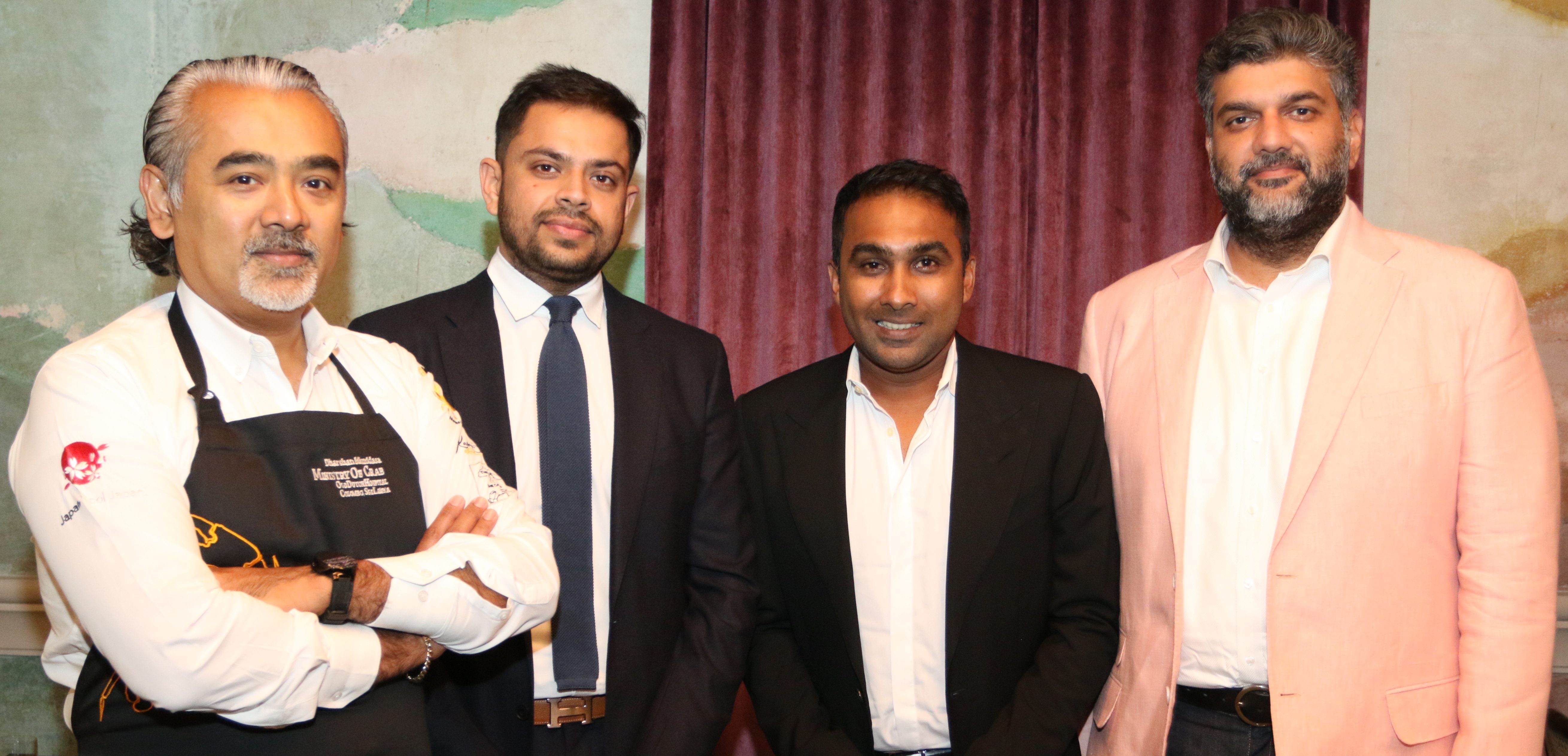 4th January 2018: Gourmet Investments Private Limited, one of the leading hospitality groups in the country today (promoted by the Bharti Family Office) announced an agreement with Ministry of Crab owned by cricketers Kumara Sangakarra, Mahela Jayawardene and Chef Dharshan Munidasa to bring the iconic Sri Lankan seafood restaurant "Ministry Of Crab" to India. "Ministry of Crab" has been on the coveted and prestigious "Asia's 50 Best Restaurants" list every year since 2015.The first outpost of Ministry of Crab will open in Mumbai in May/June 2018.
Gourmet Investments has bagged the exclusive rights for "Ministry of Crab" brand of restaurants for all of India for a period of 10 years to begin with, and extendable by an additional period of 5 years after the opening of the second outlet in India.
"We hope to excite and tantalise the taste palate of Mumbai and are delighted to bring forward The Ministry of Crab in partnership with Chef Munidasa. We are pleased to start our journey in Mumbai, the most glamorous city of India" says Ramit Mittal, CEO, Gourmet Investments Private Limited.
"Gourmet Investments is on the path to bring globally acclaimed dining brands as well as celebrity chefs to India to an audience that travels extensively and is more aware about pedigree international food trends.  By end of 2018, we plan to indigenously develop, as well as, acquire rights for multiple international food and beverage brands, with the next one being Typhoon Shelter conceptualised with Chef Christian Yang, says Deepinder Batth (Joey), COO, Gourmet Investments Ltd
"Ministry of Crab" is a crab lovers' heaven in the heart of Colombo Set in a preserved 400-year-old Dutch hospital in Colombo with a minimalistic open kitchen format.  It is a true haven for crustacean fans, celebrating the Sri Lankan crab in everything from the dishes to the crab-claw plants that serve as the restaurant's only décor! The restaurant was set up by Chef Dharshan Munidasa together with cricketing legends Mahela Jayawardene and Kumar Sangakkara.  As the name suggests, there is crab, crab and more!
The first Indian outpost will serve signature dishes such as Black Pepper Crab and Chilli Crab, which are staples at Ministry of Crab. In addition, there would be certain other dishes developed specifically keeping in view the Indian market.
"India has been on my radar for many years and it has been a question of the right partner. My food can be simple and ingredient specific that it required a partner to understand the passion and stubbornness about it. With Joey and Ramit I found great partners to work in India and look forward to our opening in the next few months" says Chef Dharshan Munidasa
"Ministry of Crab started as a fun project for Kumar and myself to work on together, along with Dharshan, and we're so happy to see how far it's come. With this new step into India I'm excited for the next innings in our journey and hope you'll be bowled over by it!" added Mahela Jayawardene
Gourmet Investments Pvt Ltd (GIPL), promoted by the Bharti Family Office represents the iconic PizzaExpress brand in India since 2012. GIPL opened 9 restaurants up till July 2017. In 2017 Ramit (CEO) & Deepinder (COO) joined forces to further strengthen the strong foundation laid by PizzaExpress's success across Mumbai and Delhi NCR by widening the vision from a single brand multi-unit operation to a multi brand multi-unit operation.
In July 2017, Gourmet Investments Private Limited presented PizzaExpress (est. 1965 by Peter Boizot in London), one of the world's most iconic food brands, in a revolutionary new avatar and concept created only for India, titled "The Project Series". Gourmet Investments Private Limited is also proud to announce celebrity Chef Vicky Ratnani as the new Culinary Director at the helm for all menus being created for "The Project Series".  Each destination will have signature flourishes inspired by the mood and ethos of the catchment of its location.
"We are very proud of the response and loyalty that The Project Series (Bandra, Lower Parel and Kurla in Mumbai) has evoked in a short span. This only goes to show that the time is right for destinations that draw inspiration from legacy and yet are forward thinking and inclusive. Every new opening will be a sublime mix of inspirations from its local fabric, with bespoke art and installations, curated music, delicious food and curated events!" adds Ramit Mittal.
"We want to be the benchmark name in developing a multi brand platform that is focussed on targeting the best in breed (segment), we believe PizzaExpress is the best Pizza joint in town, and similarly we believe Ministry of Crab will be the best Sea Food restaurant in town too. We are hoping to target Japanese, Chinese, etc. as other segments when growing our portfolio of brands – internationally sourced and solutioned for India or internationally inspired but home grown)" adds Deepinder Batth(Joey).
Dharshan Munidasa is a Sri Lankan chef, restaurateur and television personality. He founded "Nihonbashi" and the "Ministry of Crab", two of Sri Lanka's most successful restaurants, both of which on Asia's 50 Best Restaurants. He was the host of the popular TV series 'Culinary Journeys with Dharshan'.  Munidasa is a self-taught culinary expert, who prides himself on the fact that he never attended a culinary school.  Anything he lacks in formal training, Chef Dharshan Munidasa makes up for in his passion for cooking and eating, and he certainly hasn't been held back; the chef founded Nihonbashi in his early twenties and spent the next 20 years ensuring it would become one of the best Japanese restaurants in the region. Alongside his two flagships, he recently opened The Tuna & the Crab, a hybrid Japanese and seafood restaurant, and Kaema Sutra, focusing on contemporary Sri Lankan cuisine.
For Media Queries, Please
Shalini Canagasabey
Ministry of Crab
0766260814
shalini@ministryofcrab.com