BUSINESS SENTIMENT
INDEX RECORDS FURTHER GAINS
Business confidence continues to improve amid an apparent return to stability
Set against the backdrop of a spate of drug busts and related violence in and around the island, as well as heightened concerns over the safety of local bank ATM transactions, the European Commission (EC) recently included Sri Lanka in a new list of 23 countries deemed to have "strategic deficiencies in their anti-money laundering and counterterrorist financing frameworks."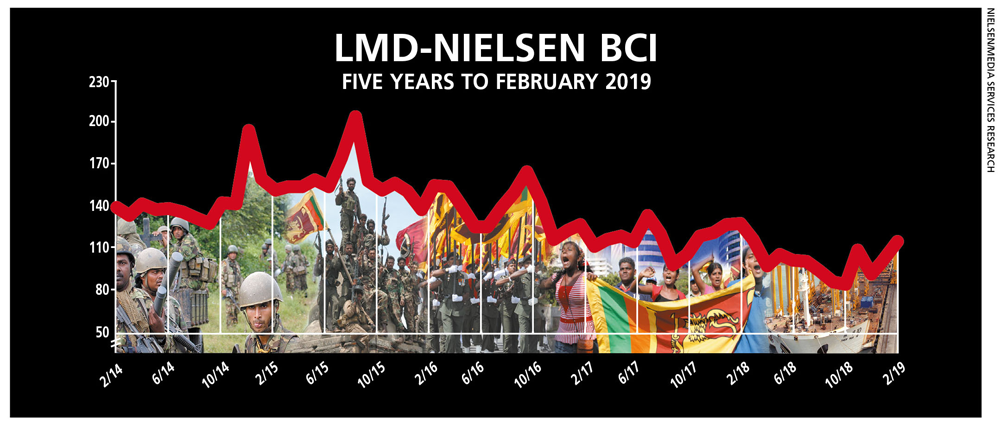 The list – in which Sri Lanka is ranked 18th, and fellow South Asian nations Afghanistan (No. 1) and Pakistan (No. 13) also feature – has been compiled on the basis of an analysis of 54 priority jurisdictions, which was prepared by the commission in consultation with member states and made public on 13 November 2018.
It includes 12 countries listed by the Financial Action Task Force and 11 additional jurisdictions while some of the countries that are part of the new list are already on the current EU list that includes 16 nations.
According to the EC, the countries assessed have a systemic impact on the integrity of the EU financial system, are reviewed by the IMF as international offshore financial centres or have economic relevance and strong economic ties with the European Union.

Turning to the LMD-Nielsen Business Confidence Index (BCI) however, corporate sentiment does appear to be on a stronger footing in February based on the results of the latest survey conducted in the first seven days of the month.
THE INDEX With the political situation seemingly in more stable hands so to speak, the BCI recorded a noteworthy increase of 14 basis points to reach 115 in February – compared to 101 in the previous month, which is also the average for the last 12 months.
While this is the highest level since March 2018 when the index registered 117, the barometer is still 13 notches shy of where it was a year ago.
Commenting on the latest survey results, Nielsen's Managing Director Sharang Pant notes: "The tailwinds behind the improvement in sentiment remain the same – political stability, low inflation, healthy tourist arrival numbers and a marginal appreciation of the rupee versus the dollar."
SENSITIVITIES Political stability, the health of the economy and corruption are among the critical national issues highlighted by businesspeople – albeit that there's a lower level of concern than in recent months.
In addition, taxation, the value of the rupee and inflation are cited as major issues for business in the country.
PROJECTIONS We said in last month's edition that with the pre-constitutional crisis status quo being restored to some degree and amid the prospect of one or more elections this year, it is anybody's guess as to what the future holds for business and the index that measures biz confidence.
This may still be the case although in the short term, given that the forthcoming budget is likely to be business friendly, the index may continue to trend upward.
For the time being therefore, there's seemingly a renewed sense of optimism about both business prospects and the national economy.
– LMD