BUSINESS SENTIMENT
CONFIDENCE BAROMETER FREE FALLS
Multiple crises and the rise of people power are taking their toll on business sentiment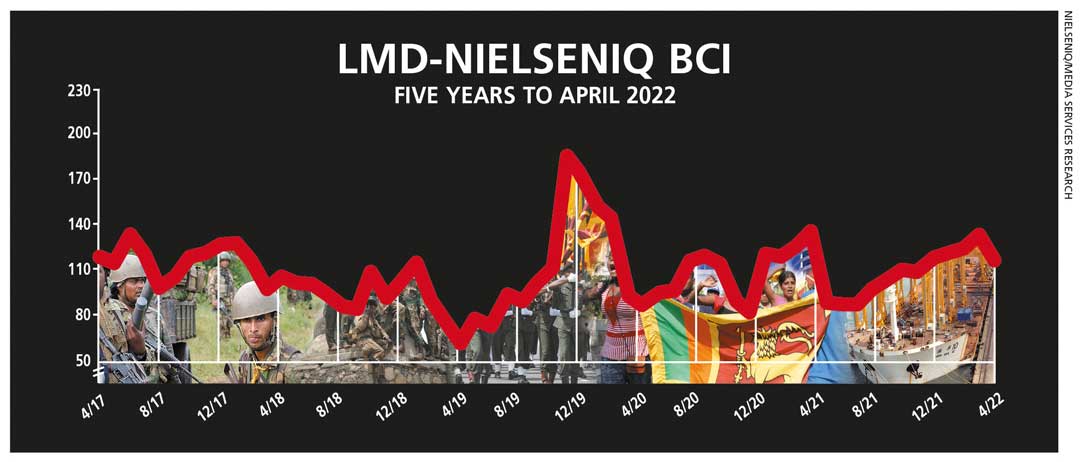 Be it the devaluation of the Sri Lankan Rupee – which has seen it shed nearly 75 percent in a matter of weeks – the ignominy of a virtually cashless treasury, shortages of essentials (not to mention galloping inflation), the prospect of more belt tightening measures ahead of the proposed debt restructuring programme, protracted power outages, a political minefield of dangerous proportions and ongoing demonstrations across the island... one can hardly think of a worse scenario as far as the people and businesses are concerned.

THE INDEX Small wonder then that the one of a kind LMD-NielsenIQ Business Confidence Index (BCI) plummeted 16 basis points in April – to 116, which is its lowest level this year.
Compared to a year ago, the barometer of biz confidence is a whopping 22 notches lower and it has fallen below the all-time average of 126. If there's a silver lining amid the doom and gloom, it is that the BCI is higher than its 12 month average of 109.
So for the first time in five months, the index has headed south – with a big bang!
NielsenIQ's Director – Consumer Insights Therica Miyanadeniya remarks: "People are struggling to survive in a country that's facing more adverse economic constraints than ever before. Sri Lanka's GDP growth rate at constant prices (2010) has slowed down; and by the last quarter of 2021, it stood at 1.8 percent with the services, agriculture and industry all being affected."
She continues: "Imports have outpaced exports and year on year inflation was at a 20 year high of 21.5 percent in March with food inflation at 24.7 percent in February."
SENSITIVITIES The countless downside risks that hover over the economy and political landscape at the time of going to print continue to cast a shadow over the BCI's prospects in the near and medium terms.
And to add to our woes, the ongoing war in Ukraine is sending ripples through an already battered world economy with the soaring cost of energy in particular taking its toll on nations such as ours.
So the most obvious near-term sensitivities at this juncture include the price of oil, the value of the Sri Lankan Rupee, an ongoing power crisis and the political upheaval we have witnessed since early April.
PROJECTIONS In the last three editions of LMD, we asserted that the business community may well have been taking a longer-term view: "But it has to be said that until there's a revival of Sri Lanka's economy and an easing of the restrictions that the forex crisis has necessitated, this level of confidence will be hard to maintain."
So it took three months for the bubble to burst and we see little respite in the near term unless there's a complete shakeup of the nation's political establishment – as is being demanded by the people since 2 April.
In the meantime, Miyanadeniya says that "all indicators point towards gloom and doom unless drastic measures are taken to reverse the downward spiral…," adding that "the patience of the people has reached a climax with protests and demonstrations becoming the norm rather than the exception."
– LMD