BUSINESS SENTIMENT
BUSINESS CONFIDENCE NOSEDIVES
Sentiment plummets as the coronavirus outbreak exerts a heavy toll on corporates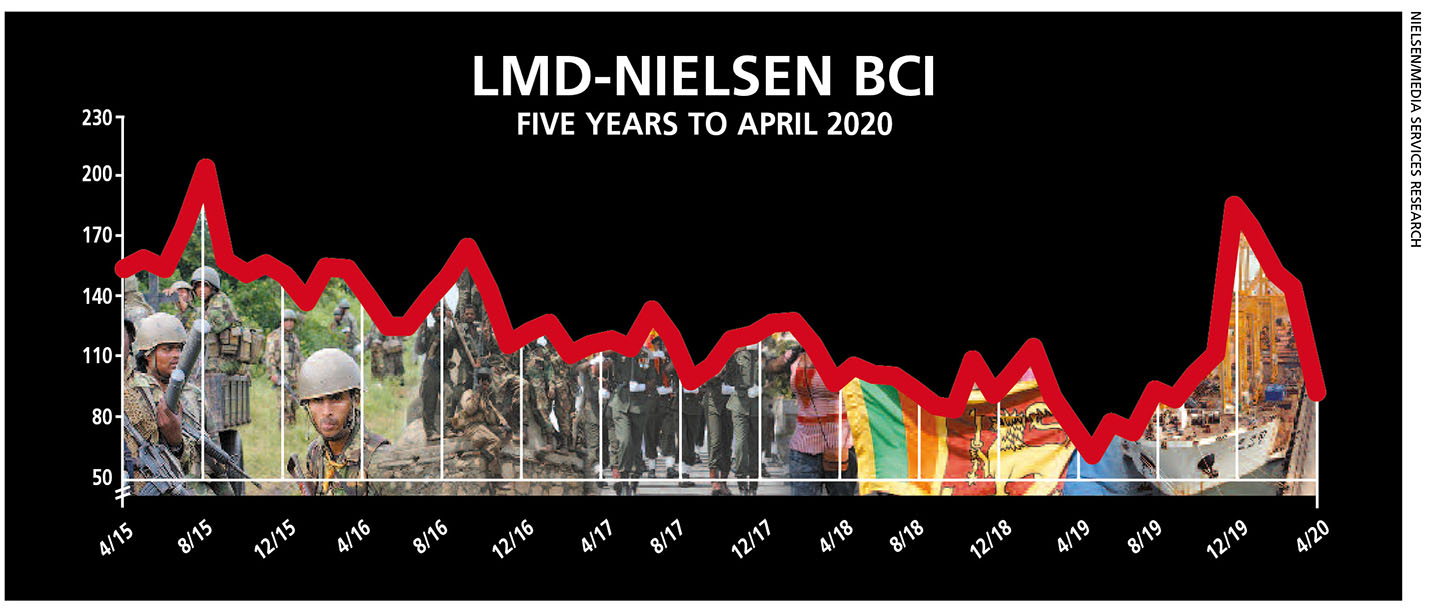 COVID-19 has proven to be an unprecedented challenge for the corporate sector as all but essential services operations have come to a halt amid an extended period of lockdown in several parts of the country.
A recent report by Fitch Ratings states that "corporates in consumer goods retail, construction and hotels will be among the most affected by the coronavirus pandemic in Sri Lanka … Demand for nonessential goods and services will be severely hit in the second quarter of 2020 given the impact of strict social distancing requirements."
The latest LMD-Nielsen Business Confidence Index (BCI) survey too paints a dismal picture.
THE INDEX Set against the backdrop of the coronavirus outbreak, the BCI plummeted by a whopping 52 basis points to 93 in April. While this marks a major dip in the index and into double digit territory, it's above the 12 month low of 62 recorded in May 2019 following the Easter Sunday bombings.

Nielsen's Director – Consumer Insights Therica Miyanadeniya comments: "COVID-19 is the talk of the town right now, be it in the mainstream media, social media, conversations or otherwise. People are anxiously waiting to see whether the count goes up or down and what other measures the government is taking to curb the spread of the virus."
She goes on to note that "so far, Sri Lanka has been fortunate in that the early measures taken by the government have resulted in comparatively low numbers compared to other countries in the region and world. However, the COVID-19 crisis is nowhere near its end at the moment."
SENSITIVITIES Whereas the likes of taxes and interest rates are no longer cited as the most pressing issues for business in Sri Lanka today, the coronavirus is deemed to be the main concern among corporate executives alongside the value of the rupee.
And while the economy and political culture continue to be high on the list of major national issues facing present-day Sri Lanka, here too it is COVID-19 that's cited as the most pressing concern. In addition, respondents highlight the adverse impact on daily wage earners, citizens not adhering to curfew laws, and an inability to access and obtain daily essentials.
PROJECTIONS The outlook for the index appears to be gloomy as the corporate sector has been offered little respite in the face of COVID-19.
This is reflected in responses to additional questions posed by the pollsters to assess the depth of the coronavirus im­pact on business houses whereby almost nine in 10 respondents acknowledge that COVID-19 has had a high negative impact on their businesses.
Furthermore, the majority (41%) of those consulted state that it will take between six and 12 months for their businesses to recover from the negative impact of the coronavirus outbreak.
– LMD