BREWING TECHNOLOGY
Distilling the Amber Brew
Ruwandi Perera is intoxicated by technology that's transforming beer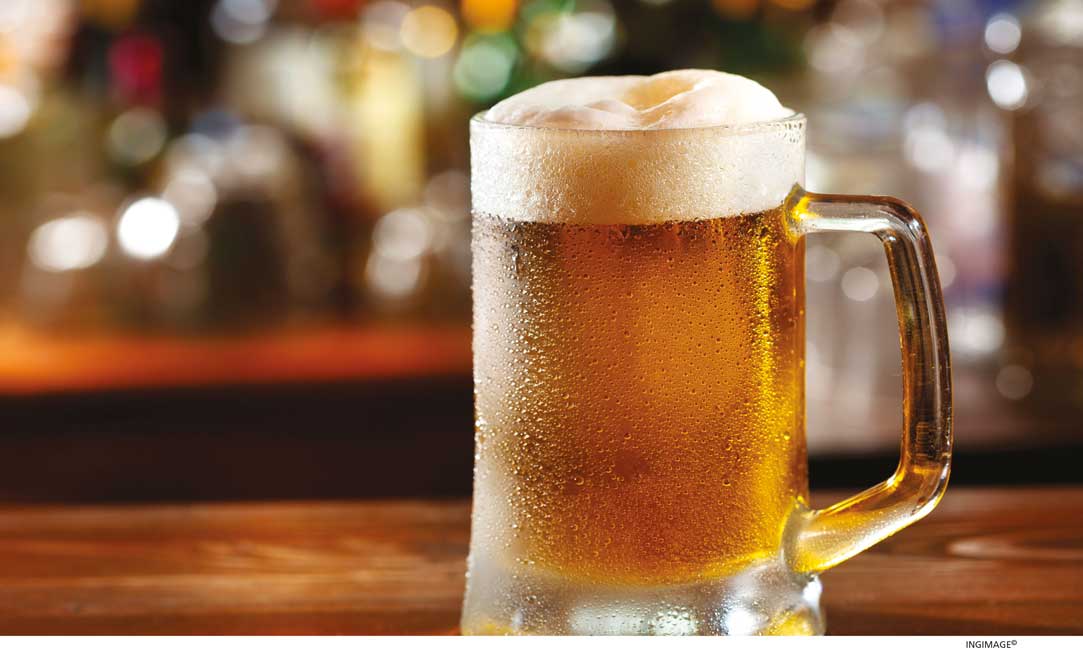 It's October already and Oktoberfest comes to mind. But chugging beer with friends and listening to German music is probably wishful thinking at this time! Nevertheless, you can enjoy a home version of the popular festival thanks to advancements in technology that are taking the way we look at, make and consume beer to the next level.
Beer has been around for some 13,000 years and today, we're living in the best era of the malt beverage because of value additions introduced by technology.
In 2014, a Minnesota-based microbrewery proposed delivering beer by drones to thirsty ice fishermen but the Federal Aviation Administration (FAA) shot it down. Last year, Scottish multinational brewery and pub chain BrewDog wanted to use drones to carry out physically distanced beer deliveries on a campus site but nothing seems to have happened since then…
Drones may be far off in the beer pipeline; but thanks to technology powered supply chains, beer deliveries are gaining ground. Major players seem to be claiming a large slice of this delivery pie while smaller companies are taking the entire brewery home.
Brewing beer is a tiresome exercise because you might have to chug a crate or two to stomach the process itself. Yet, with the adoption of the Internet of Things (IoT), AI, machine learning, big data and other technologies, home brewing is as simple as adding a mix that comes in a bag to your beer machine, pressing a few buttons and waiting patiently to enjoy a cold one.
These compact beer machines look very much like coffee makers and use WiFi to be connected to an app on your phone. With precise temperature control and patented fermentation technologies, you can be the master of your own beer recipe.
What's more, if you mess things up, the app connects you to the manufacturer – which will log into your machine and give you a breakdown of what went wrong… and how to fix it!
Even larger commercial breweries are reaping benefits thanks to technology that's bringing convenience, precision and value to the process of brewing – including packaging and logistics. Rather than taking away the authenticity of age-old brewing, technology seems to be making things better because beer has seen an increase in quality, consistency and shelf life across the globe.
More than anything, technology in breweries seems to be adding transparency to the process. Fermentation is a serious business and you never know what's taking place inside those big vats. Yet, some breweries now use holographic applications via IoT sensors that enable them to see precisely how their beers are brewing.
The HoloBridge application uses data and augmented reality (AR) to create a life-size hologram of the brewery equipment, and allows brewers to see their data in real time. This reduces the chance of error, increases precision and improves productivity.
Another benefit introduced by technology is incurring less wastage by making the most of the ingredients. For instance, hops, which is the magical element that adds bitterness and so much more to beer, is a versatile ingredient and must be incorporated into the brewing process within 12 hours of it being harvested.
Companies are now using IoT enabled sensors combined with GPS to track hops from field to factory, and ensure they're harvested, packed, transported and stocked under the appropriate conditions, with the right temperature, humidity and lighting.
Packaging is changing too. Beer canning lines are becoming smarter, which means that machines are talking to each other to mitigate bottlenecks on conveyor belts in factories. Even while filling beer to cans and bottles, advanced machines ensure that the beverage has minimum exposure to oxygen to ensure that the taste is not impacted.
Beer is being transforming from off-the-shelf products into customised delights. London-based Intelligent X Brewing Company uses AI and machine learning to incorporate client reviews, and solicit feedback on social media on its recipes so that brewers can make changes as required to specific batches of beer.
Technology is often frowned upon for taking away traditions and creating unemployment. Yet, in the case of beer, it seems that technology is actually improving operations, providing better returns on ingredients, ensuring less wastage and increasing employee safety.
Life is too short to drink bad beer; and thankfully, technology is assuring us that we never have to. From grain to glass, beer technology is becoming larger than life! Cheers to that, right?