BOOKRACK
By Vijitha Yapa
I have never read a book where the author gets to the point using only 17 words in the title (plus a subtitle of four words). But Lalith de Mel has a point to convey. This Sri Lankan has achieved what no other local professional has by being a director of Reckitt Benckiser, which has been cited as one of the top 100 companies in the UK.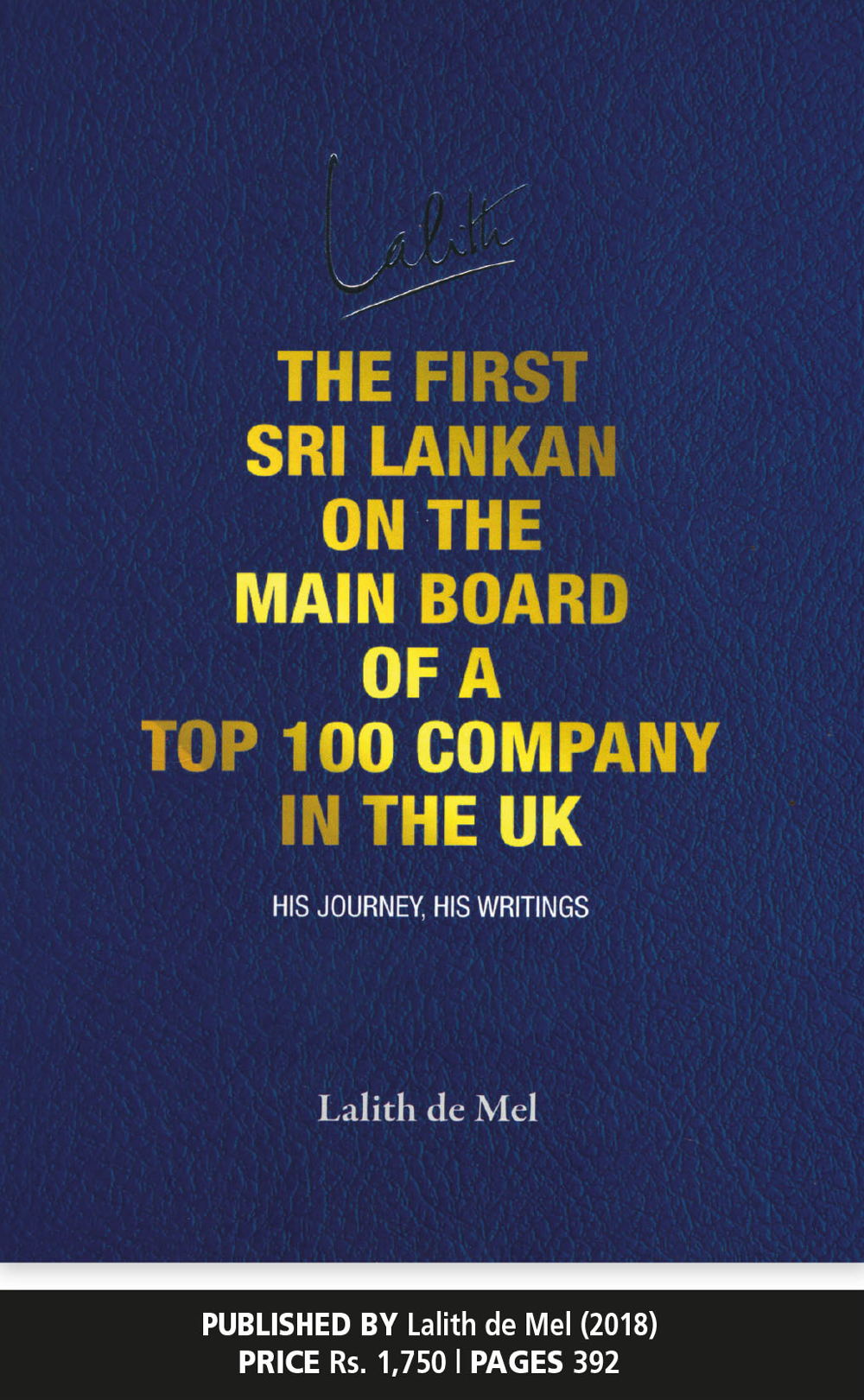 It's a pity however, that the author did not have the book properly edited as the script often shifts away from the first person.
De Mel hailed from a privileged family background. Mutwal was where the elite lived and Cinnamon Gardens was considered the equivalent of Pelawatte at the turn of the 20th century. Here, the visionary de Mels invested in 16 one acre plots in anticipation of this becoming where the elite would live.
The author's father Clinton had little time for the family while his mother Lois died when de Mel was only seven. He was often at the bottom of the class at St. Joseph's College but that was until he decided to concentrate on his studies when approaching the equivalent of the pre-O Levels of today. His father was absent when de Mel won the class prize and three others in school.
De Mel was in hospital on two occasions but recalls that no one from the family spent the night with him. When he took flight to the UK, none of his family members accompanied him. He wanted to study English at a Sri Lankan university but his father had other ideas, enrolling him at Cambridge and insisting that he study economics. De Mel journeyed to the UK alone and borrowed a book on economics from his cousin so that he could read up on the subject.
His father did not want him to return to Sri Lanka for the holidays so de Mel used that time to travel around Europe. No immediate family member was present when he graduated. These experiences led to the trait where he'd make his own judgements about life.
On returning to Sri Lanka, he lost contact with friends in the UK and says their presence was restricted to photos. De Mel remains silent on his private life although he reveals that Cambridge was alive with parties that included "bringing a bottle and a girl."
After joining Shell in Colombo, de Mel moved to Reckitt Benckiser where – after obtaining the consent of his bosses in the UK – he took the important step of discontinuing two agents who were responsible for distribution and took up direct marketing. This proved a success and profits soared but praise from the UK was directed at the managing director. De Mel did not contest this, remarking that "not getting the credit and warm congratulations from the parent company was a small price to pay for having complete freedom."
A visiting director from the UK said de Mel may one day become the managing director of the Sri Lankan unit but that he'd have to prove himself in another market first. De Mel suggested Australia where he had many friends but his British bosses sent him to Brazil. This meant he had to participate in a six week crash course to learn Portuguese.
It was a land where football came first and God second. When de Mel asked the head of human resources (HR) why he was sent to Brazil, the reply was that the company wanted executives who could fit in anywhere, and who were willing to learn a new language and work in a country to adapt to a new culture. The HR director also told de Mel that the wife of a director was important and that her adaptation to the new country was vital – they would not appoint a person whose wife failed the test.
De Mel enjoyed a stint as the Managing Director of Reckitt Benckiser in Sri Lanka where London didn't approve his plans to market bottled water. Of course today, bottled water is a multimillion rupee business for others.
A more successful venture was marketing condoms, which had been available only through pharmacies in the past. The local name for the condoms was Preethi and De Mel conveyed the news to his wife who reminded him that her name was also Preethi, to which the author retorted: "Your name will be on every packet of condoms!"
Space constraints prevent me from writing about his work (for seven years) with former President Chandrika Kumaratunga, and as the Chairman of Sri Lanka Telecom (SLT) as well as the Board of Investment (BOI).
But one aspect cannot go unmentioned. When de Mel was at the BOI, Arjuna Mahendran had reportedly walked in and declared that he'd take over the post after Ranil Wickremesinghe won the 2002 election. But when Wickremesinghe lost the election in 2004, it was de Mel who walked into the BOI office and said he was taking over as chairman – on the orders of the then president.