BOOKRACK
BY Vijitha Yapa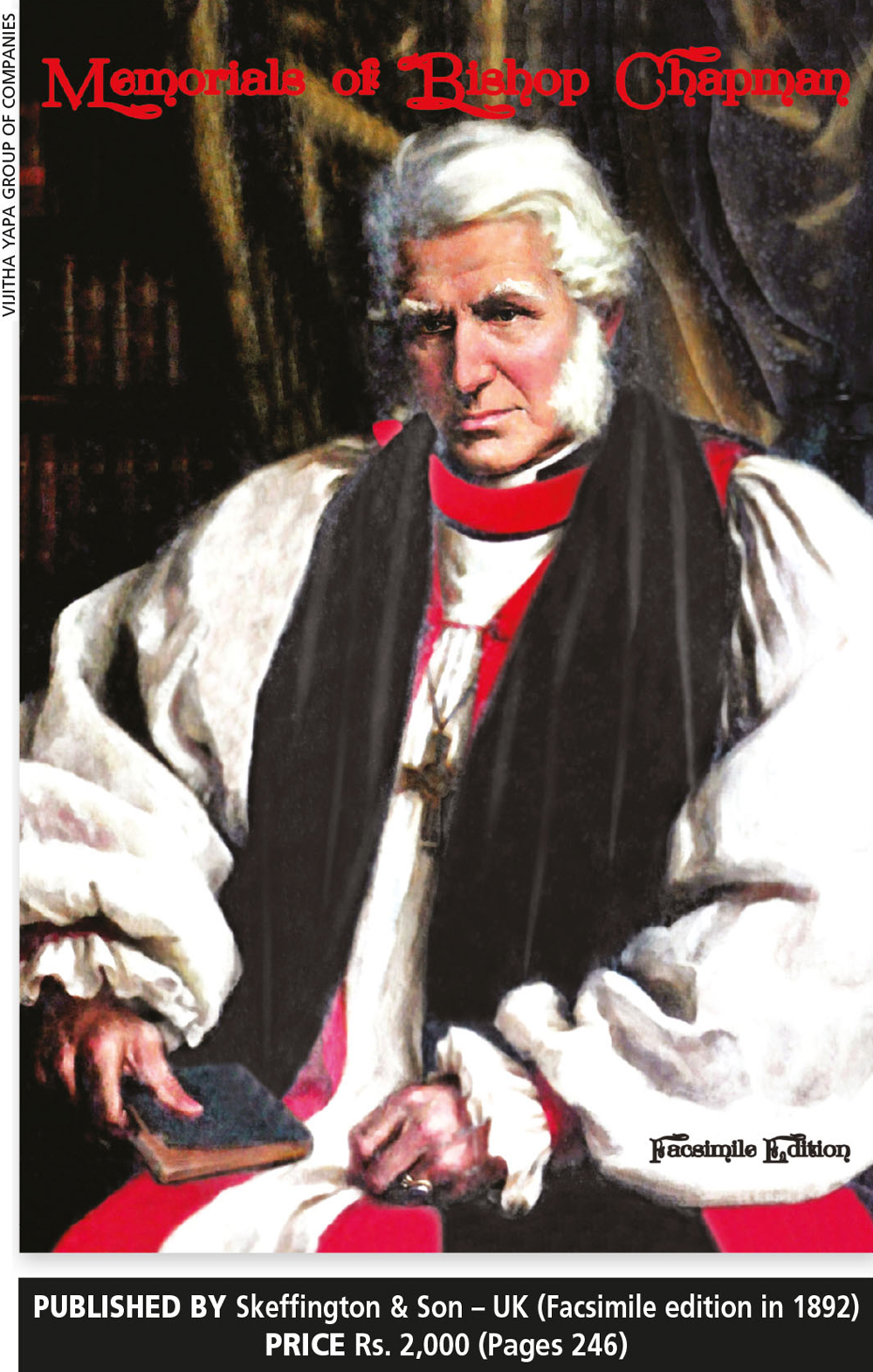 S.Thomas' College, which celebrates the 100th anniversary of its establishment in Mount Lavinia this year, has chosen to publish the memoirs of its founder Reverend James Chapman DD – the first Anglican Bishop of Colombo.
His memoirs were originally published in 1892 by Skeffington & Son in the UK; and though the book has long been out of print, the contemporary facsimile edition will help memorialise Chapman's work.
A single copy of the original book owned by erstwhile Thomian Warden Canon R. S. de Saram found its way into the hands of the incumbent and it was the latter who took the initiative in publishing this book. Not only will Thomians of all generations find the book interesting but even those from other Christian schools in general and Sri Lankan Anglicans in particular will be fascinated by its contents.
Of interest to historians would be the educator-cleric's background and early years.
Chapman's father was the owner of a school where wealthy merchants sent their sons while his mother hailed from a family who owned a wharf, which was the base for a large shipping business. His parents sent the future clergyman to Eton College where students lived on campus without supervision and it was claimed by a critic that "the inmates of a workhouse or gaol are better fed and lodged than the scholars of Eton."
Hinting at atrocities inside the college, the book suggests that any boy who escaped unscathed from the ordeals of Eton life would have been gifted with purity of mind and strength of will. The bishop-to-be was nicknamed 'The Saint' and 'Methodist' by his peers.
The memory of those ordeals in a boarding school could well have been on Chapman's mind when he was instrumental in setting up a school, which soon gained a reputation for itself in what was then Ceylon. He had a vision of what the Church of England could do for education but was frustrated by sundry British administrators.
In 1847, Chapman was asked to vacate Kew House in Colombo because it would be needed for a civilian governor. "We do far less than the Dutch did as Christian rulers in a heathen kingdom. We have been so misgoverned that we are almost bankrupt," he wrote.
Referring to the colonial administration, he stated: "The quietest people in the empire have been provoked into outbreaks, childish in their effort and futile in their result. We owe the poor people a grievous debt."
As with Sri Lankan governments today – they spend lavishly on perks, privileges and costly projects, as we know – the British administration at the time was also roundly criticised. The clergyman found it hard to understand how governors who talked about debt and a singular lack of funds allowed "a company to bring ice from America to cool our wines."
So to whom could the bishop turn for help?
"The government will do nothing, the societies at home cannot do all," he lamented, noting that the colonists who settled in Ceylon weren't interested about much more than themselves and their prospects.
His first attempt to set up a school in Nuwara Eliya was a failure and had to be abandoned within six months. Discouraged, he wrote: "The longer we live, the more difficult self-knowledge becomes … the heart gets familiarised to its own evil and thinks it's hardly to be evil at all."
However, Chapman did not give up and eventually founded S. Thomas' College in Mutwal, which was moved to Mount Lavinia subsequently.
In fact, he had been interested in acquiring the building in Mount Lavinia where Governor Sir Thomas Maitland once frolicked with a gypsy girl. However, the price was too high and the property went on to become an iconic seaside hotel.
The bishop was later able to purchase a property in Mount Lavinia, which is home to today's sprawling S. Thomas' College.
Chapman once observed: "It is my deep conviction that we so often fall short because we make our standard too low. In the world we are too much of it. We adopt its tone, we seek its praise, we are influenced by its opinions and its spirit, we share its feelings and often its strife … and at last are borne down or swept along by the overwhelming tide of its corruptions."
The words were written over a century ago but are relevant to Sri Lanka even today.
Trivia abounds in the book. Few know that the establishment of Bishop's College was possible due to the initiative of the bishop's wife Frances Chapman. The number of churches Chapman himself established in the island and his travels on horseback through elephant infested jungles encountering diverse natives provide an insight into life in the mid-19th century.