AD INDUSTRY

Arosha Perera
INNOVATE OR BE DAMNED
Advertisers and clients must push boundaries to keep pace with consumers
The advertising industry today in a sentence
It's greatly challenged to reinvent itself to achieve growth, become more relevant to evolving client needs, and attract and retain the best talent.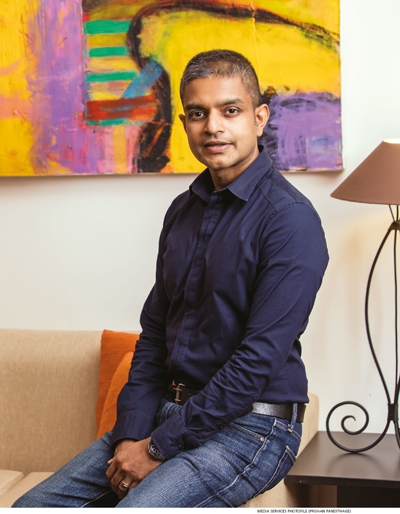 Ad industry specific barriers to growth in Sri Lanka
We need to increase our relevance to clients by focussing more on adding value in solving problems that businesses face.
The industry should also focus on being relevant to
The freshest, brightest, creative and business talent, which we need to attract.
Another barrier is
Agencies as well as clients need to be bolder in generating and embracing breakthrough ideas – or we'll never push boundaries and amplify the impact of our work.
The future of the local ad industry in one sentence
The industry will be increasingly data and tech driven; this shift will be slow to reach us but it will come.
Main threat to the advertising industry
Not keeping pace with the evolution of consumer behaviour and the impact that it has vis-à-vis the changing nature of brand relationships.
The local market in a nutshell
We're constantly forced to focus on the short term; the market is badly in need of some semblance of stability.
And the outcome of such stability will be
Instilling the confidence needed to enable bigger and bolder strokes for growth.
The global market in a nutshell
It is becoming increasingly protectionist – liberal economics are under threat and the market is vulnerable to contraction.
Three evolving consumer trends or behaviours
People respond better to acts (or experiences) than advertisements; they have stronger affiliations with brands that have a conscience; and patience is no longer a virtue.
Local vs regional comparison of the advertising industry
In terms of growth, we're far outpaced by the Asia-Pacific region; in terms of products, ours is still largely unidimensional compared to the region although it's evolving.
And the challenges are
When it comes to talent, the challenges are universal although ours may be more acute given that we have a smaller pool to start with.

Productivity is affecting industrial and economic growth – yes or no
Yes – our productivity levels could pick up. 
Corruption is affecting industrial and economic growth – yes or no
Yes – corruption is a stifling cancer. 
The future of the global advertising industry in one sentence
The growth of the ad industry at large hinges on the ability to collaborate with data driven marketing and digital business transformation.
Competition drives innovation – yes or no
Yes – and innovation is vital to staying relevant.
Sri Lanka's competitive­ness in a few words
We need to step out of our comfort zones – innovation and value addition are two broad areas in which we need to pick up our pace in most spheres.
Impact of the digital age on Sri Lanka
It is challenging long held social norms especially through its impact on young people; and it is accelerating innovation and entrepreneurship like never before.
This should be addressed by
This is a positive impact that needs to be fuelled; however, we will also need smart regulation that isn't motivated by fear nor the tendency to exert control.
Impact of social media on the world
More and more of our connections are on virtual platforms compared to those in the real world.
What this means for people
In the global landscape, social media has had far-reaching impacts on politics, economics and social behaviour, which includes relationships and morals.
The ad industry in five years' time
Optimistically speaking, it will be agile, more united, and home to the best creative and business talent – talent that's better equipped and enabled to partner with clients.
And the end result of this will be
More of our work will gradually be recognised on the global stage.
Mantra for success
Do the right thing and the right things will happen.
– Compiled by Lourdes Abeyeratne
Arosha is the Chief Executive Officer of Leo Burnett Group of Publicis Communications