ANTITERRORISM AGENDAS
INTERNATIONAL SHOW OF STRENGTH
Global support for counterterrorism in the post-4/21 era – Zulfath Saheed has her say
Sri Lanka recorded another dark chapter in its history on 21 April when suicide bombers targeted eight locations in the island – and the ensuing days witnessed a crackdown on the globally inspired terrorist network.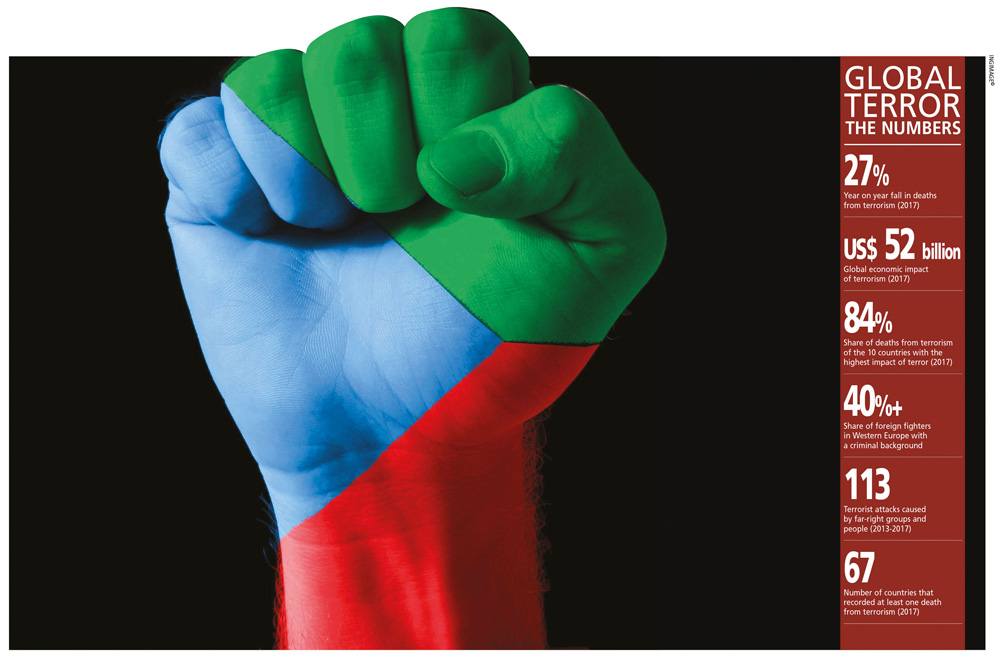 Amidst the statements of solidarity issued by nations across the world were offers of assistance by global superpowers such as China and the West, who came forward to help Sri Lanka avail itself of their technology and expertise, to combat terrorism at home and abroad.
On the face of it, these international arrangements appear to be part of a larger counterterrorism narrative to ensure the safety of citizens. However, they also warrant further scrutiny.
CHINA CALLING In May, during a visit to attend the Conference on Dialogue of Asian Civilizations in Beijing, President Maithripala Sirisena met his Chinese counterpart Xi Jinping who assured the former that his government would provide its fullest support to eradicate terrorism in Sri Lanka. Xi noted that "China stands ready to work with Sri Lanka to constantly push forward their strategic cooperative partnership that features sincere mutual help and long-term friendship."
Sirisena reportedly informed the Chinese president that Sri Lanka lacked the necessary technical equipment and knowledge to curb terrorism, and prevent the spread of fake
news through internet and social websites, amongst other issues. Xi is said to have agreed to provide urgent assistance to Sri Lanka.
Given that Sri Lanka is considered a vital cog in China's Belt and Road Initiative (BRI), it comes as little surprise that the People's Republic would look to strengthen its foothold in the island. But of grave concern is to what extent China aims to intervene – especially in the light of its own counterterrorism tactics being labelled by some as a form of repression among certain communities.
WESTERN BACKING The US has also extended its support for Sri Lanka's counterterrorism efforts. A joint statement issued along with the Sri Lankan government affirms that "the United States and Sri Lanka resolved to work together, to foster peace and security, and ensure a safe maritime domain in the Indian and Pacific Oceans through a 'rules based order' that ensures respect for international laws and norms."
Assistant Secretary of State for Political-Military Affairs R. Clarke Cooper – a senior American diplomat – visited Sri Lanka in early June to discuss security cooperation and assess the progress of US funded demining programmes. He met officials of the Sri Lankan government, and travelled to the Eastern Province to observe demining operations and meet with project beneficiaries.
The US and Sri Lanka have welcomed ongoing bilateral security sector cooperation including joint military engagements, human rights training for Sri Lankan officers, and visits by US ships and military officials.
Meanwhile, a communiqué by the President's Media Division reveals that "during the recent discussions in Washington, Foreign Minister Tilak Marapana raised issues on some of the provisions in SOFA (Status of Forces Agreement) including that relating to immunity provided to foreign servicemen on Lankan soil. He said these were matters related to diplomatic immunity, privileges and local laws."
GLOBAL STRATEGY On 8 September 2006, the UN General Assembly adopted the Global Counter-Terrorism Strategy, which is described as a "unique global instrument to enhance national, regional and international efforts to counter terrorism."
It is composed of four pillars – viz. addressing the conditions conducive to the spread of terrorism; measures to prevent and combat terrorism; measures to build states' capacity to prevent and combat terrorism, and to strengthen the role of the UN system in that regard; and measures to ensure respect for human rights for all and the rule of law as the fundamental basis for the fight against terrorism. Through its adoption, member states including Sri Lanka agreed to a common strategic and operational approach to fight terrorism.
In February this year, the UN Office of Counter-Terrorism (UNOCT) launched the first consolidated Multi-Year Appeal for UN counterterrorism efforts whereby it requested US$ 194 million for 60 global, regional and national projects, in addition to the UN Capacity Building Implementation Plan for Countering the Flow of Foreign Terrorist Fighters covering the four pillars of the UN Global Counter-Terrorism Strategy.
THE IMPERATIVES At this juncture, Sri Lanka faces the daunting task of countering the forces of terrorism amid heightened global attention on the subject with world powers having their own security agendas. Moreover, any steps taken in this direction would need to avoid alienating entire communities as has been the case in the past.
Therefore, while welcoming the support extended by its friends abroad, our nation must also consider its long-term interests and those of all its peoples to be the deciding factor in the fight to eradicate terrorism.