AMERICAN CHAMBER OF COMMERCE
AmCham conducts event on 'Empowering the Female Workforce'
Wednesday, June 25, 2019: The American Chamber of Commerce in Sri Lanka, yesterday, held the second of the 'Modern Workplaces' series for 2019 titled: "Empowering the Female Workforce".
Delivering the keynote address, Her Excellency Alaina B. Teplitz, U.S. Ambassador to Sri Lanka and the Maldives stated, "Each of us can do more to empower the women around us, especially by overcoming unconscious biases that keep women from achieving their full potential. Studies show that full participation by women could add $28 trillion to global GDP by 2025."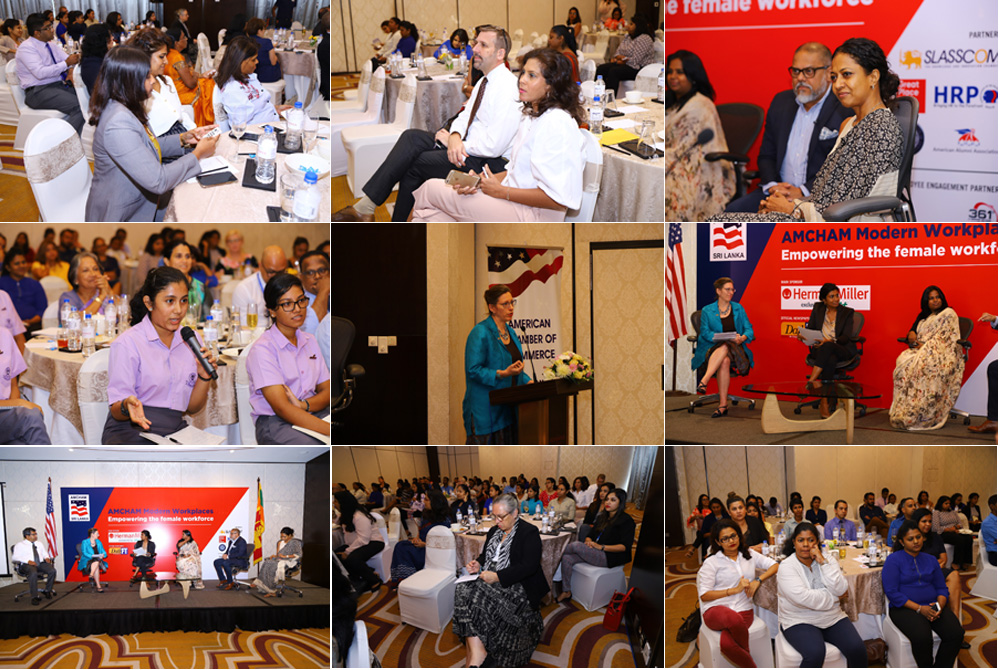 Industry experts Chandi Dharmaratne, Senior Director Human Resources, Virtusa (Pvt) Ltd.; Kasturi Chellaraja Wilson, Managing Director – Pharmaceuticals, Logistics and Maritime of Hemas Holdings PLC; Aarthy Arunasalam, Employment Lead for Women in Work Program, International Finance Corporation; Kanishka Weerasinghe, Director General / Chief Executive Officer, The Employers Federation of Ceylon and Sarinda Unamboowe, Chief Executive Officer and Managing Director – MAS Kreeda of MAS Holdings (Pvt) Ltd. joined in for an interactive panel discussion as well.
The session focused on a number of topics including low female labor force participation globally and in Sri Lanka; the need for organizations to identify gender smart solutions that generate opportunities for women and men; business cases for implementing initiatives on inclusivity, being an equal opportunity employer; relevant legal aspects; how employers can create an ecosystem which encourages women to aspire to and take up senior leadership roles; the importance of employers to consider childcare support as well as eldercare support and the importance of leadership commitment to empower and retain the female workforce.
AmCham's Modern Workplaces series explores how dynamic organisational styles and priorities creates the need for new company needs and strategic priorities. This is the second event in this series. The first was titled, 'Wellness at the Workplace' and was held in February 2019.
The main sponsor of the event was Herman Miller by JAT Holdings, while the official newspaper was the Daily FT. Event partners included: American Alumni Association, SLASSCOM, HRP, EFC and Great Place to Work Sri Lanka, while the Employee Engagement Partner was 361 Degrees.