AD INDUSTRY
SHORT TAKES
Compiled by Savithri Rodrigo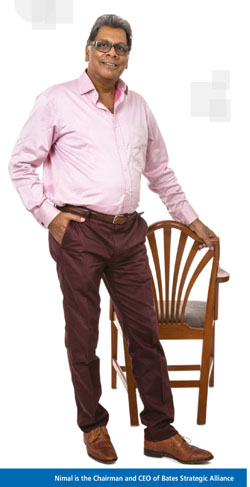 Q: How does the local ad industry compare with that of the region and beyond?
Nimal Gunewardena (NG): There's room for greater innovation by both clients and agencies to emulate what goes on beyond our shores. We need a stronger culture of experimentation – one that embraces and rides the changes in communications and technology. Attending regional and international advertising festivals could provide the required exposure to catch up.
Dilith Jayaweera (DJ): We have to face facts; we have a long way to go as we're at a very formative stage in comparison. Our mediocre strategies and creative content hardly win
global recognition.
Q: If you had to single out the key trends in the global ad industry, what would they be?
NG  The declining effectiveness of the interruptive repetitive broadcast advertising model, and the advent and rise of digital and social media as the new engagement model, which comes with increasing mobile access; and progressive brands responding responsibly to the world's broader social and environmental challenges.
 DJ  The emergence of new media – specifically the digital medium; cause based and socially relevant communication by brands; and user generated content gaining ground as effective communication material versus agency crafted content in accordance with a brand's brief.
Q: What's your take of the talent available in the ad industry today?
NG  The scarcity is due to insufficient training in communications in schools and universities. While design graduates emerge from institutions such as AOD and Moratuwa University, local courses in professional writing and audiovisual communications have not enthused students to embrace creative communications.
DJ  There's a dearth of vibrant talent as hardly any formal education exists in this area. In addition, parents don't seem to be in favour of the ad industry as a career option for their children.
Q: And what needs to be done to take Sri Lanka's talent to the next level?
NG  More schools must collaborate with overseas entities to offer a wider curriculum, and students must be exposed and encouraged to pursue exciting careers that exist in the communications sector. The bridge between academia and industry must be strengthened, by way of internships and industry lectures at universities.
DJ  Regular training and continuous exposure to regional and global communication trends, through workshops, exhibitions and awards shows.
Q: How are new businesses and brands in postwar Sri Lanka impacting the ad industry?
NG  New brands in the retail, hospitality and real estate space, and global and luxury brands, are coming into play. However, the growth of strong homegrown brands is limited. While startups and small businesses are burgeoning, they cannot afford big budget advertising. The industry must respond with targeted engagement, and by utilising new media options for communications and marketing.
DJ  New businesses have limited funds to advertise because immediately after the war, the resurgence of the economy and upliftment of morale saw these brands advertise. Now however, there's a reluctance to invest capital in this fundamental requirement.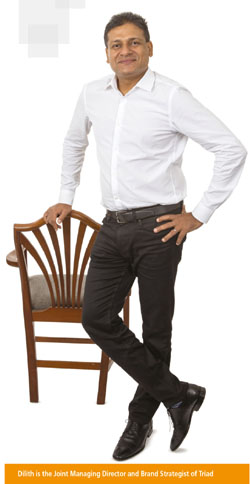 Q: Are advertisers adhering to an ethical code here in Sri Lanka?
NG  Smart advertisers who work with professional agencies wouldn't take risks by bucking ethical and sensitive social issues. In instances where indiscretion or lack of sensitivity has occurred, citizen power through social media has been quick to provide critical punishment, resulting in offending advertisements being pulled out.
DJ  There's an informal code of conduct and agencies are expected to adhere to ethical norms. However, as with any industry, there are deviators.
Q: What more must be done to take the industry forward?
NG  Unfortunately, rivalries have constrained the ad industry on vital issues. Industries progress when their players overcome competitive rivalries and resolve to work together, to develop and work towards vital common interests.
DJ  There's a need for present industry leaders to be open-minded, less insecure and willing to encourage the next generation to take over.
Q: What would you say are the main challenges facing advertisers in the country? 
NG  Rethinking brands and redesigning products to be responsive and responsible – due to citizens' demands on healthcare, safety, social and environmental issues – and meeting sustainability imperatives.
DJ  Inconsistent government policy, a lack of focus in the mercantile sector and its reluctance to invest in brand building, and the high cost of media.
Q: In what ways is the shift to the digital sphere shaping the ad industry?
NG  Agencies are looking to upscale their capabilities to drive more digital and social media campaigns, and seeking client support in the form of investment and commitment. Digital and media agencies are also claiming ownership of the digital mandate. As brand custodians, creative agencies must show how they're best able to drive integrated campaigns combining both the traditional and digital.
DJ  The digital medium is beginning to dictate the tone and flavour of communications. That a customer can be reached directly through a device must be taken advantage of.
Q: What lessons can advertisers learn from major campaigns of the recent past?
NG  The better local and global campaigns have demonstrated their ability to engage people and draw collaboration, co-create and mobilise people – they've generated a high degree of earned media, which boosts brands.
DJ  The message must be simple with a single-minded focus. The placement of advertisements is crucial too.
Q: Do you believe that ad industry awards have a major impact on the quality of output?
NG  Quality work is done to meet client and market needs, not win awards. Those that are done purely to win awards are scams.
DJ  Yes, definitely. Our own growth stems from this recognition.
Q: What is your outlook for the ad industry over the medium term?
NG  The nature of advertising will change, and be replaced by newer and more effective forms of communication that go beyond the traditional broadcast model. Industry players must be geared to be competent in the new game.
DJ  The ad industry will die a natural death with marginalised importance in the modern brand building framework. The decline has already begun with media houses usurping ad agency space by offering bulk buying deals to brands as opposed to strategic placements promoted by agencies. Only agencies that can innovate and offer a business solution to a brand will survive.
Nimal is the Chairman and CEO of Bates Strategic Alliance
Dilith is the Joint Managing Director and Brand Strategist of Triad