REAL ESTATE SECTOR

A FOUNDATION FOR PROPERTY
Taamara de Silva critiques the real estate sector and presents a number of practical solutions
For those who gaze in awe at Colombo's rapidly changing skyline, stroll past the glittering shopping malls and step into plush commercial spaces, there's one question that goes unanswered: 'How do I join the party?'
In other words, many investors can only imagine a day when they could put their money to work in lucrative real estate assets. What they yearn for is an affordable investment, simplified processes, a diversified risk profile and most importantly, the ability to exit when the time is right.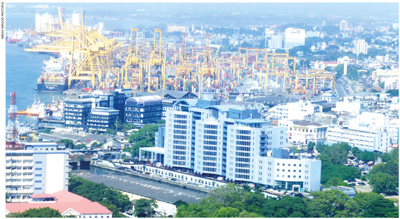 The answer my friends, is around the corner!
But let's start with the basics…
A Real Estate Investment Trust (REIT) is a professionally managed company that acquires, owns and operates a portfolio of real estate assets that produce income. REITs were launched in the US in the 1960s and have since proliferated in many countries. India's first REIT debuted in March, creating massive opportunities for investments in regulated real estate.
Sri Lanka also witnessed a delicate thrust towards a REIT culture. Budget 2016 proposed the introduction of REITs with the objective of infusing much required capital into the real estate sector. This would also provide an avenue for small investors to play a part in the real estate boom, which is otherwise reserved for privileged high net worth investors.
REITs bear many similarities to traditional unit trusts, and provide an opportunity for investors to infuse capital and acquire units. The capital raised by way of either an IPO or the creation of additional units is used to invest strategically in lucrative real estate. This could take the form of a combination of land, buildings, apartments, commercial spaces, houses or any other real estate asset that meets the investment criteria of the respective REIT.
Profits from these investments accrue through either rental income or capital gains. Profits derived from trading or divestiture of real estate assets are in turn distributed to holders of the REIT, mainly as dividends in proportion to the number of units owned. A portion of the profits can also be used to acquire additional real estate as deemed fit by the asset managers.
In real estate, the key is the quality of underlying assets. It's imperative to consider the current yield and location of assets as these factors provide a strong indication of future performance.
Another vital aspect to consider is the track record of asset managers as they will make decisions on behalf of investors. Occupancy and the quality of tenants are also important especially in the case of rentable assets, in addition to demand and supply dynamics. Tenancy agreements with sufficient lock in and rental escalation, maintenance of assets and insurance must also be in place to ensure that the interests of the investors are protected.
The Land Price Index for the Colombo District recorded a year on year growth of 18 percent in the second half of 2018 while overall investments in land have continued to outperform other asset classes in Sri Lanka – they're comfortably ahead of inflation, gold, the stock market and even fixed deposits over the last five years.
High demand for property by the diaspora and high net worth Sri Lankans has led to spiralling residential property and apartment prices. Meanwhile, foreign investors have been scouting for opportunities in upmarket residential and tourism property developments although they have remained hesitant due to stringent regulations.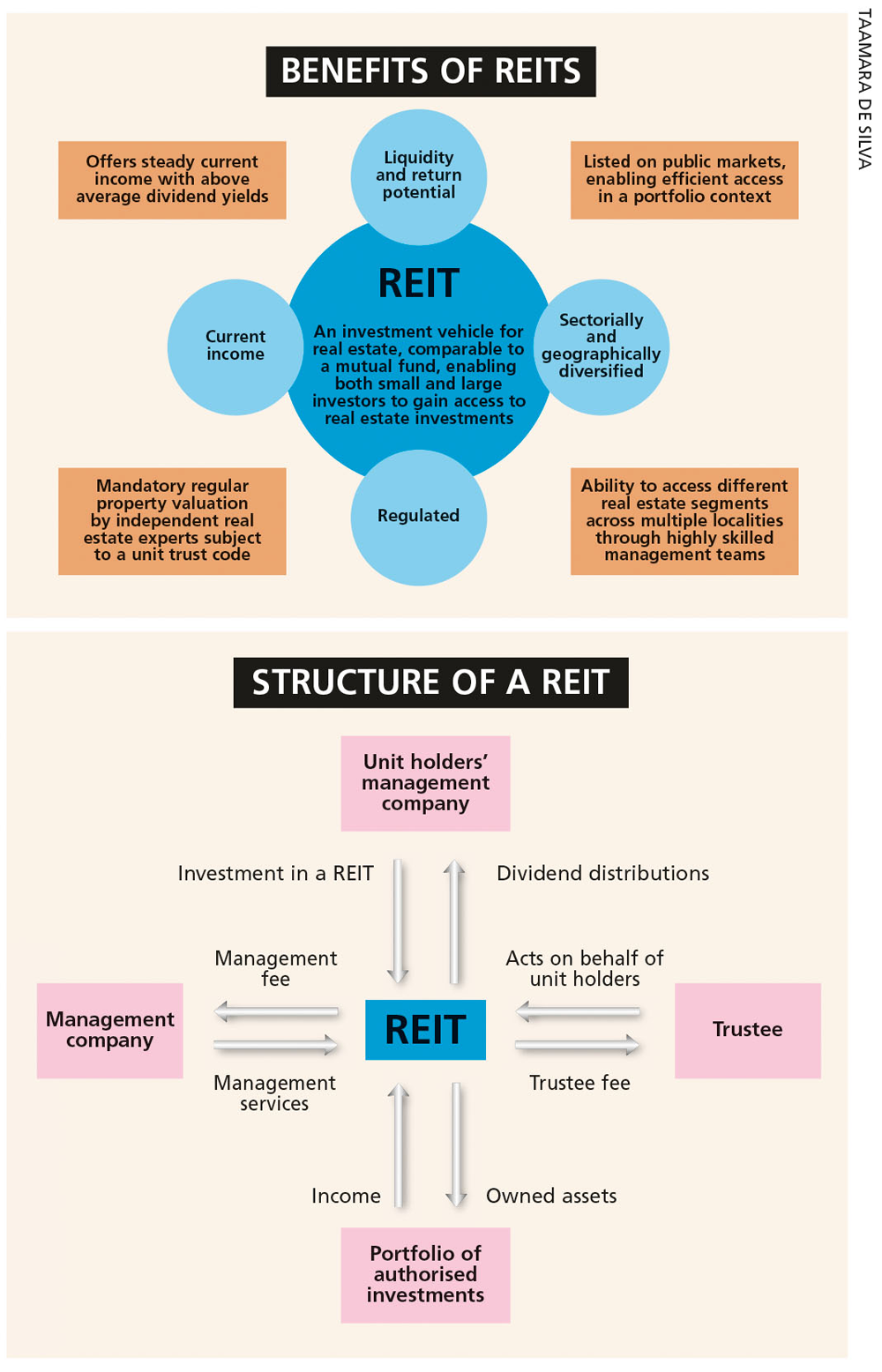 To add to the woes of the real estate investor, hefty margins are charged by property companies and real estate developers. And there are major disparities between buying and selling prices, resulting in liquidity premiums not to mention the red tape surrounding title clearance, land pedigree and authentication, which  make real estate a painful investment for both average citizens as well as the affluent.
And of course, Sri Lanka now faces the challenge of regaining investor confidence following the Easter Sunday attacks.
REITs sit on the sidelines patiently while the envisaged benefits are far-reaching and extremely pragmatic – a much needed reform to resurrect a sector that is losing steam.
Current regulations for foreign ownership should also be addressed. REITs can act as a platform to attract critical foreign direct investment without transferring ownership of real estate assets to foreigners while the incoming funds will be a much needed boost for the sector.
REITs not only encourage ease of access to investors irrespective of the size of investment but can also improve liquidity in the property market by providing much needed direct exit routes. In all aspects, REITs will undoubtedly stake their claim as a strong proponent for an otherwise complex and not so liquid property market, which screams for consistency in regulation and a stable tax regime.
Perhaps in the not so distant future there may come a day when one is able to proudly own real estate and reap rich rewards from it.